Crochet Hoodie Scarf Scoodie Free Patterns
Introduction
Are you prepared to look fashionable, yet warm, in the winter season? You may wear all the scarves, gloves, and heavy coats with multiple clothing in the inside, but nothing beats adding a a beautifully patterned scoodie in the head. Here, we will show you different patterns how you can clothe your head with crochet hoodie scarf scoodies.
20 Crochet Hoodie Scarf Scoodie Free Patterns
1. Mother-Hood Scarf

Out of all the different patterns, the Mother-Hood Scarf is one of the best scarf scoodie that can keep you warm in the freezing cold weather. The design can be completed in a day's work, and it gives the wearer a better fit.
2. Pixie Scoodie 
The Pixie Scoodie is special in a way that it adds a playful feel to the wearer themselves. With its bulky yarn, it may take you some time making it.
3. Two-Color-Play Pixie Scoodie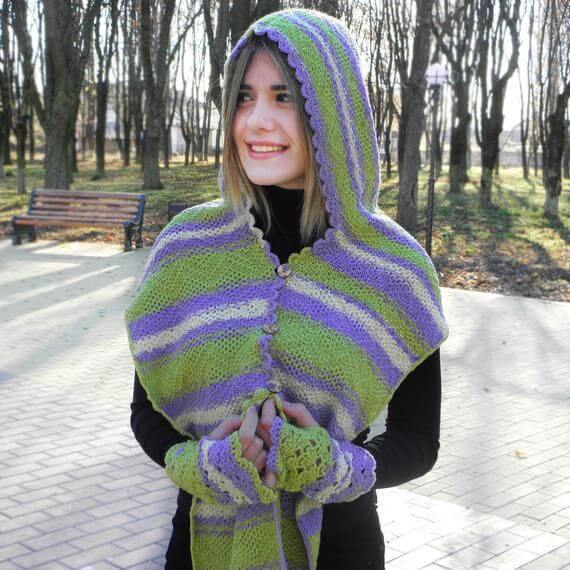 Take your Pixie Scoodie to another level with this two-color play series. Two colors are knitted together in this striped stitch pattern adding a special effect to your scoodie. 
4. Aviator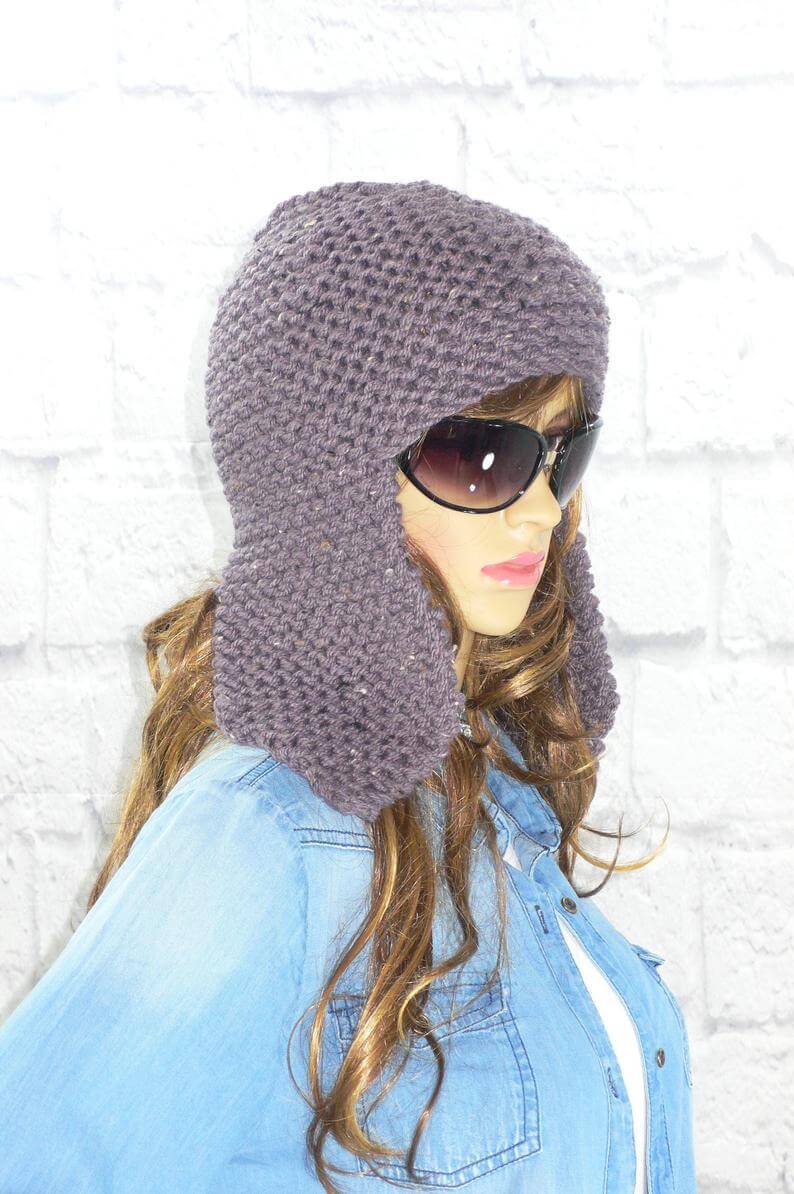 The Aviator Scoodie would be an appealing design for those who want to look comfortable and cute. This type of scoodie is perfect for the kids in the snowy cold weather making them cozy.
5. Harlequin Hoodie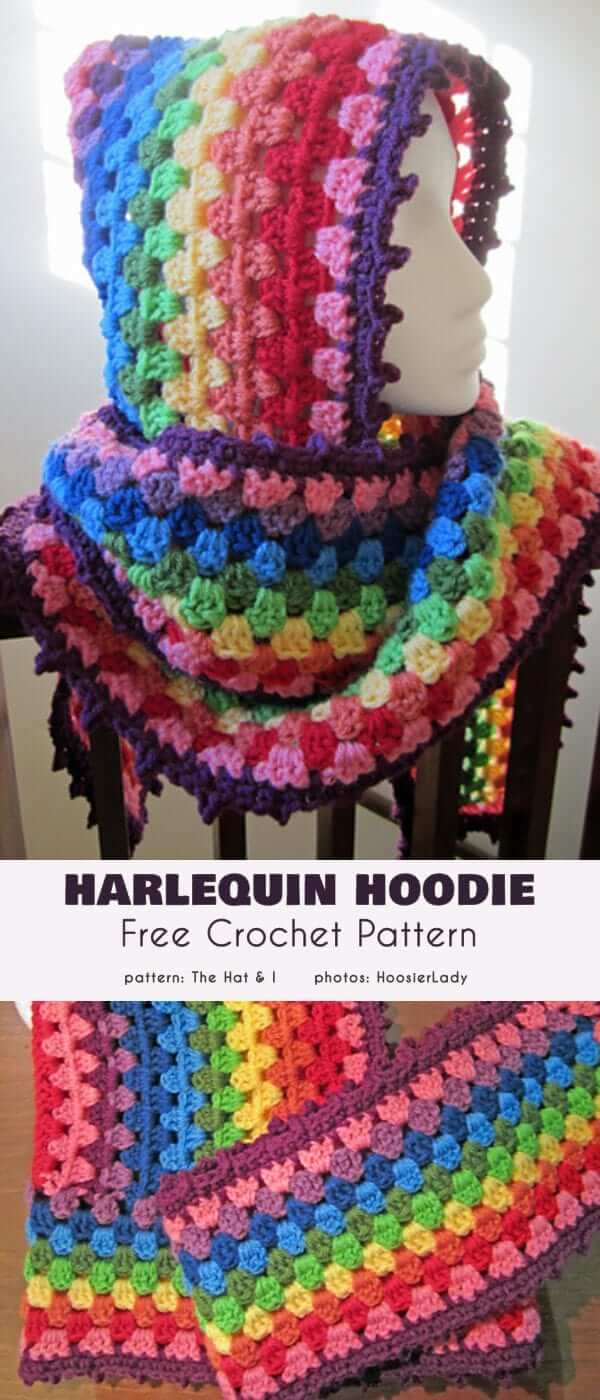 Are you into multiple color details? The Harlequin Hoodie (crochet) is perfect for you with its rainbows and granny stripes. You will surely fall in love with its features.
6. Crochet Cheshire Cat Hoodie
This crochet hoodie is perfect for people who love having fun. What's more cool about it? You can customize it into any animal you want. All you need to do is change the design of the ears resembling another animal, such as a bear or a fox or another animal of your choice.
7. Kitty Hood Scarf with Pockets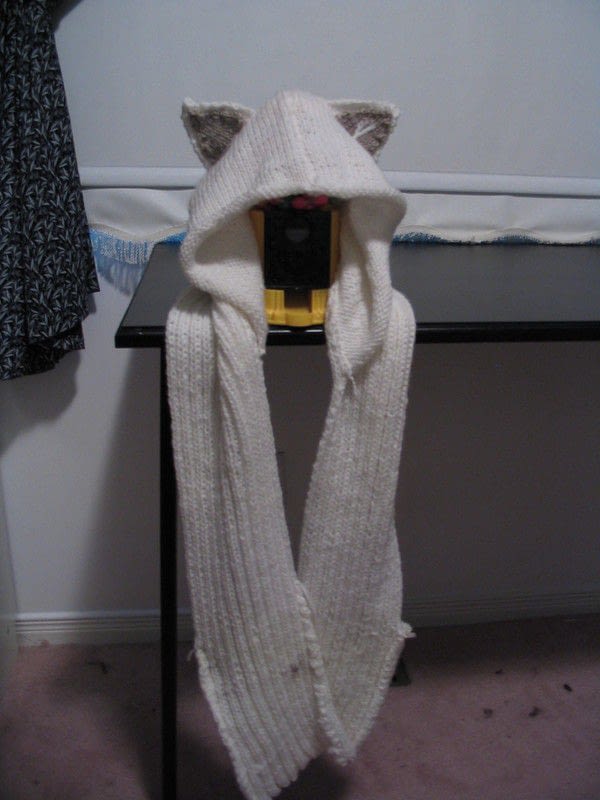 Another fun and playful design is the Kitty Hood Scarf with Pockets. Not only does it protect your head from the snowy cold weather, it contains pockets where you can keep your hands warm.
8. Crochet Ella Hooded Scarf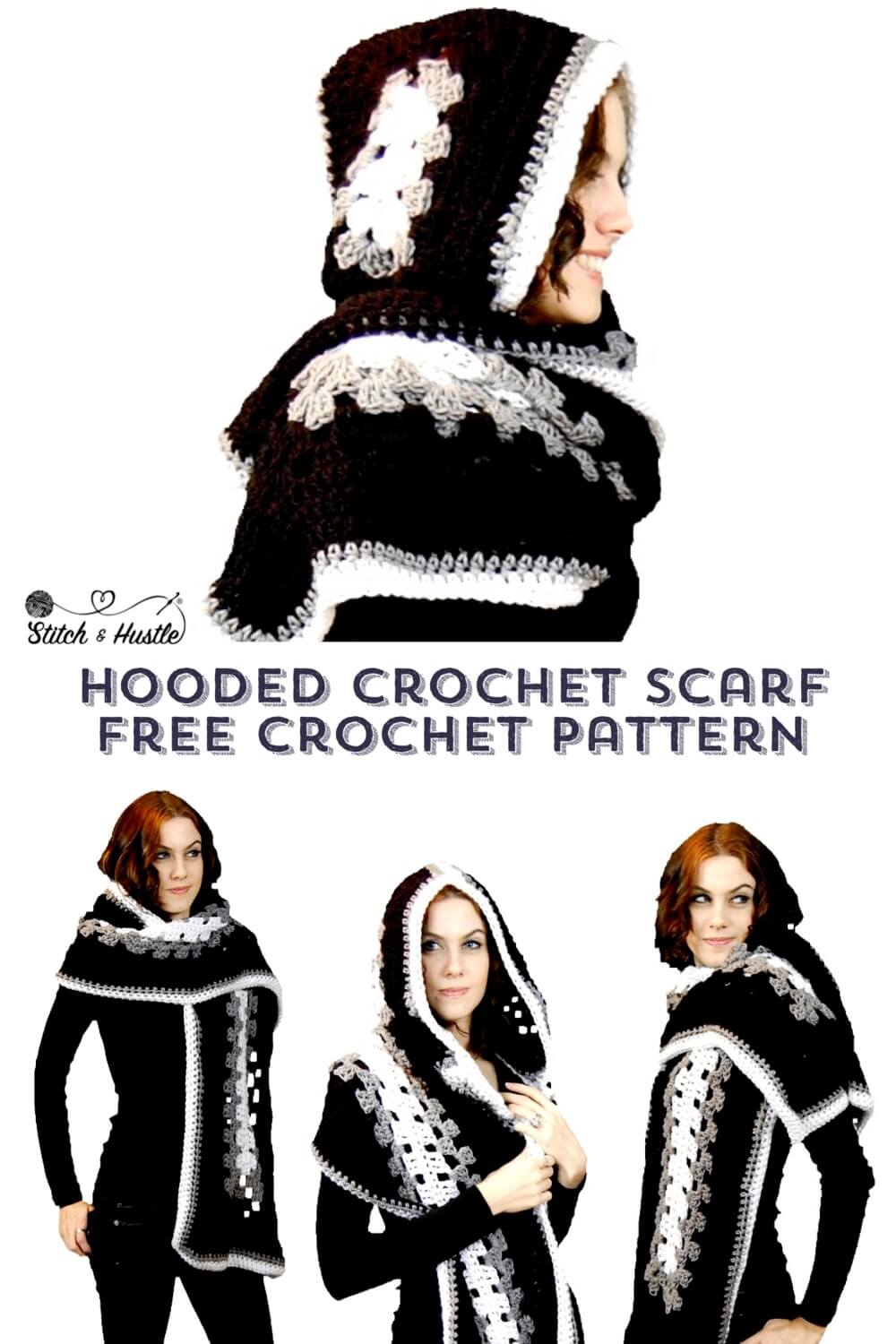 Fall in love with the beauty of the Ella Hooded Scarf. It gives an elegant feel mixed with granny squares making it the perfect crochet scarf on the go.
9. Harper's Hood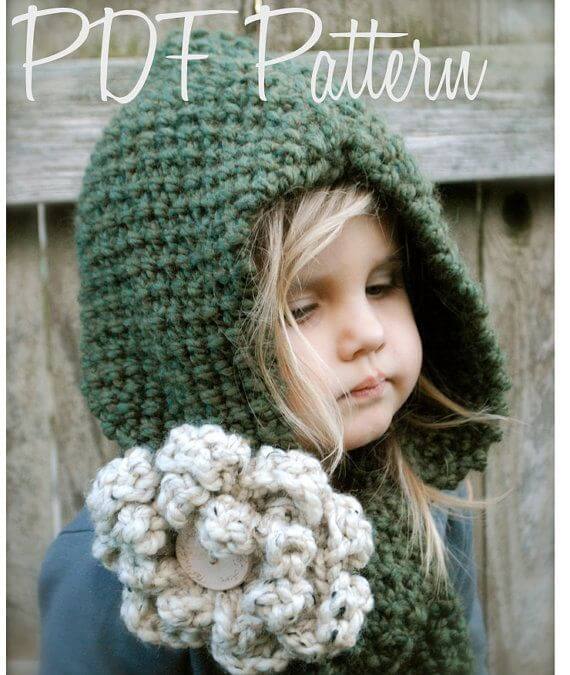 Perfect for little children, Harper's Hood can come in choices of mini scarf, braided ties and button closure. You may want to remove those traditional hats, and replace them with this Crochet Harper's Hood.
10. Aesthetic Hooded Scarf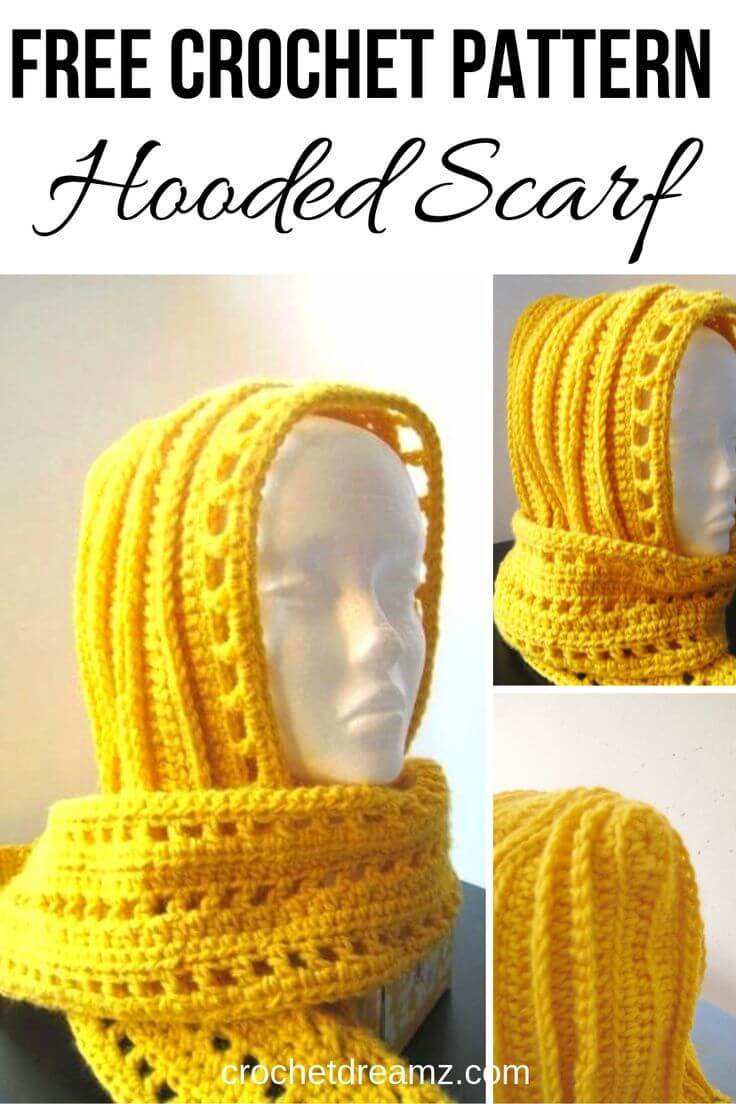 Make yourself look classy and aesthetic with the crochet aesthetic hooded scarf. This scarf can become your favorite accessory for the winter season.
11. Red Heart Hooded Scarf (crochet)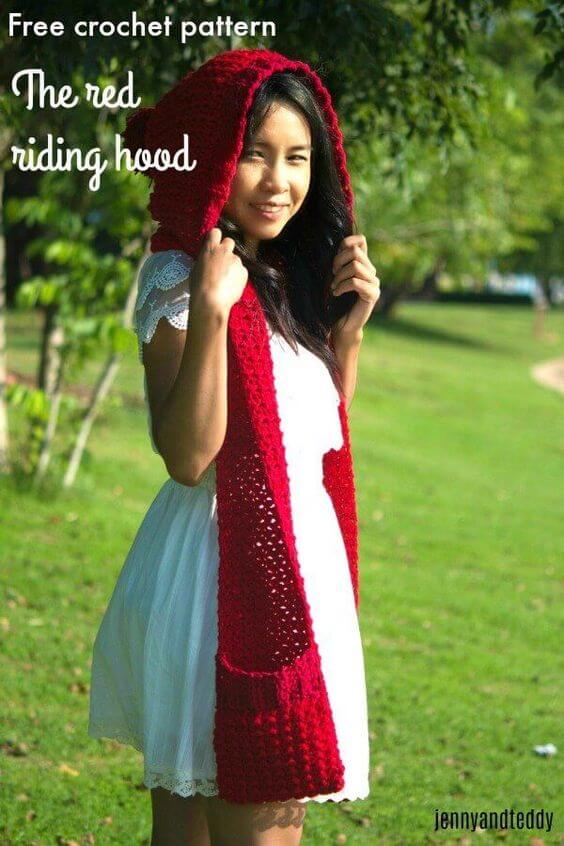 The Red Heart Hooded Scarf (crochet) is perfect to make you feel warm and comfortable. It is not difficult to make, and it gives you a combination of a scarf and a hood.
12. Red Heart Cabled Hooded Cowl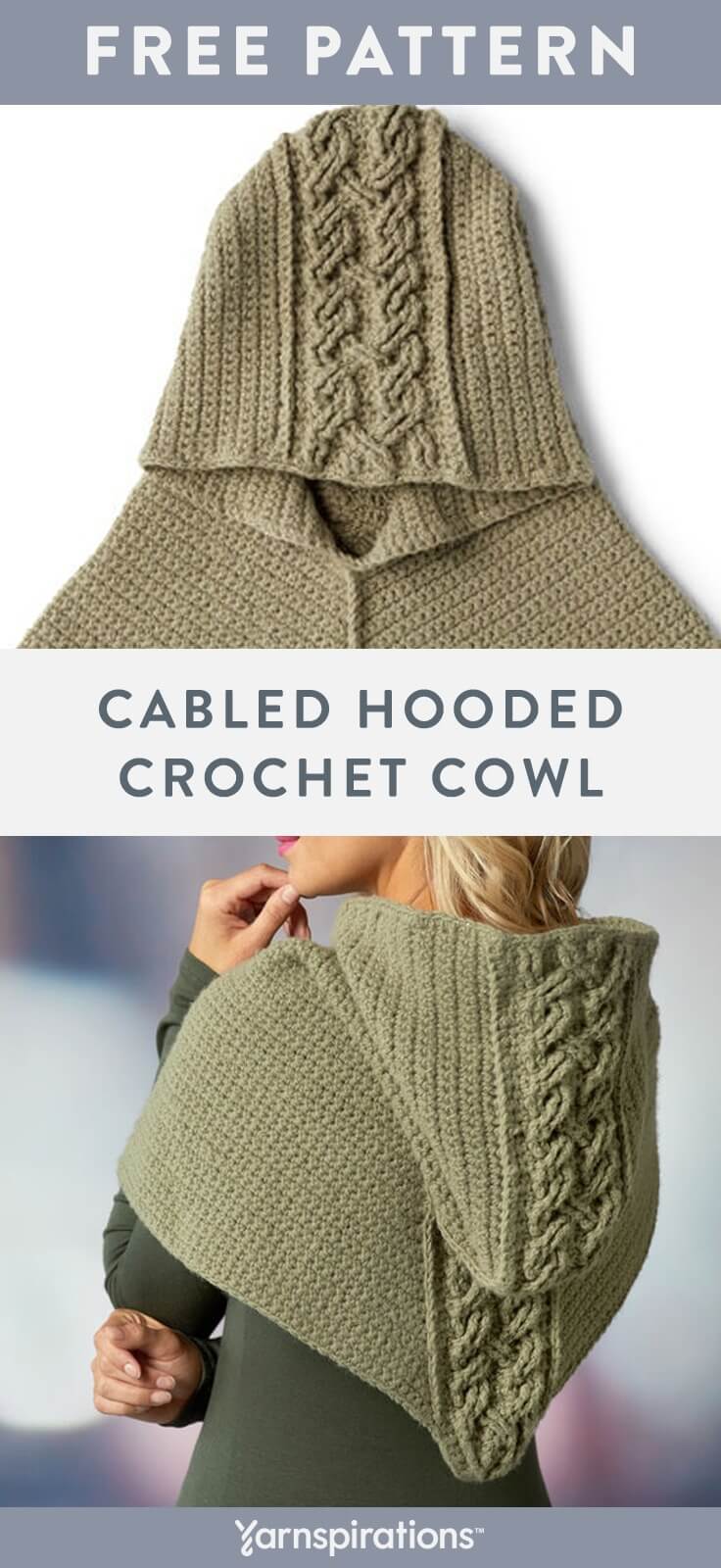 There are two ways to wear this crochet pattern: under the jacket or on its own giving you a fabulous look. Its attractive design makes it stand out.
13. Red Heart Happy Hoodie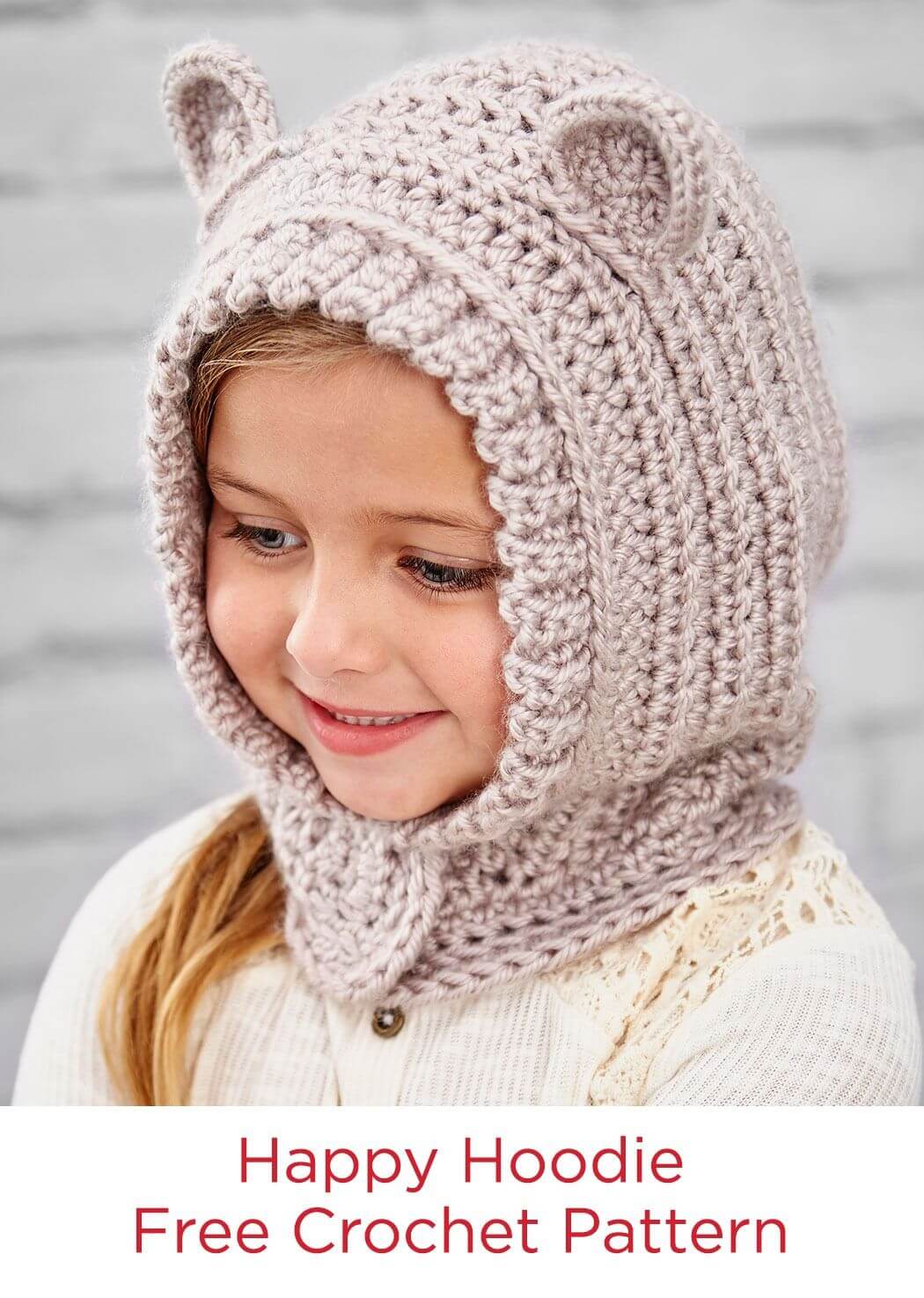 Nothing can beat a red heart happy hoodie. This crochet hoodie fits well with children, making them warm and more adorable.
14. Hooded Blanket Wrap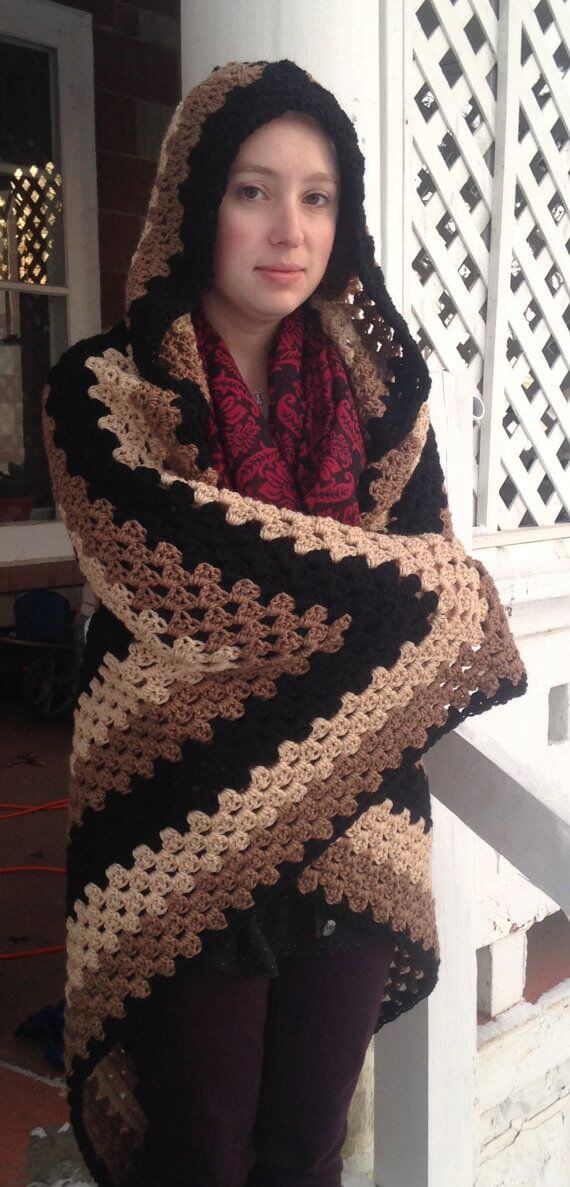 The Hooded Blanket Wrap has a unique crochet pattern and form, and is perfect for going outdoors. It helps you to not only keep your head warm, but your body warm.
15. World's Softest Crochet Cowl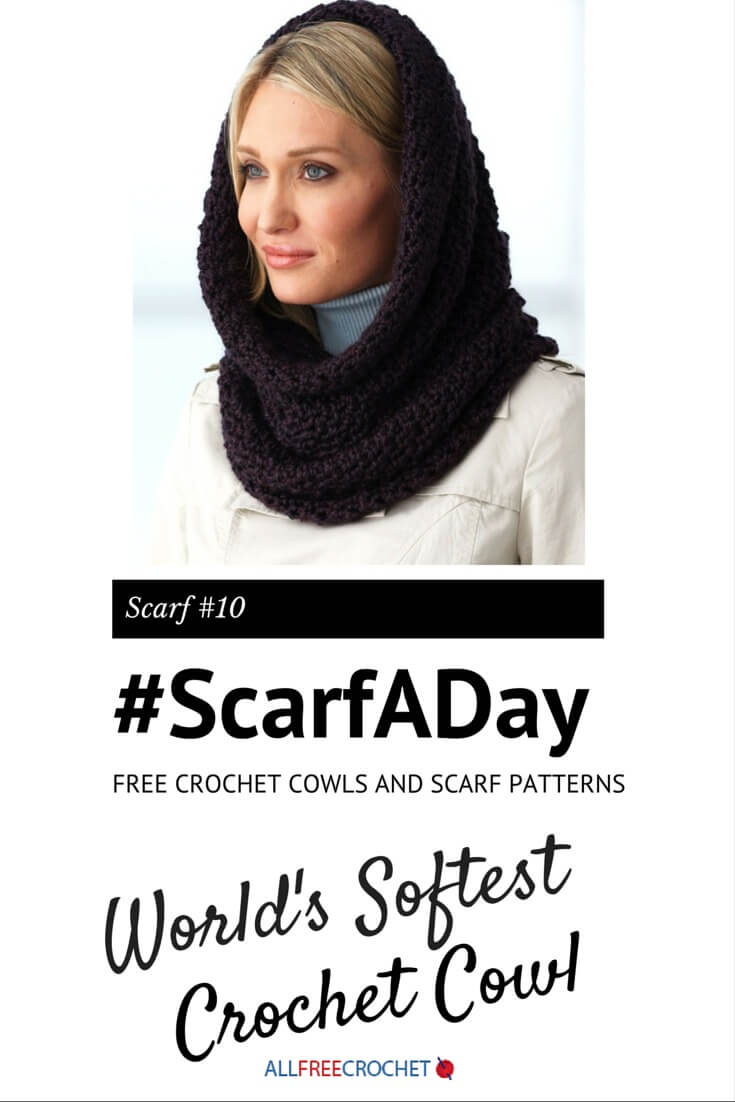 This crochet pattern makes you look beautiful and elegant as you wear it around the head as a hood and around your neck. It has a soft texture making it very comfortable to the wearer.
16. Keep Me Warm Hooded Scarf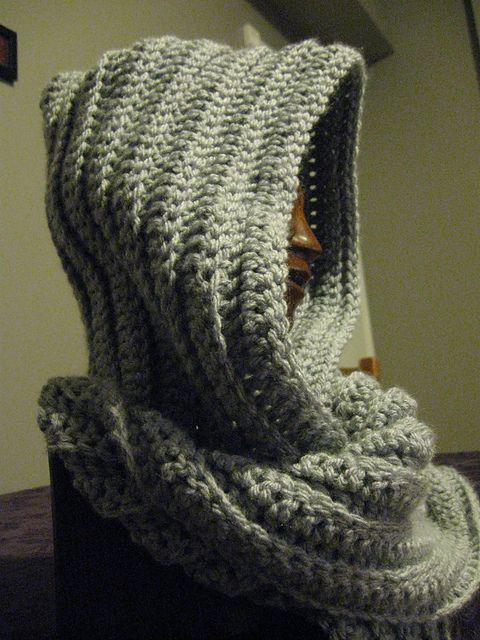 As the name itself, Keep Me Warm Hooded Scarf is the perfect scarf for that freezing weather.
17. I'll Be Your Mama Bear Hooded Scarf (Scoodie) Crochet Pattern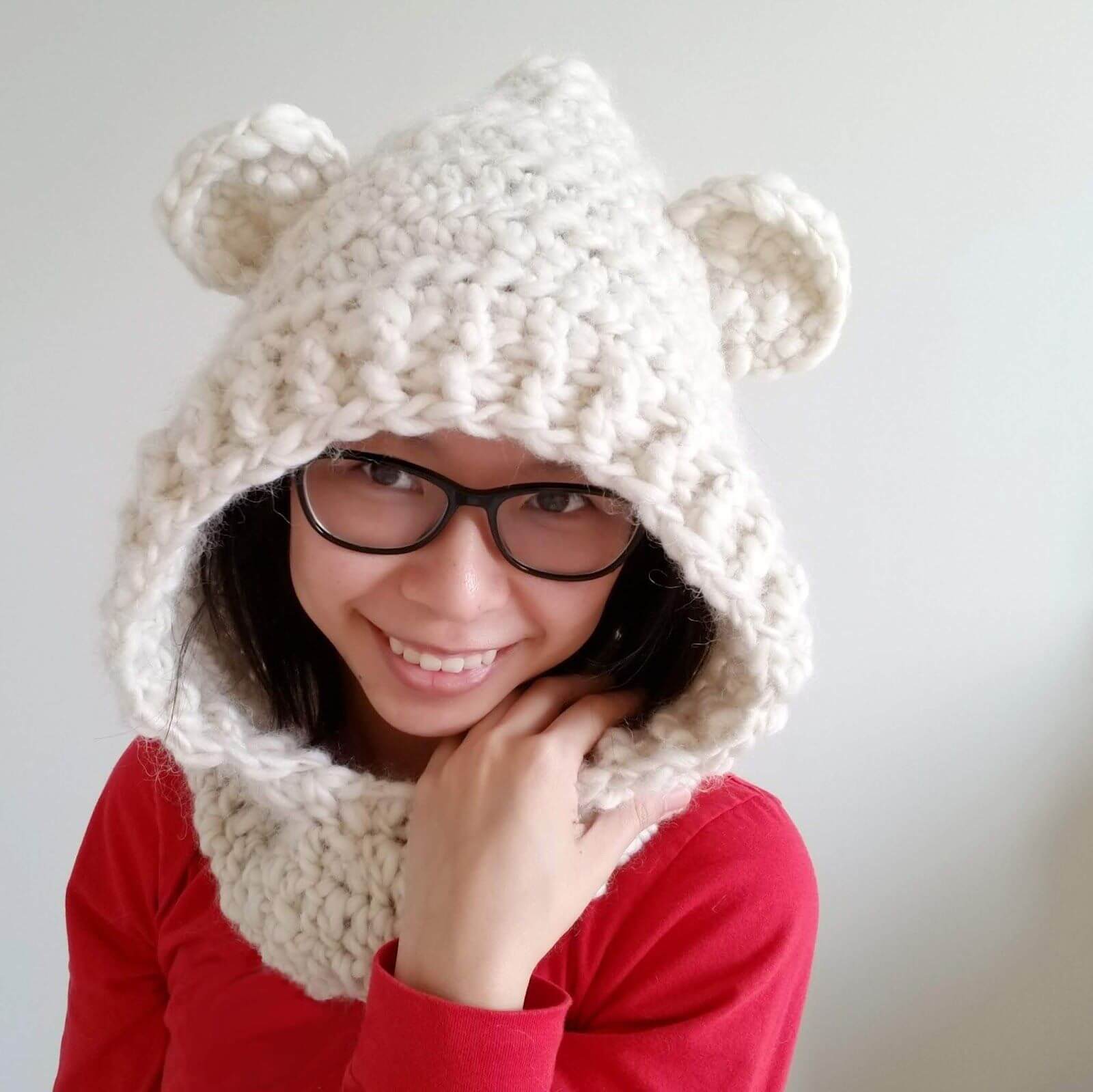 Here is a beautiful and fun crochet pattern to do: the I'll Be Your Mama Bear Hooded Scarf. Using a variegated thick and thin wool, this crochet pattern makes even more unique. You can even add some bear ears to make your scoodie a little more fun.
18. Elizabeth's Tulips Cowl and Hood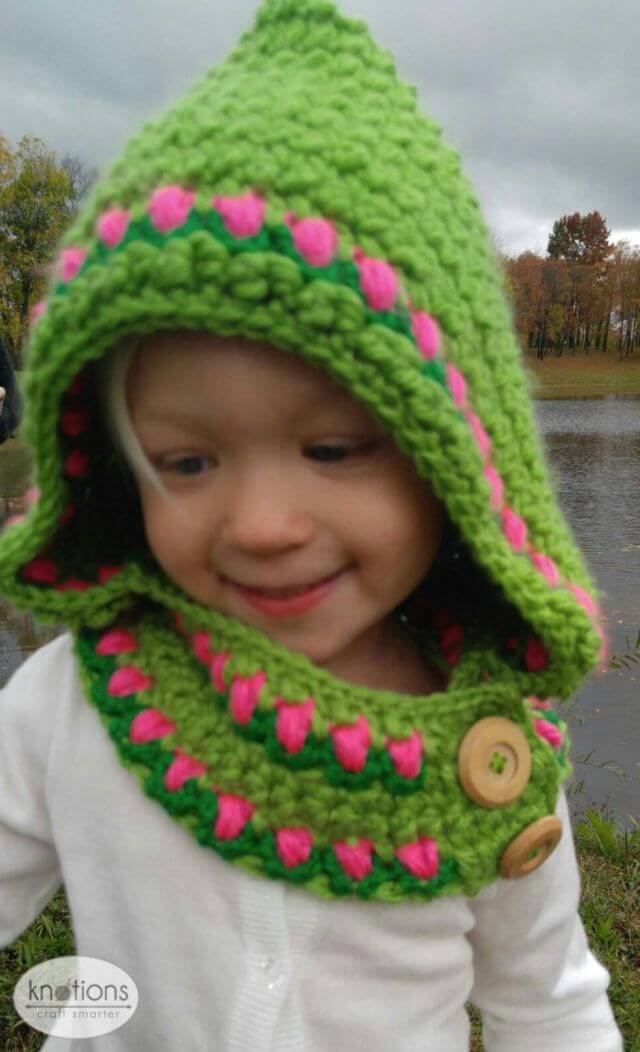 This beautiful cowl and hoodie has a unique pattern to it. The little stitches with this pattern are short, yet fat.
19. Crochet Hooded Infinity Scarf Pattern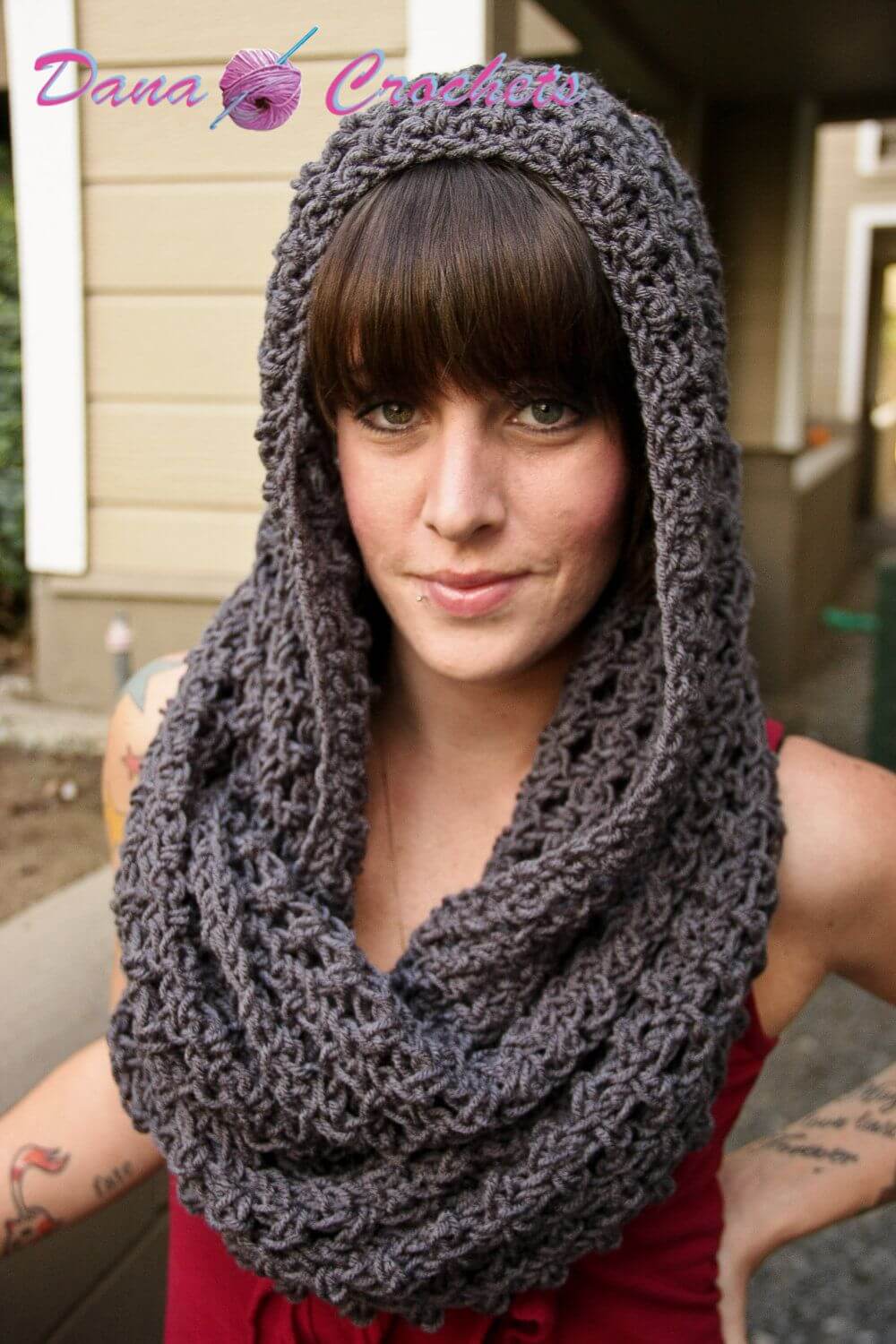 The Crochet Hooded Infinity Scarf is perfect for that cold, rainy weather, and makes you look beautiful.
20. Winter Branches Hood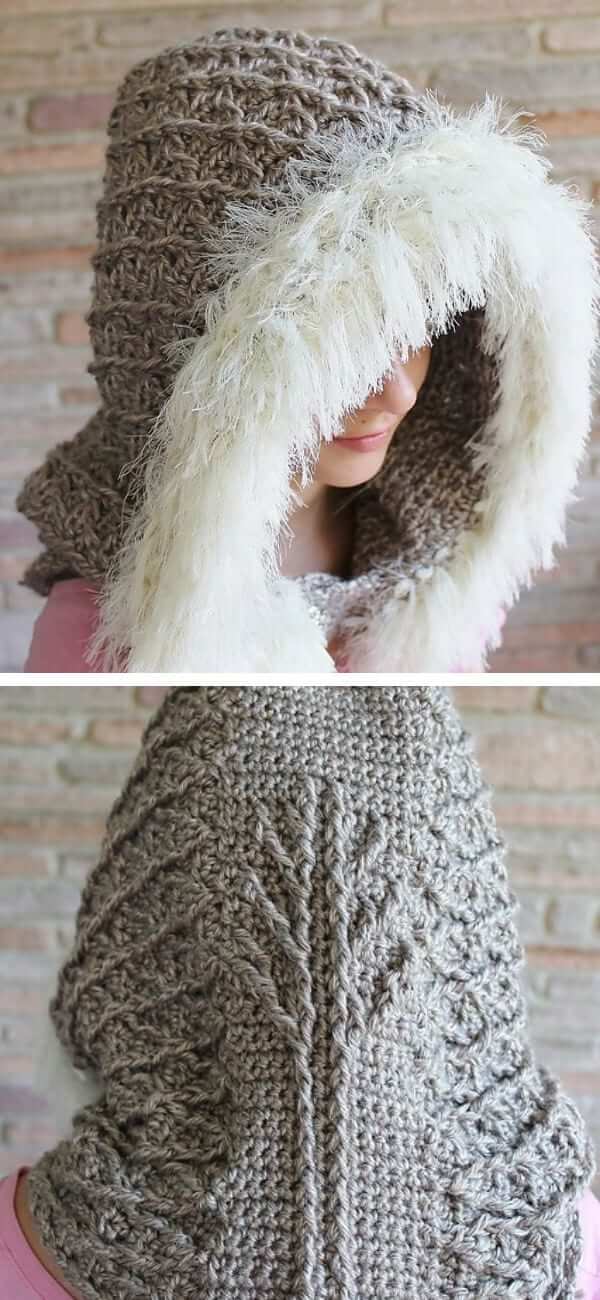 During that freezing winter, you have no choice but to give up your fashion statement and wear those clothes that make you fully warm and comfortable. The Winter Branches Hood allows you stay comfortable and dress in style. Even when that winter wind blows, you'd be thankful that you're wearing this hood.
Conclusion:
All these Crochet Hoodie Scarf Scoodies are most beneficial during cold weathers, allowing you to stay warm and good. On the other hand, all these design patterns give you options to choose what is most fitting to you.