Doilies are ornamental mats dated back years ago. They are made using cotton or linen thread, which gives them an amazing texture. Normally, Doilies are crocheted in rounds but there are doilies made in other shapes too. They also come in different sizes, colours, and designs.
Doilies are commonly used as decorative pieces around the house like to decorate tables and as ornaments for a Christmas tree.
Today, I have compiled 20 terrific Crochet Doily Free patterns that you ought to try out.
1. Pineapple Crochet Laced Doily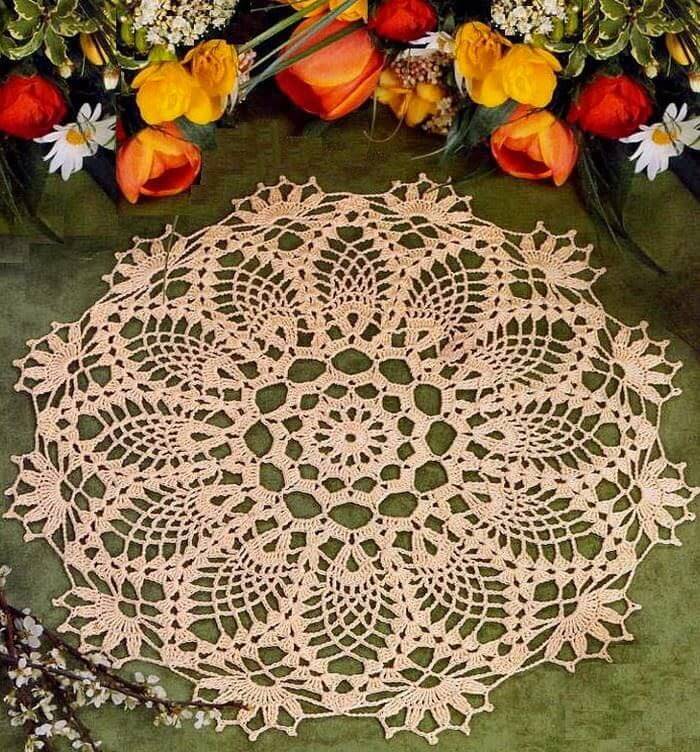 Decorate your tables using this gorgeous pineapple crochet doily. This amazingly beautiful laced dolly is crocheted using a light thread and a small hook. You can add a puff stitch in the middle of the pattern to add texture.
2. Doily Hoops Free Crochet Pattern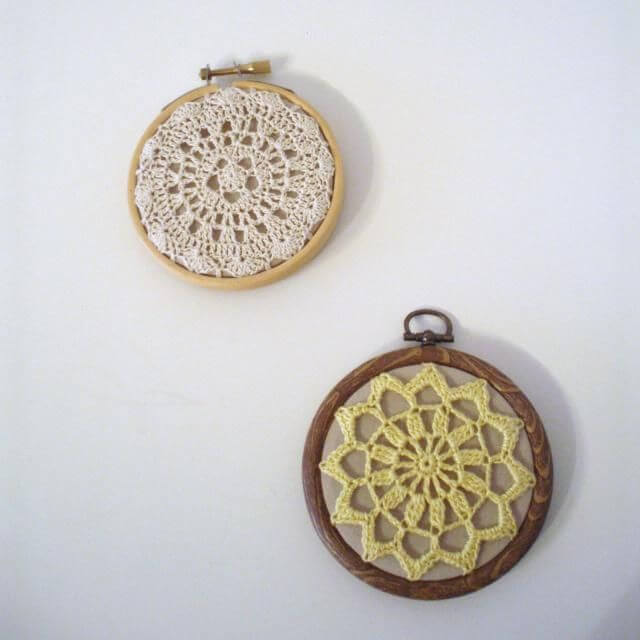 Crochet doilies can be used as art when hung on the walls using beautiful embroidery hoops. These two small crochet doily patterns designed by A La Sascha brighten the house when used as wall art. 
3. Flower Wheel Doily Free Crochet Pattern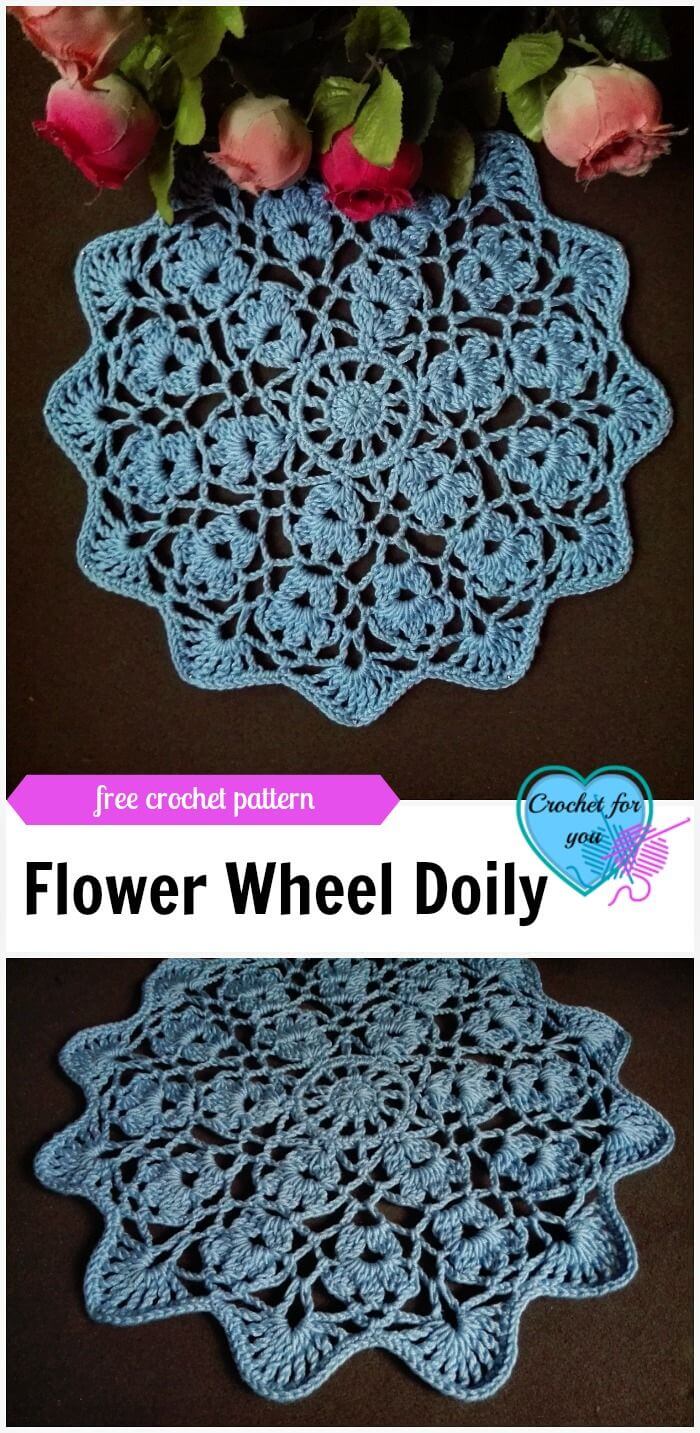 This gorgeous crochet doily is made with flowers around the circumference like a wheel. It employs a lacy pattern and is perfect for decorating your living room. You can use different colours to make the flowers for a unique design.
4. Citrus Blossom Crochet Doily Free Pattern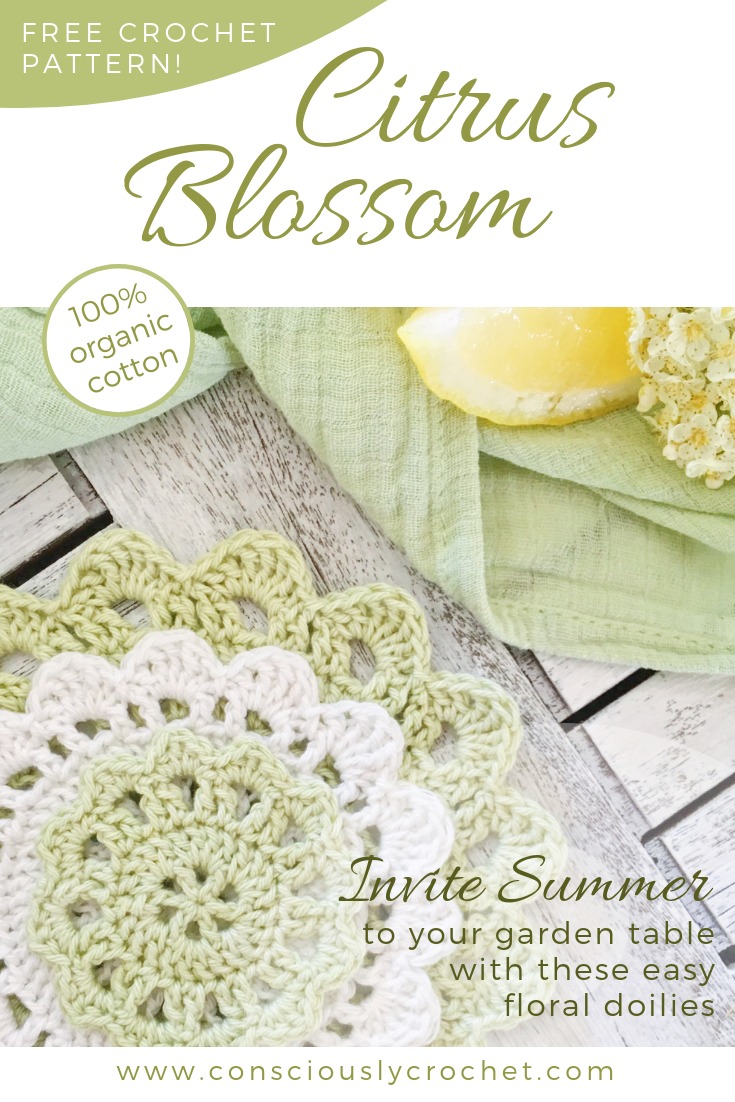 These gorgeous citrus blossom doilies are easy to make. They are made in 3 different sizes using the fingering weight organic cotton yarn. All the three sizes begin with similar basic rounds to mimic the seeds found inside a citrus fruit. The pattern is finished off with gorgeous petal borders.
5. Crochet Heart Doily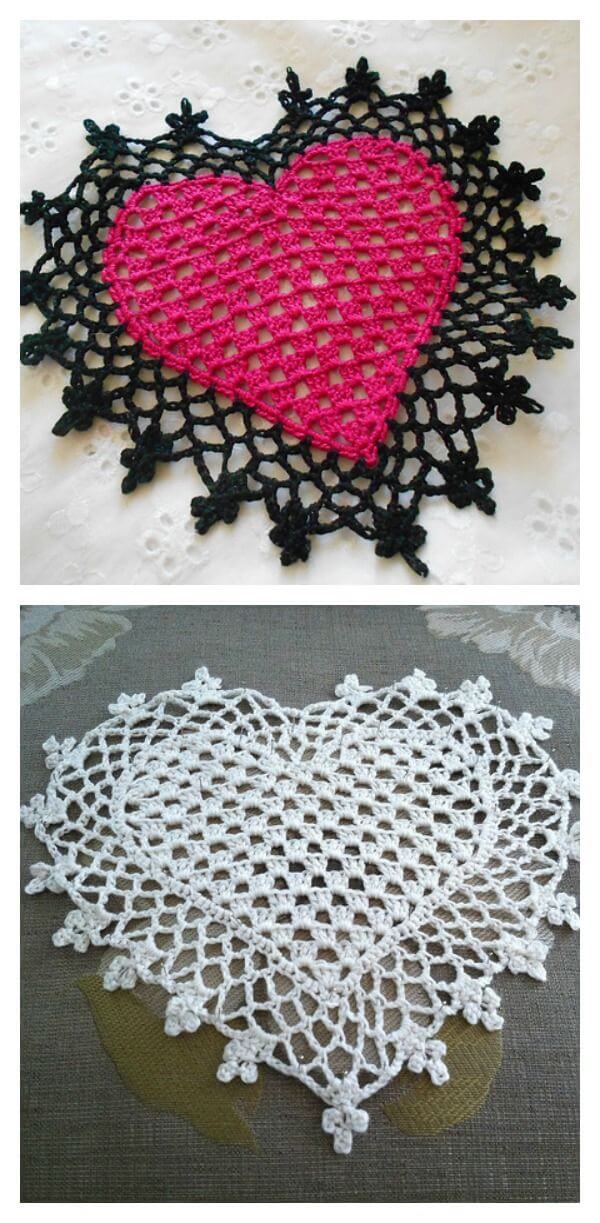 These lovely Crochet Heart Doilies are perfect gifts to your special someone on Valentine's day. They are crocheted using size ten off white thread and a crochet hook size 7.  
6. Scalloped Round Doily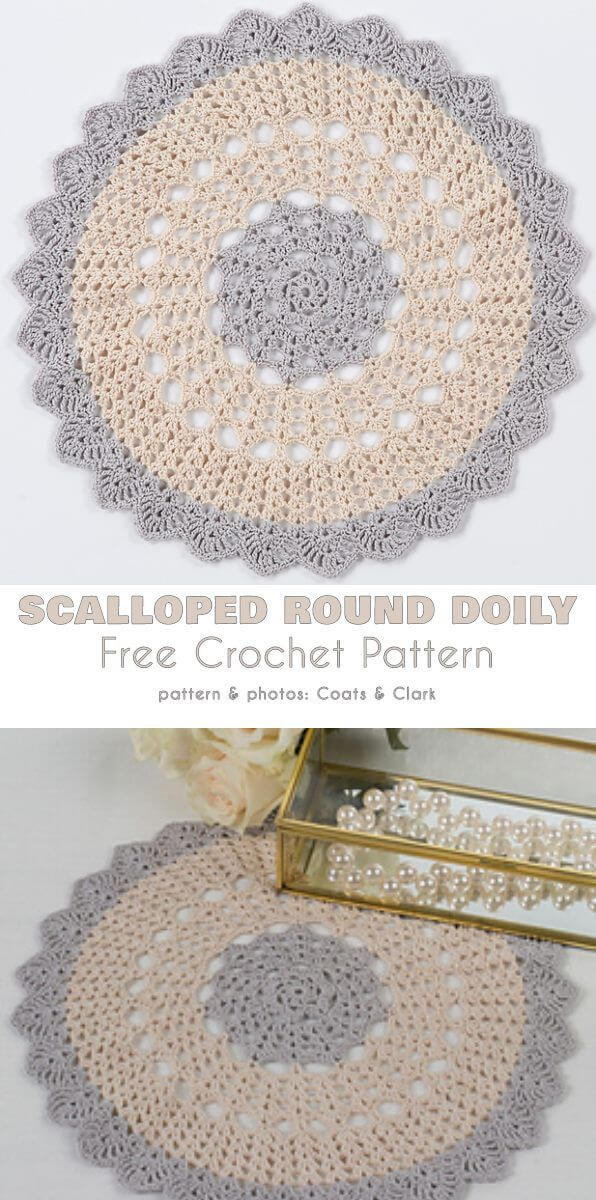 The scalloped round doily is a unique and sophisticated pattern that brings out a softer setting feeling to your house. It is easy to make and is finished off with a gorgeous lace scallop for a polished finished look.
7. Boho Nights Doily Free Pattern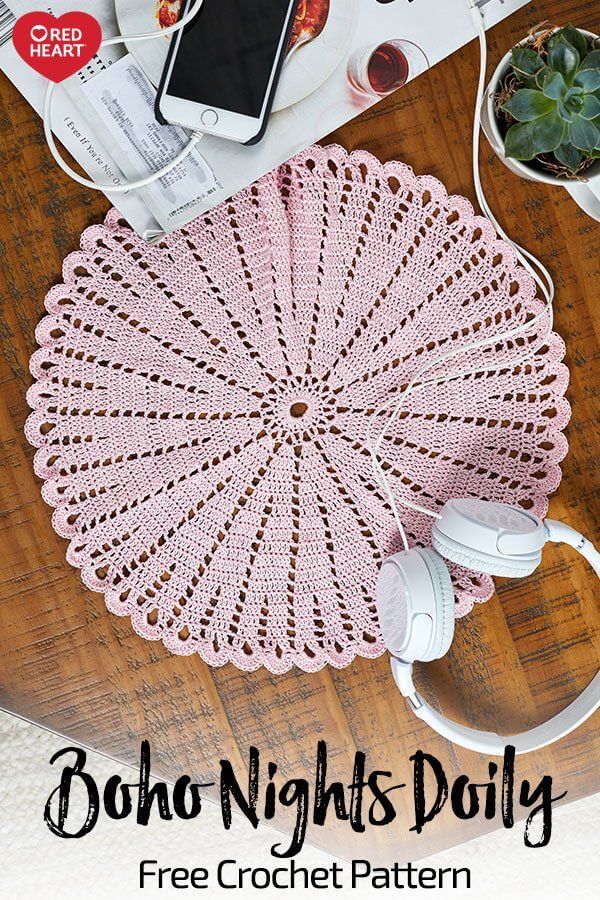 This gorgeous boho crochet doily adds some soft texture to your house, making it feel lively. They are perfect decorations as shelf or table displays.
8. Crochet Crown of Hearts Doily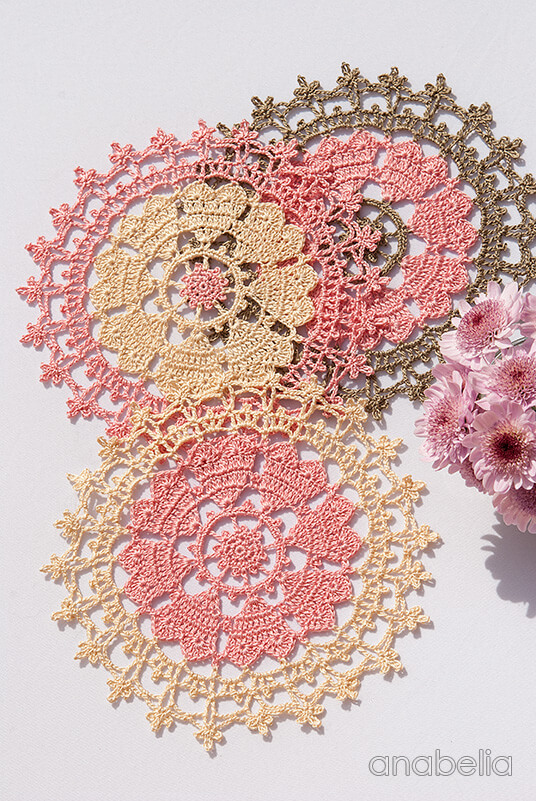 The crown of hearts crochet doilies is easy and fun to make. It is crocheted using a laced pattern through the circumference. Feel free to alter the colours to create unique and stylish designs.
9. Pointed Doily Free Crochet Pattern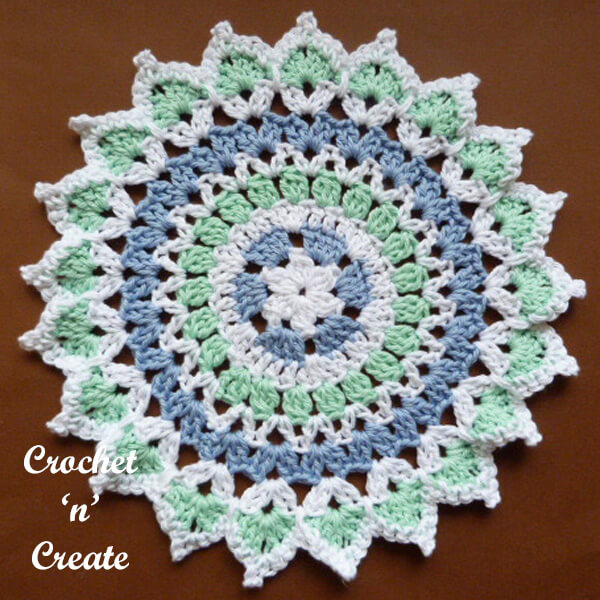 The pointed crochet doilies are adorable! They are crocheted in 3 different alternating colours using the soft cotton worsted yarn. This design is quick to make and looks magnificent in its pointed lacy design.
10. Crochet Wisteria Doily Pattern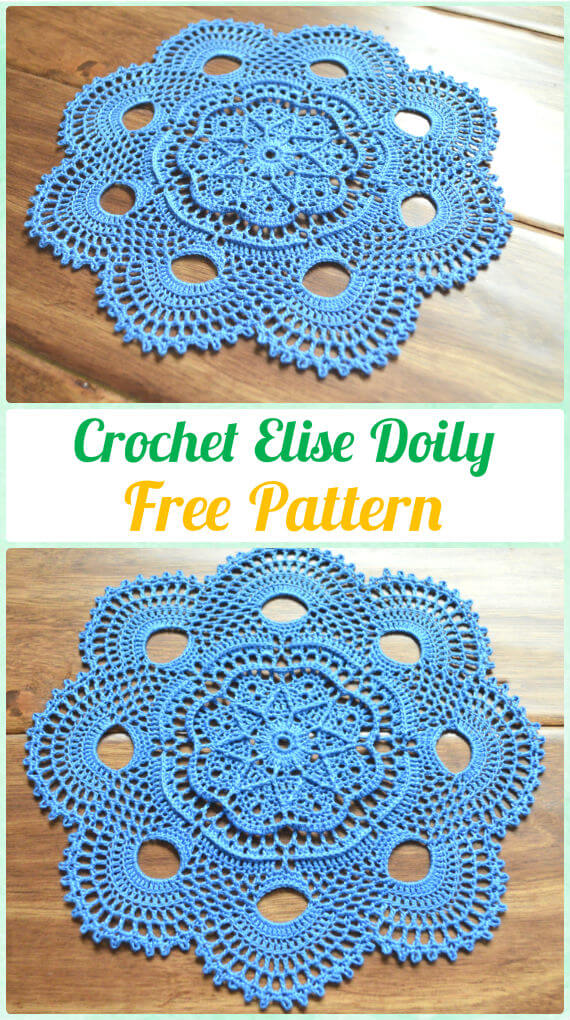 This is a unique doily pattern that is ideal for both a traditional or modern home setting. You can use your own colours that blend perfectly with your house theme.
11. Crochet Sea Shell Doily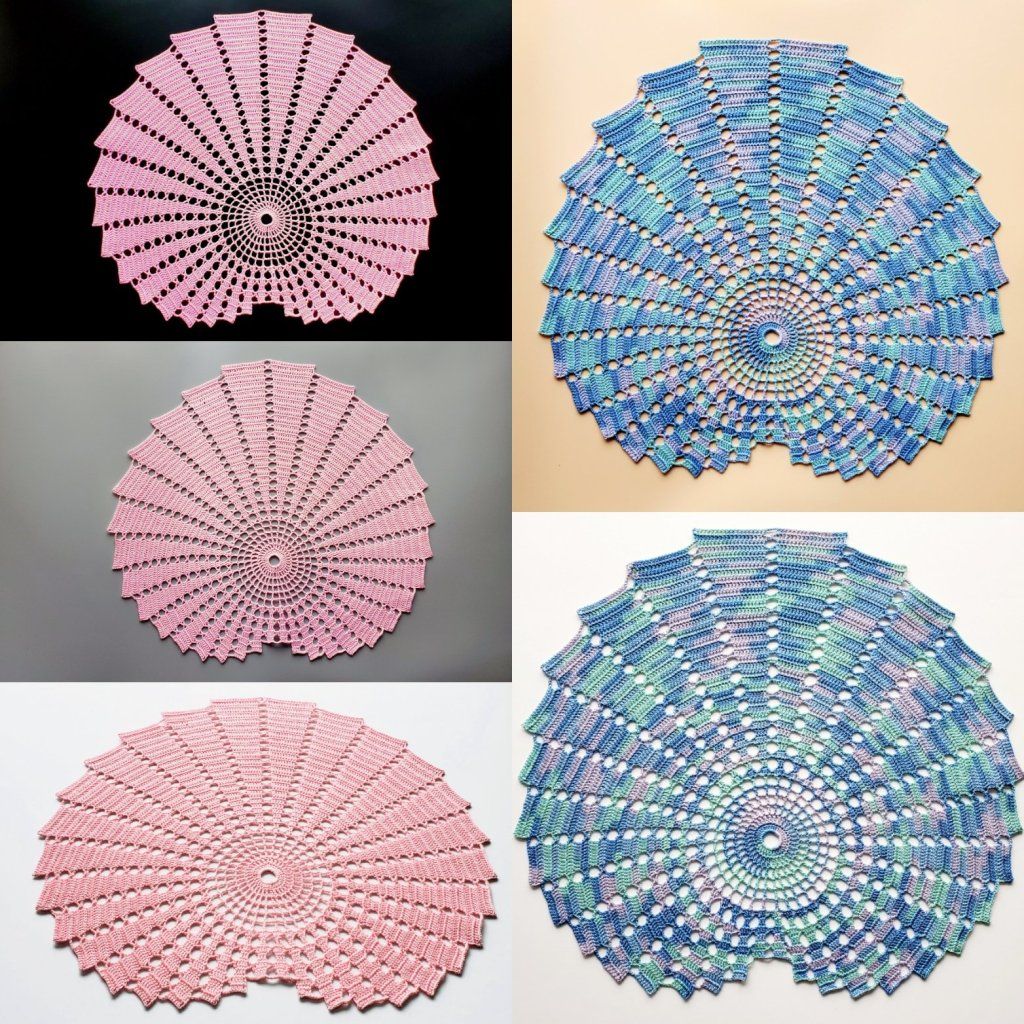 The seashell doily is a unique crochet pattern that is made using the fractal crochet technique. It requires a lot of concentration since it involves increasing and counting the stitches to produce this magical final design.
12. Christmas Rose Doily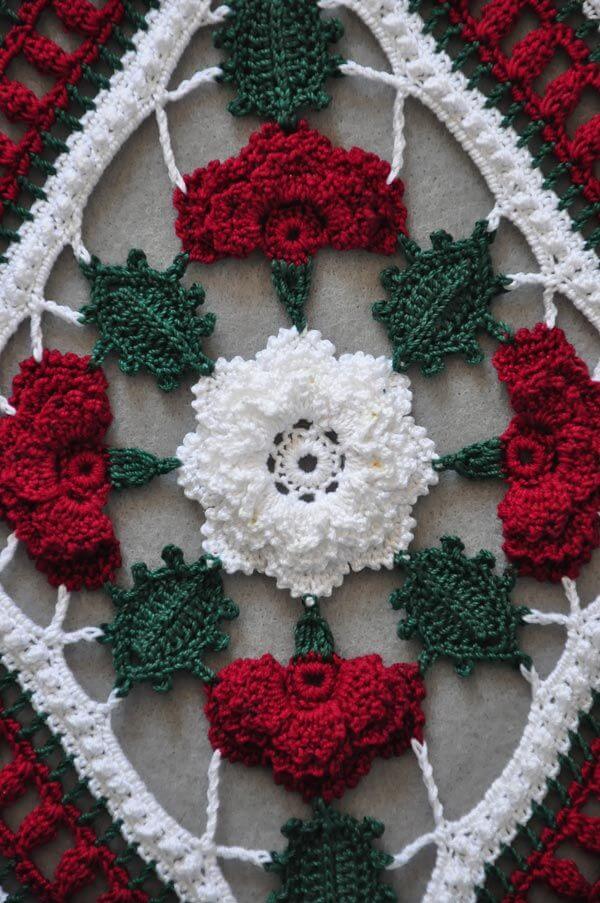 Add a finishing touch to your home decor with this eye-catching Christmas Rose Doily pattern. The final pattern measures 13 inches across, which is super easy and fun to make.
13. Poinsettia Doily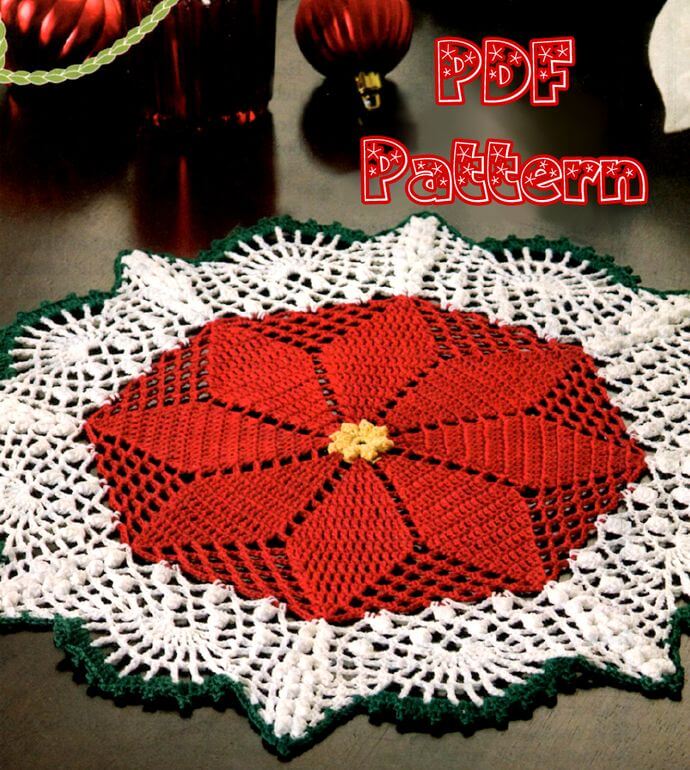 The poinsettia Doily pattern is crocheted a bit tightly to obscure the thread underneath from showing. The pattern is worked on continuously and finished off with a particular colour of thread. The pattern is made to resemble poinsettia flower petals and is a great Christmas home décor idea.
14. Laurel Square Doily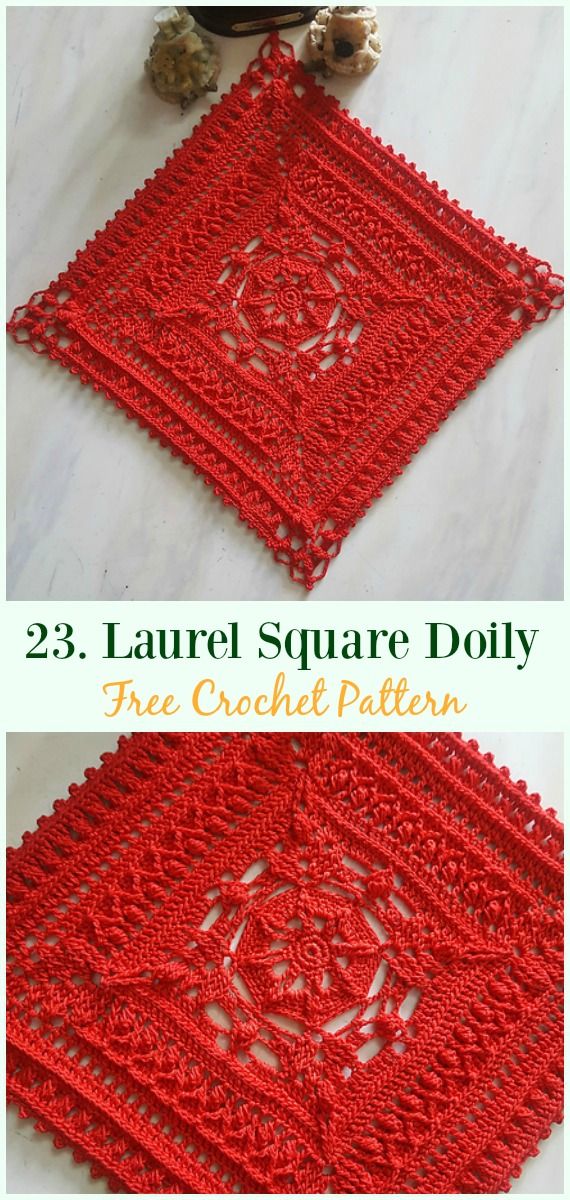 The Laurel Square Doily is inspired by leaves used in wreaths as a symbol of triumph, Honour, and glory. It is crocheted using a size ten thread and 1.75 mm hook with the final design measuring approximately 10" on each side.
15. Christmas Amaryllis Doily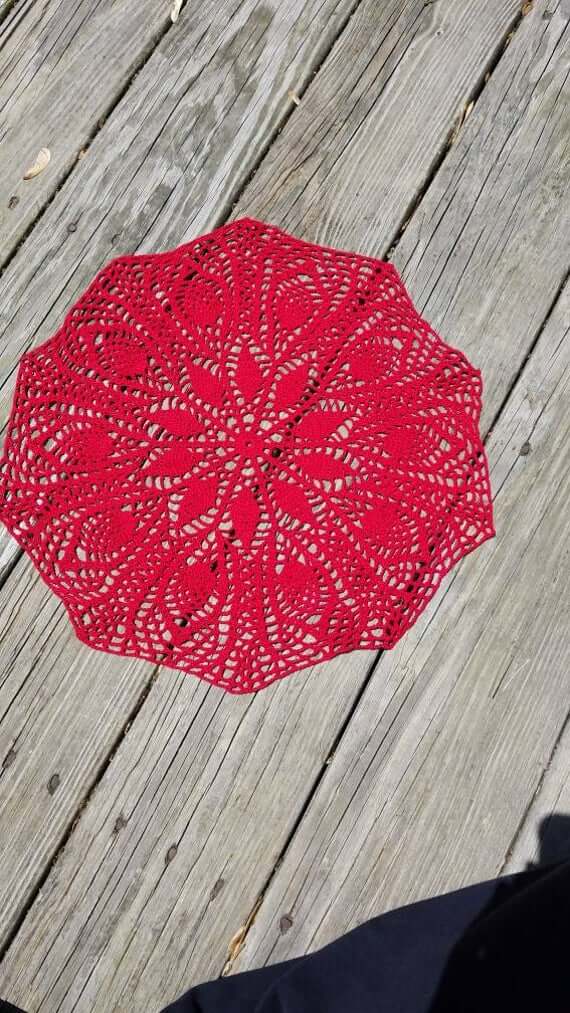 This Christmas Amaryllis Doily is classic. It adds such a terrific touch to your holiday décor! Grab your hook and start stitching this adorable design for your holiday dinner table.
16. Crochet Granny Doily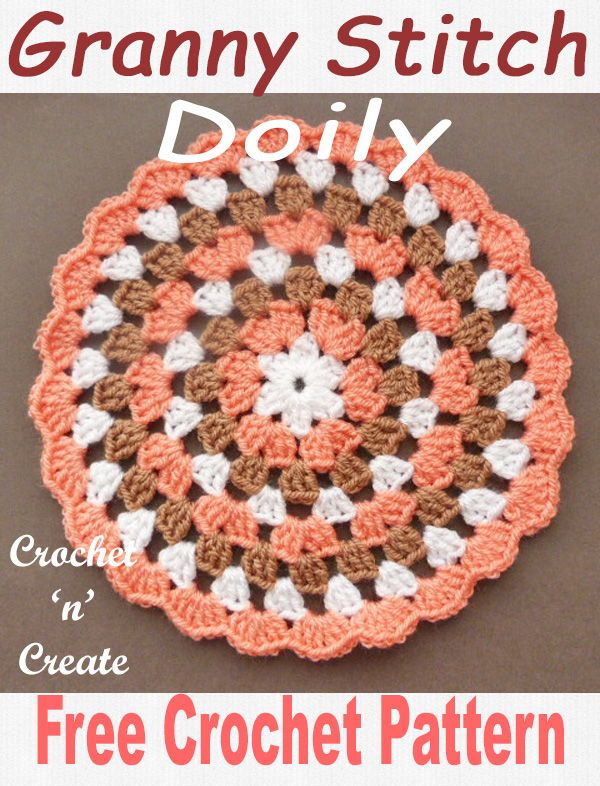 The crochet granny doily is an amazing pattern. It is a versatile pattern that can be used in so many projects around the house. Feel free to incorporate your own colours for a personalized design.
17. Chunky Doily Rug Free Crochet Pattern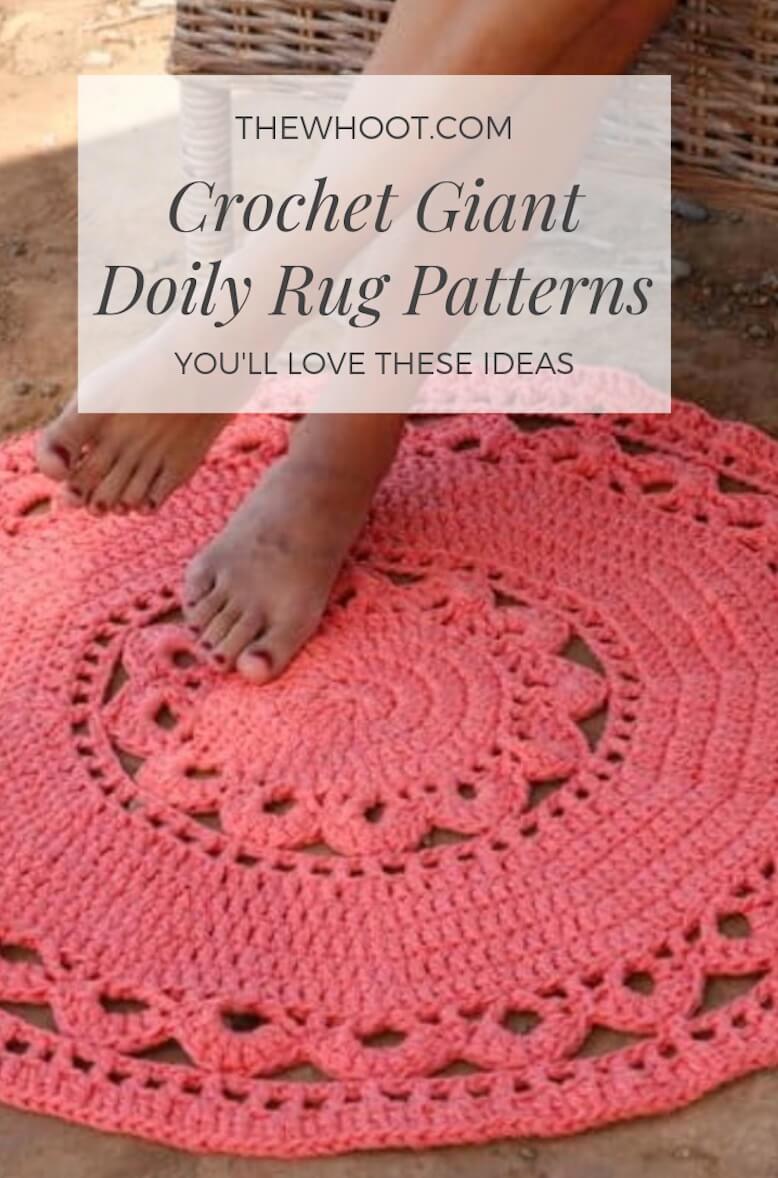 The chunky doily rug is such a classic pattern! It is worked using a giant hook and three strand s of yarn held together. It employs the worsted weight yarn and hence works up quite fast and makes such a gorgeous and unique decoration piece for your house.
18. Doily Flake Ornaments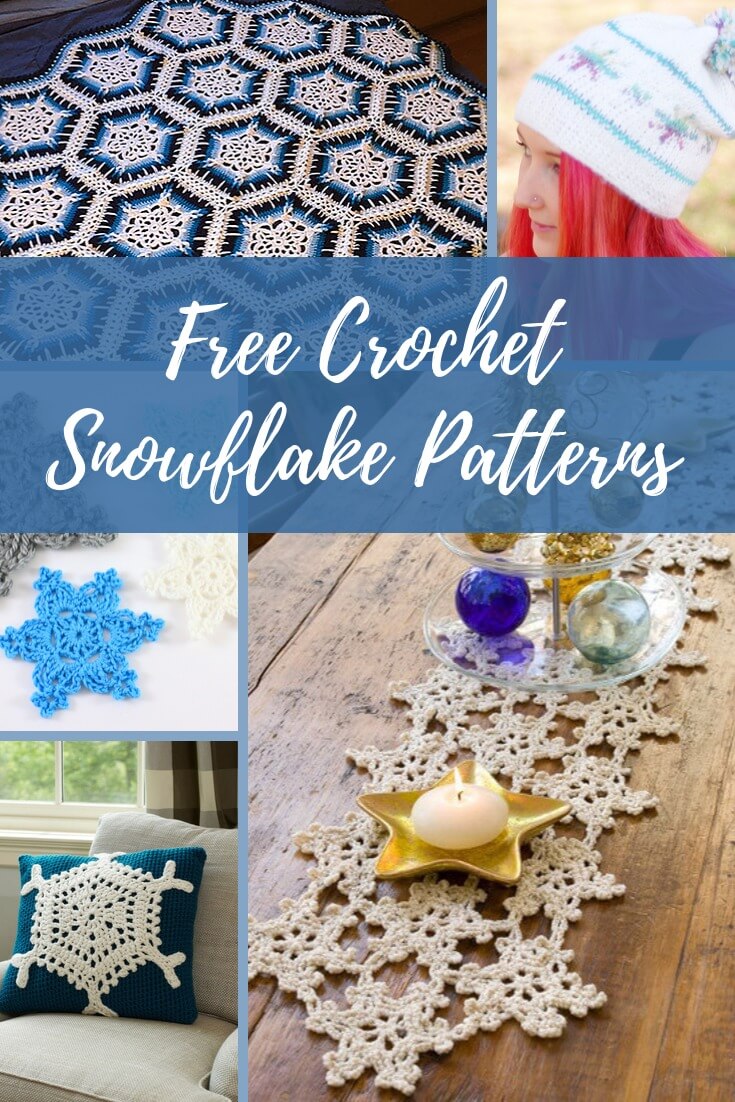 These doily flakes ornaments will be a great decoration addition to your Christmas tree. They are super easy and quick to make too. Choose your favourite colours and make a dozen of these cute miniature doilies.
19. Easy Crochet Doily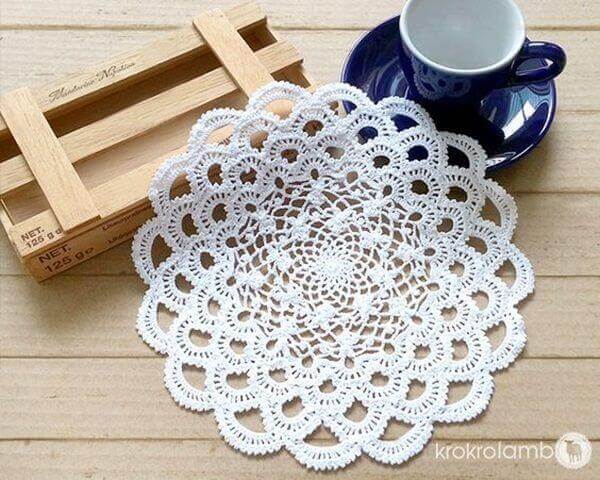 This is quite an easy crochet doily project. The pattern is easy to follow and also works up quite fast. This adorable pattern looks great in different colours and would make such a great table decoration piece.
20. T-Shirt Yarn Doily Rug Free Crochet Pattern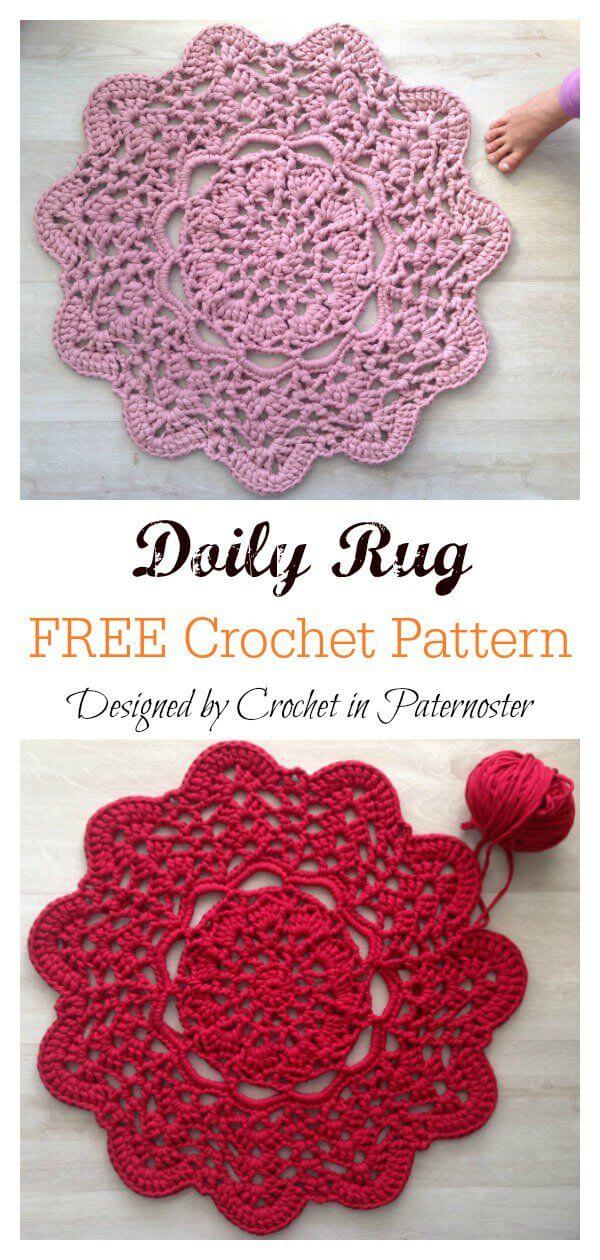 The T-Shirt Yarn Doily Rug is a terrific pattern! It is crocheted using the thick, chunky, pink T-shirt yarn and worked using a large hook and therefore works up quite fast to create an adorable circular rug.
Conclusion
Add a touch of glamour and style to your house with this amazing Crochet Doily Free patterns.