CROCHET CABLE HAT FREE PATTERN
Introduction. 
The most widely used hats are cable hats. Every knitter makes at least one hat, this is because they are worldly used, from the northern part of the world to the southern part. They are chunky looking and their texture gives extra warmth and this prevents the cold blast outwards. Many knitters would want to know the patterns that are there for a cable hat.
20 Crochet Cable Hat Patterns.
1. Crochet Braid Cable Stitch Hat.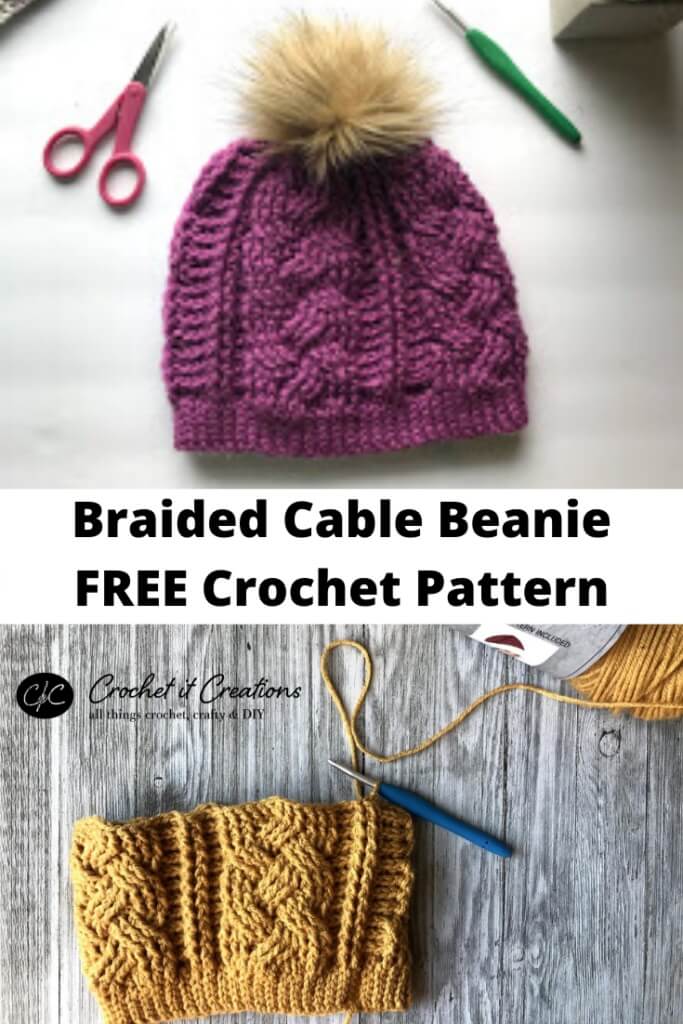 It is one of the stylish, full of colorful texture that helps in keeping you warm while still looking stylish. It is made from the brim up using front post and back post stitches, then completed with an over-sized faux fur. 
2. Crochet Embroidery Cable Stitch Hat.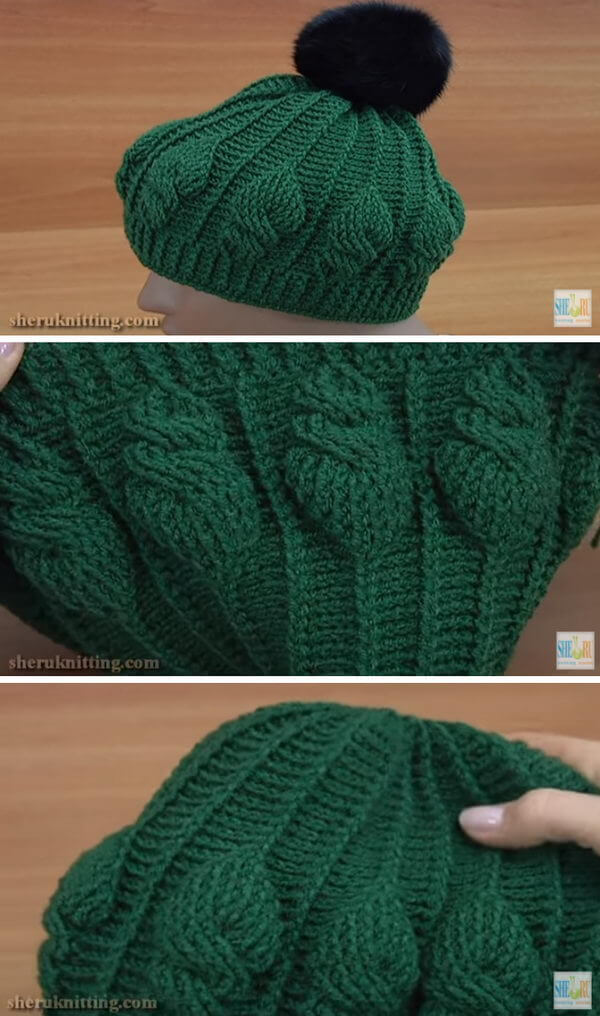 If you are looking for a well-cabled crochet hat that will keep you warm whenever the temperature drops? Then this is the right hat for you. Beginning with a texture post stitches ribbing for a snug fit, this will be the best way to explore the world.
3. Easy Ribbed Pom Beanie.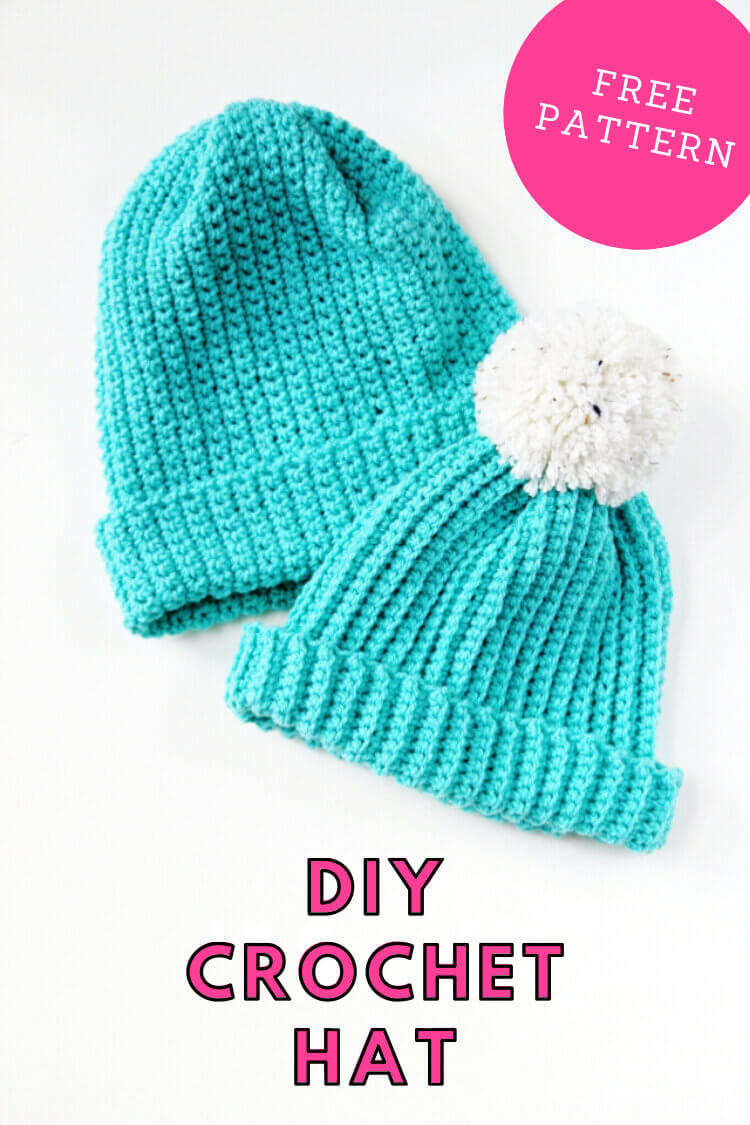 This is great fun making a hat for beginners. The hat can be worn cuffed or slouchy and also looks great with either solid color of color-blocked. It has a stretchy nature making it fit for everyone for a very long time. The best thing about this hat is that it has simple patterns that everyone can follow.
4. Wheat stitch Cabled Hat
The cabled hat is available in different sizes. Working up with crochet cables without holes and has a unique design making it more beautiful and presentable. It has complete features, starting and stopping at the cable lines creating a stunning slouch hat.
5. Crochet Cabled Beanie Hat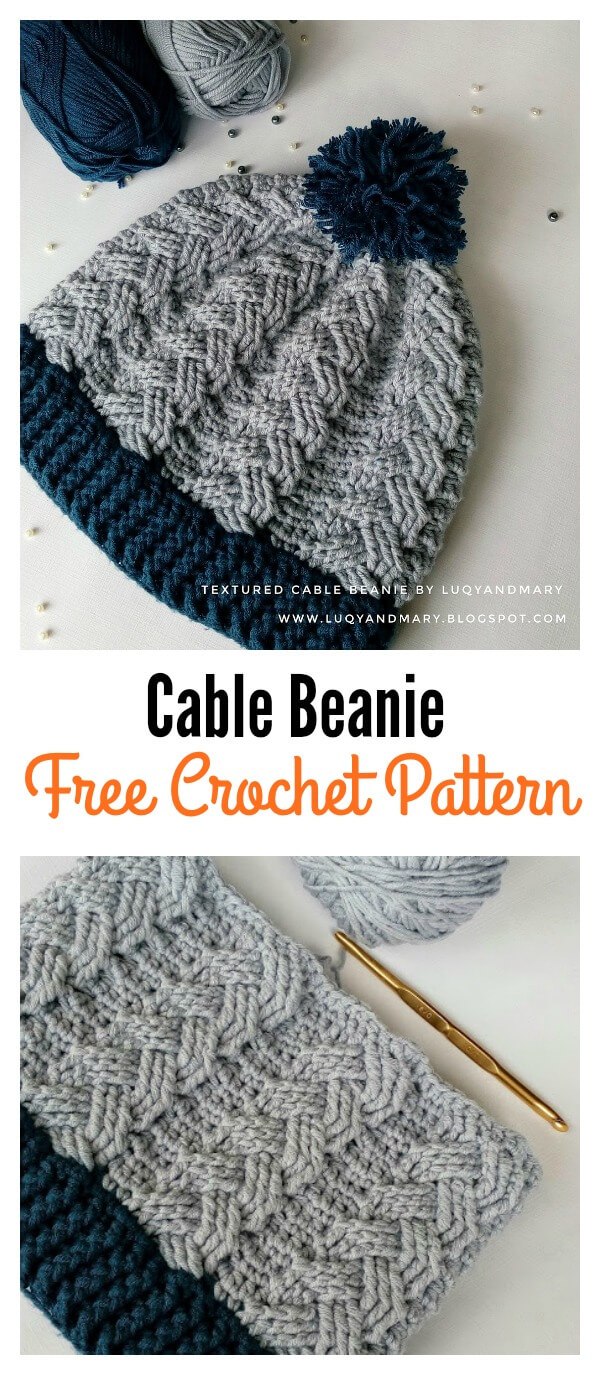 For beginners, this is the best crochet hat they can get to learn and make with ease, having the right pattern. It keeps you warm even when the temperature has dropped.
6. Crochet chunky Ribbed Cable Hat.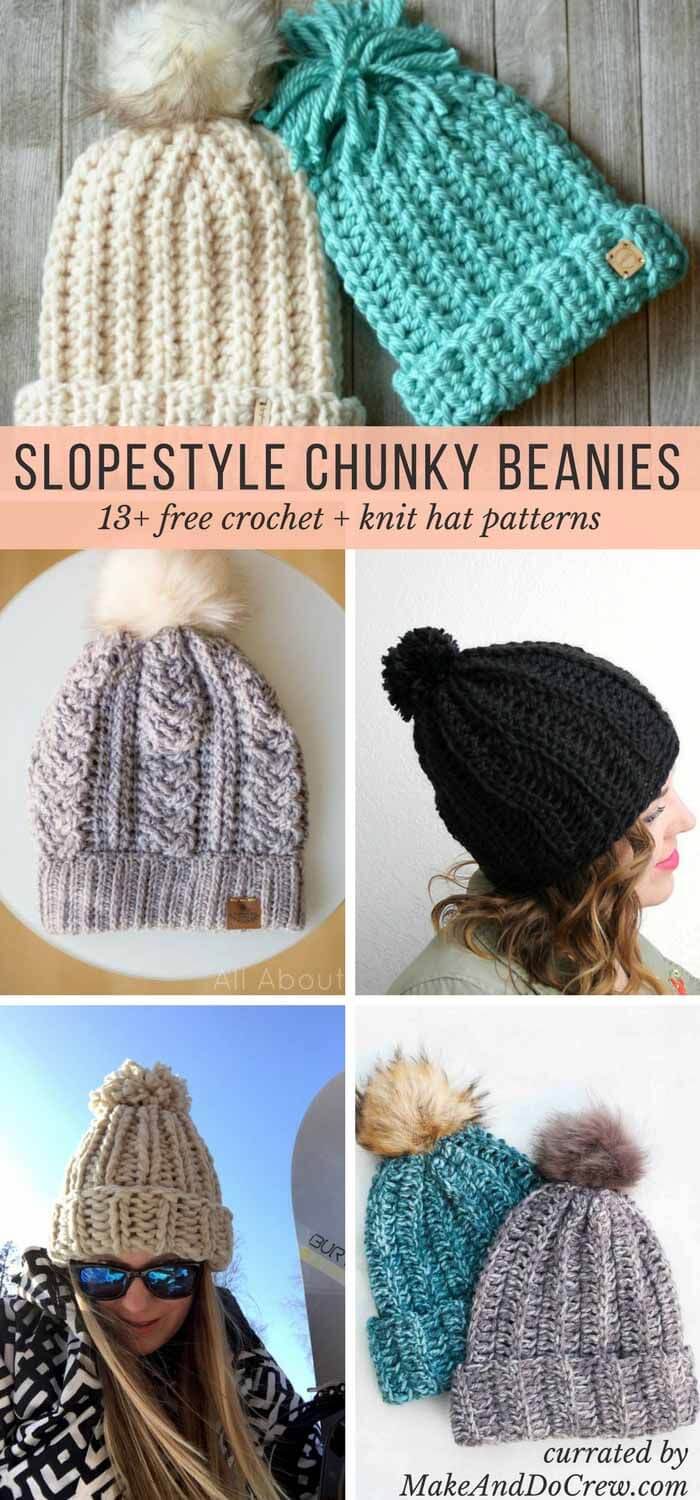 Chunky Ribbed Cabled Hat has lots of textures and a slouchy style. Its patterns work up quickly because of the thick yarn used and it has a big hook and simple enough for any confident beginner sew using the right patterns.
7. Stepping Texture Hat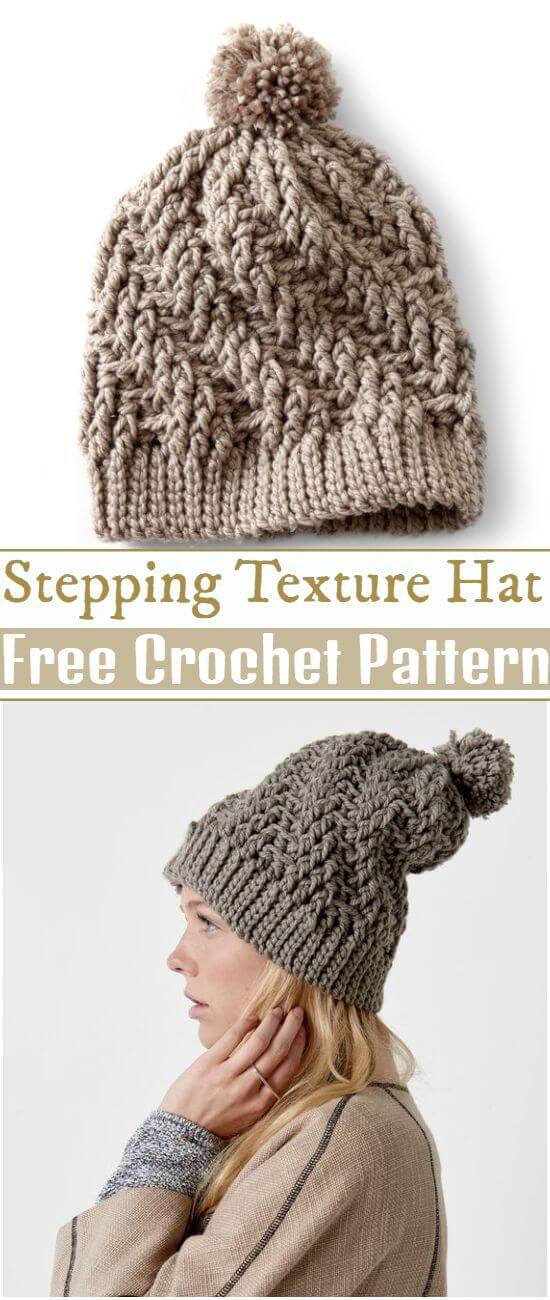 It is highly textured and also easy to complete so long as you have all the steps and patterns. Stepping texture hat is crocheted in Bernat softie chunky, making the ribbing worked sideways into the back loop of slip stitches.
8. Crochet Cable Braid Stitch Hat.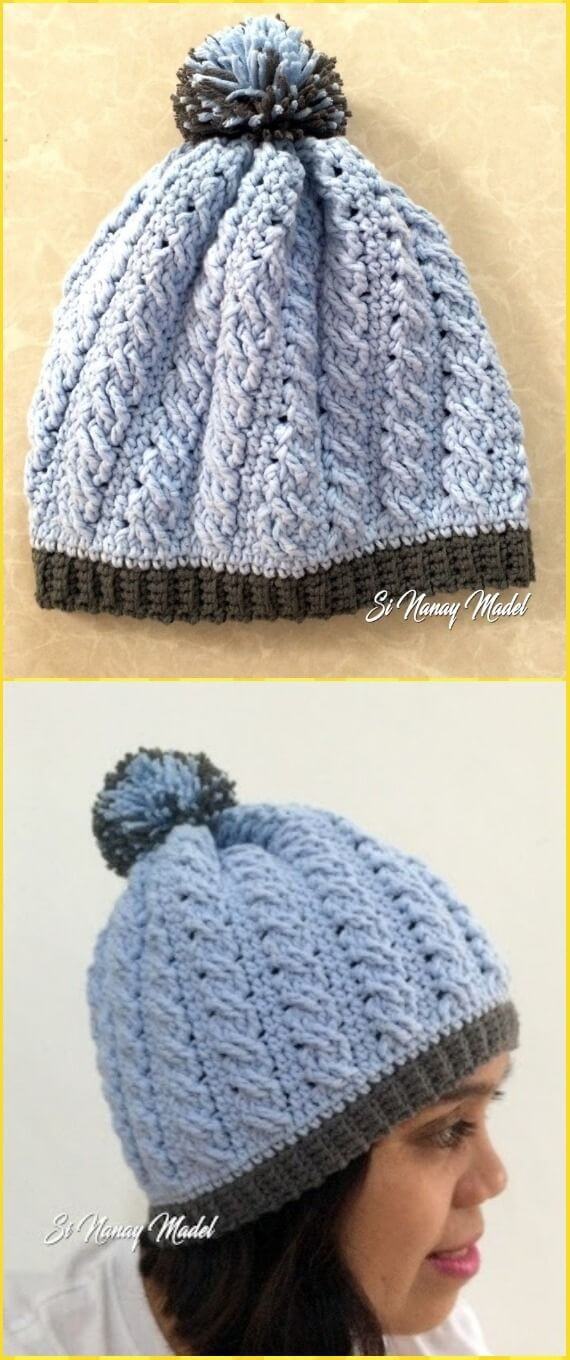 This crochet Hat is made from the brim, up using the front post and also focusing on the back post stitches, then completed with an over-sized fur pom pom.
9. Crochet Cable Twist Hat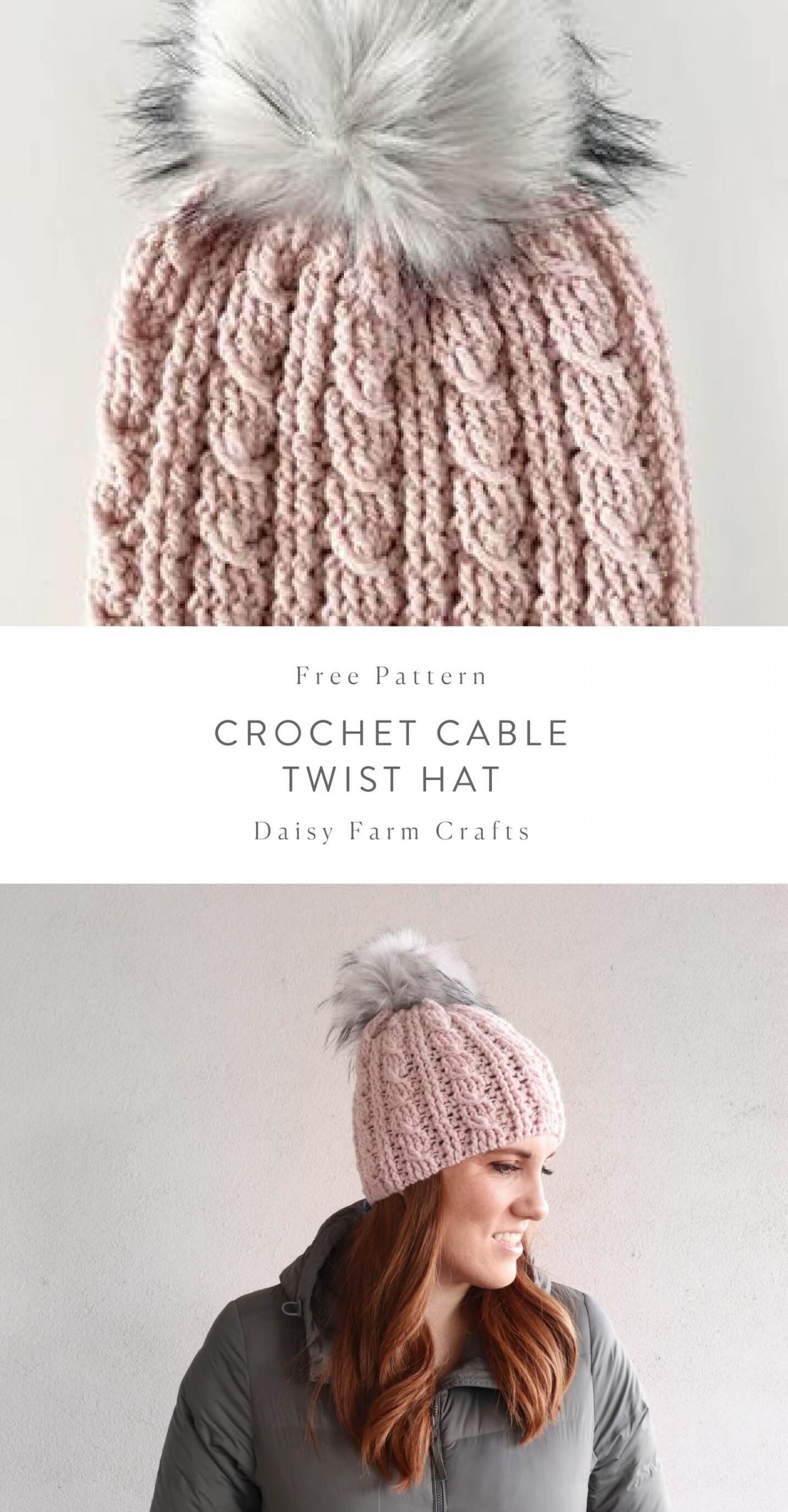 It is one of the easily made hats that a beginner can make. The patterns mainly test your skills of doing the front post double crotchets.
10. Alpine Nights Waffle Beanie Hat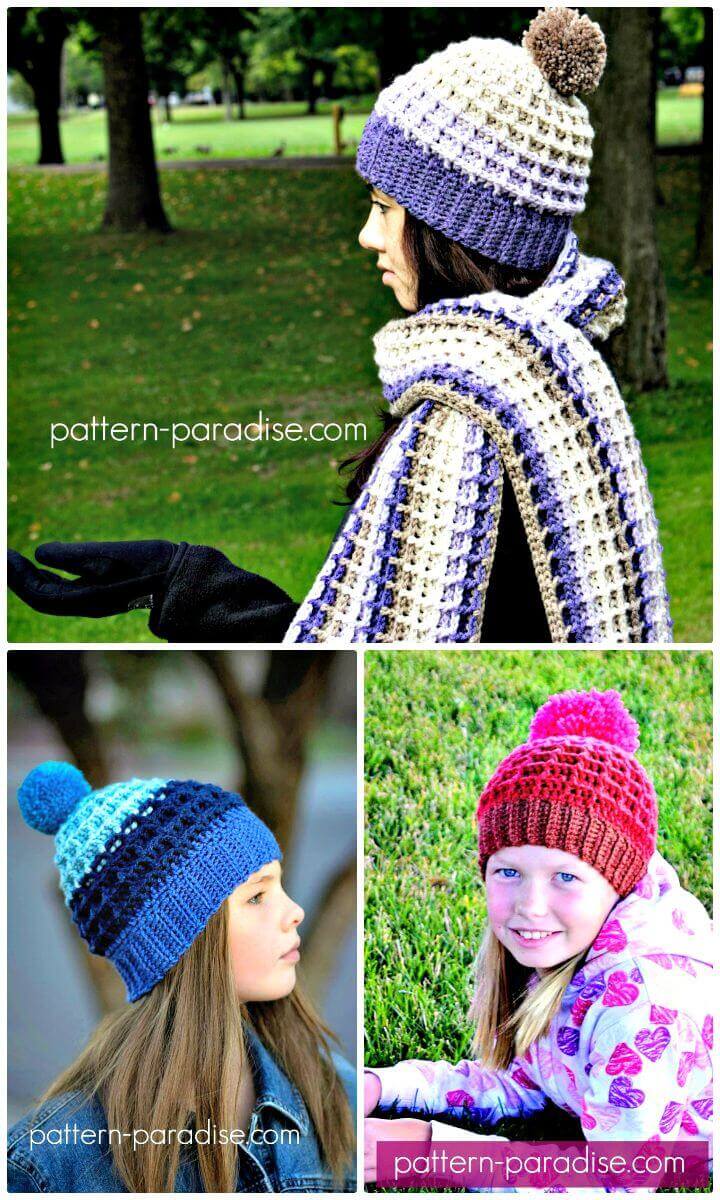 This is one is fun when making and also works up quickly. It has a waffle stitch look on the main part of the hat and it is opted and made to keep the band simple from the competition.
11. Cabled Headband Hat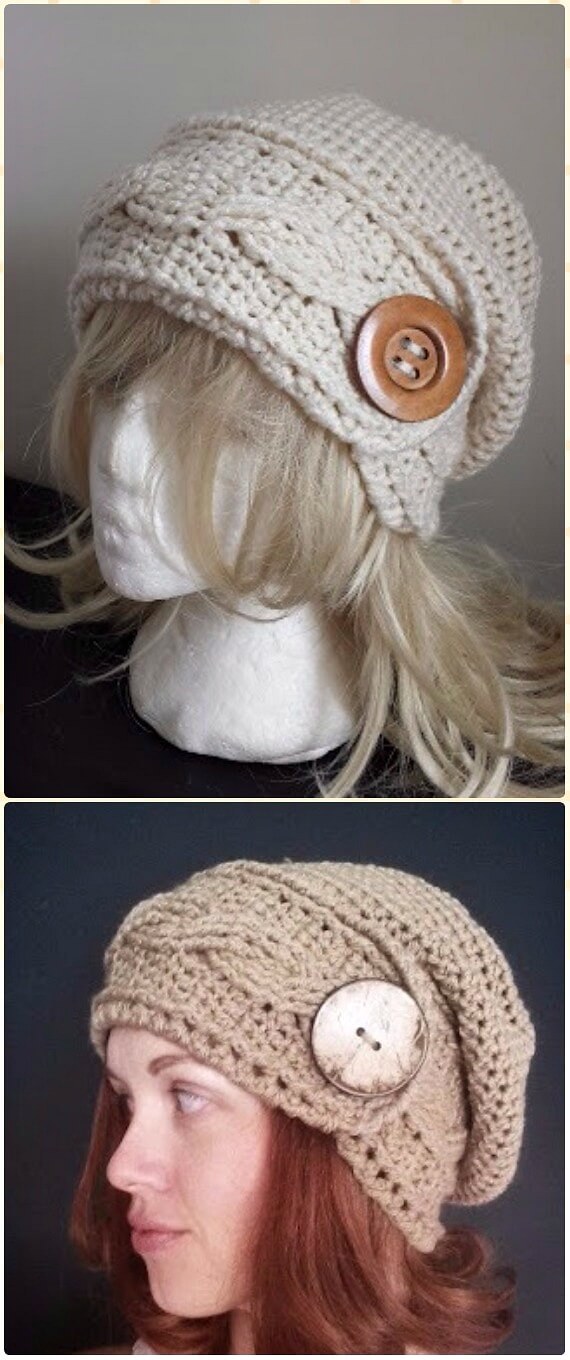 It's good to have the headband with you when the temperature rises. It prevents much heat from getting to your head. Its pattern is easy to follow making it something beginners should try to sew
12. The Champagne Cabled Hat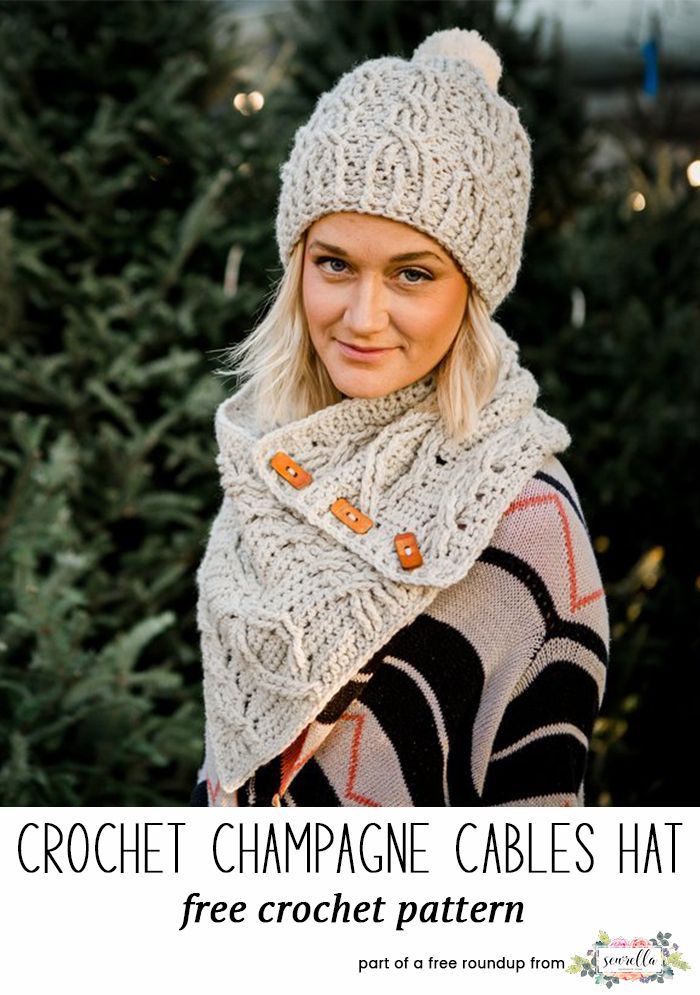 Its design is a bit different and that what makes it unique from other hats. They have lovely ropes cables bubbles, starting from the bottom to the top leaving the area for pom, in case you want to make one, cozy ribbed brim to frame the beautiful design.
13. Braid &Cabled & Cowl Set.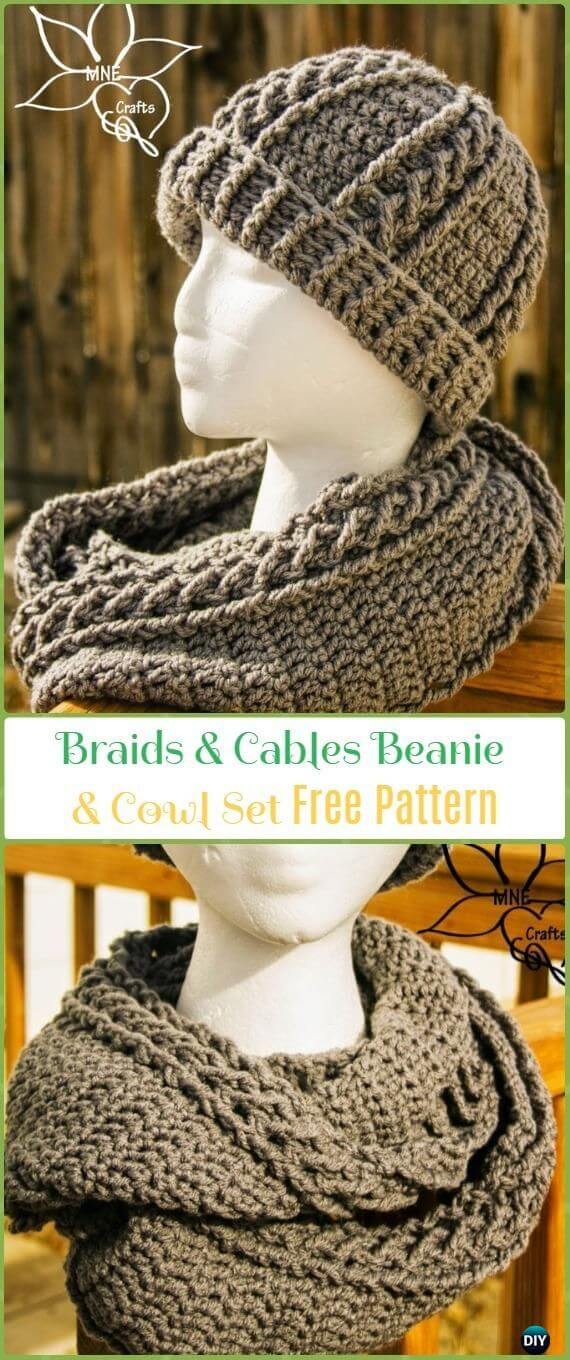 With its set of a hat and a cowl, it has an elegant look making it look beautiful. Depending on your design, you can blend the cowl and the beanie hat with so many colors using the whimsical colorway in wool-ease thick and quick. They both have beautiful texture making the work up to be quick when using the seed stitch. They are also the perfect way to warm.
14. Celtic Passion Beanie Hat.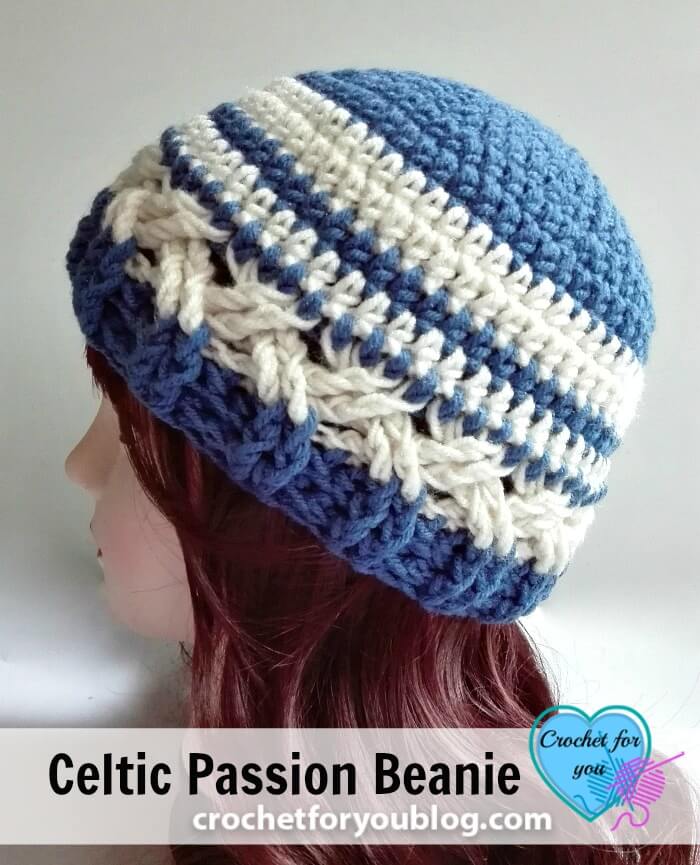 This pattern has a great texture, with Celtic weave crochet, crochet ribbing and also has a mixture of colors. This makes it be a Unixes design that perfectly suits everyone since it is available in all sizes.
15. The Rora Cable Slouch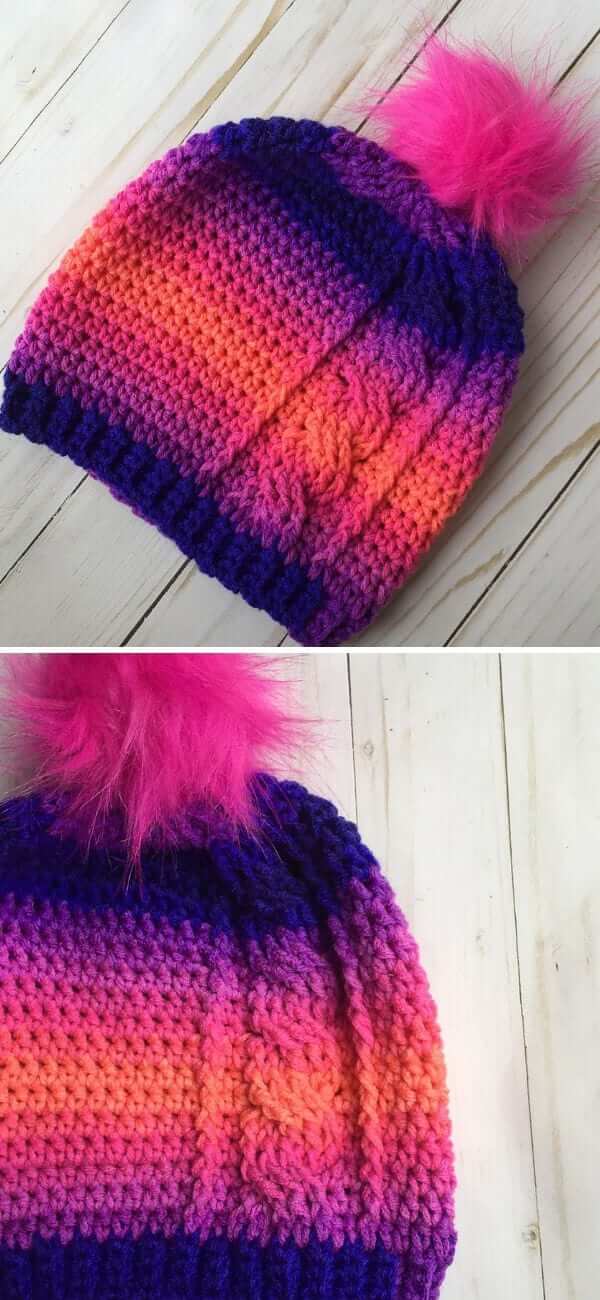 This being the best outfit for winter, it has patterns from bottom to top, and together with complete patterns, you can make the hat.
16. Braided Brim Beanie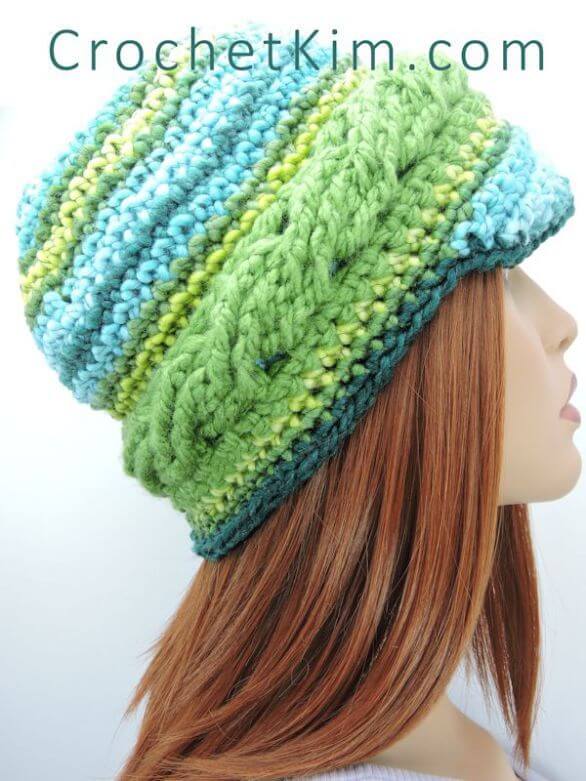 These hats are made of high-quality materials such as acrylic, fleece lining, and also wool to enhance warmth and comfort. There are different designs and make of beanie with the brim. There might be a challenge for anyone new to the Hat.
17. Chunky Texture Cabled Beanie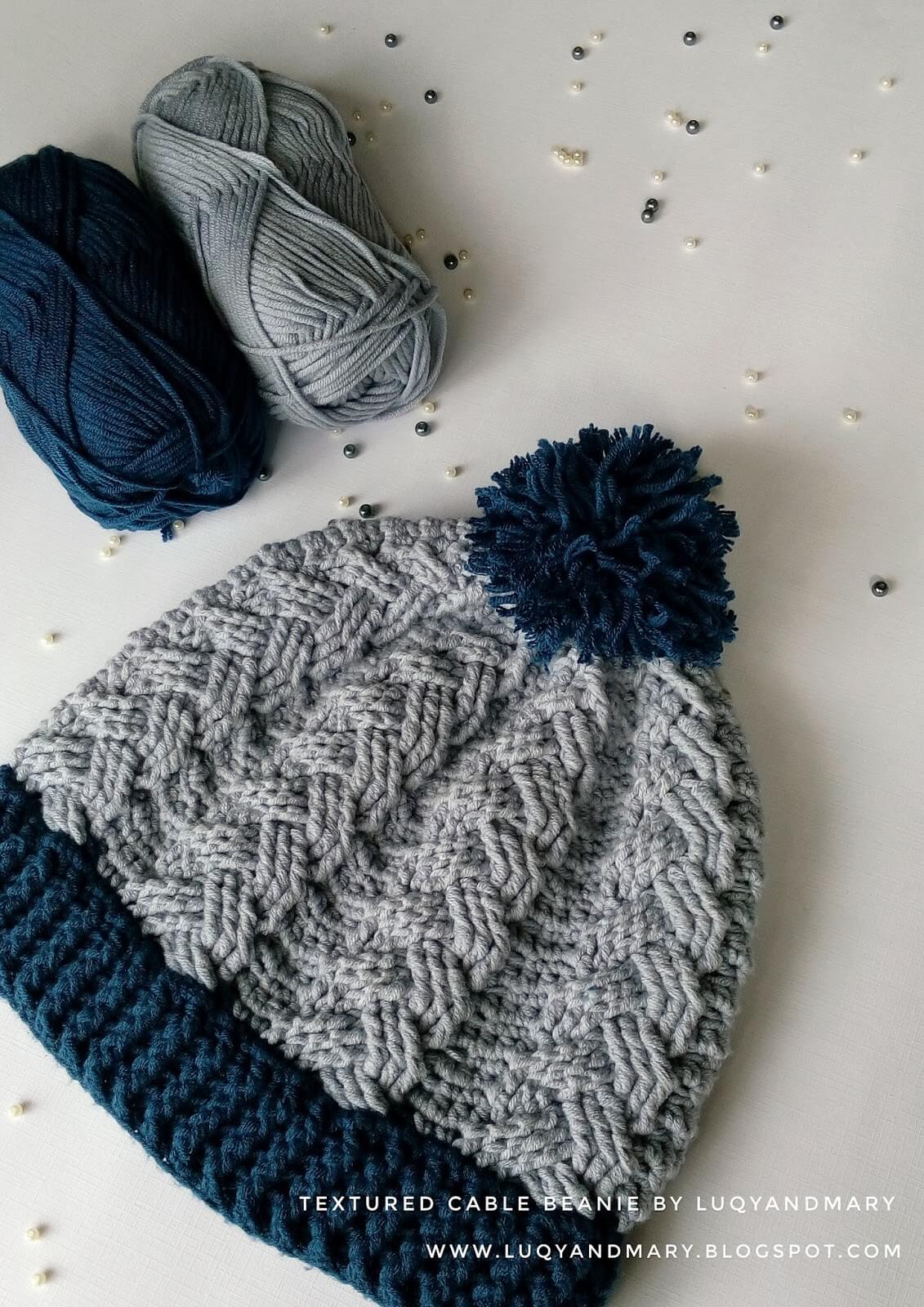 If you are looking for the best hat to take with you, then this is the best hat for that. Its design and pattern are different from the other Beanie Hat, thus making it unique and beautiful. It's available in all sizes and colors.
18. Crochet Two-sided Red Heart Hat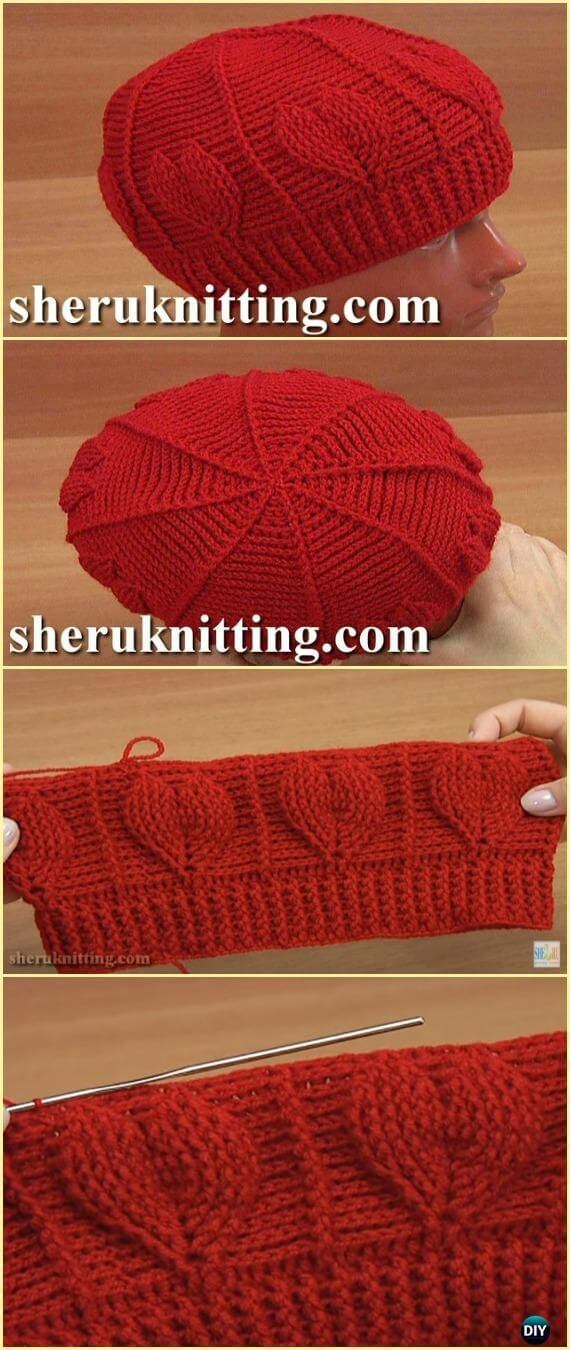 The best thing about this Hat is that you will love the soft warmth yarn and that's perfect for ultimate warmth and comfort. it stitches up quickly, making you return to this pattern over and over again.
19. Braided Cable Beanie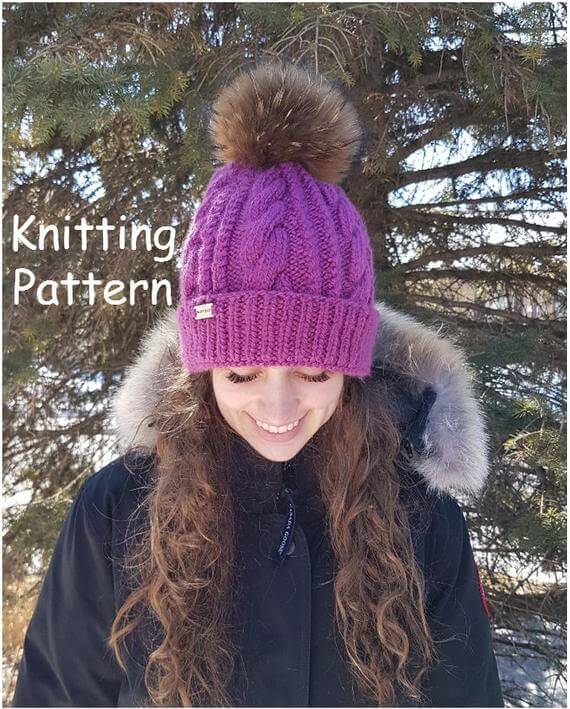 This pattern works best with advance beginners or intermediate knitters who love to use chunky, squishy cables and beanie that have just the tiniest bit of slouch.
20. Boliviana Bulky Basket Weave Hat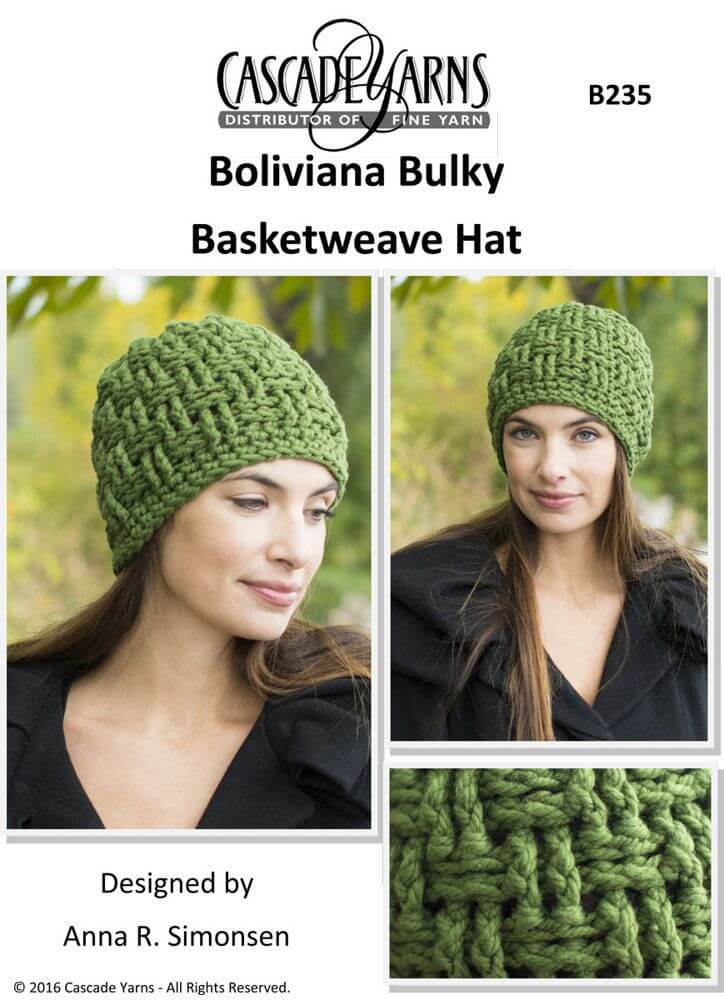 Basketweave hat is a simple, designed with simple patterns that an intermediate cam follow and make one. It exists in many colors.
Conclusion 
Thes are easy to make with simple patterns, they are good when the temperature has dropped and that making them the best option. You can either make one or get from your nearest stores.