Crochet Ankle High Baby Booties Free Patterns
Crochet baby bootie patterns have been in trend for quite a sometime time now. In fact, i still have a nostalgic pair from my childhood that I have kept to date.
Crochet baby booties are quite easy to make. They help to keep your baby's feet warm and comfy throughout the year, particularly during the freezing winter season. They also make perfect gift ideas for a baby shower and can also be given as donations to charity. 
Allow me to take you through 20 fascinating Crochet Ankle High Baby Booties free patterns that you should try out today.
1. Winter Crochet Baby Booties Free Pattern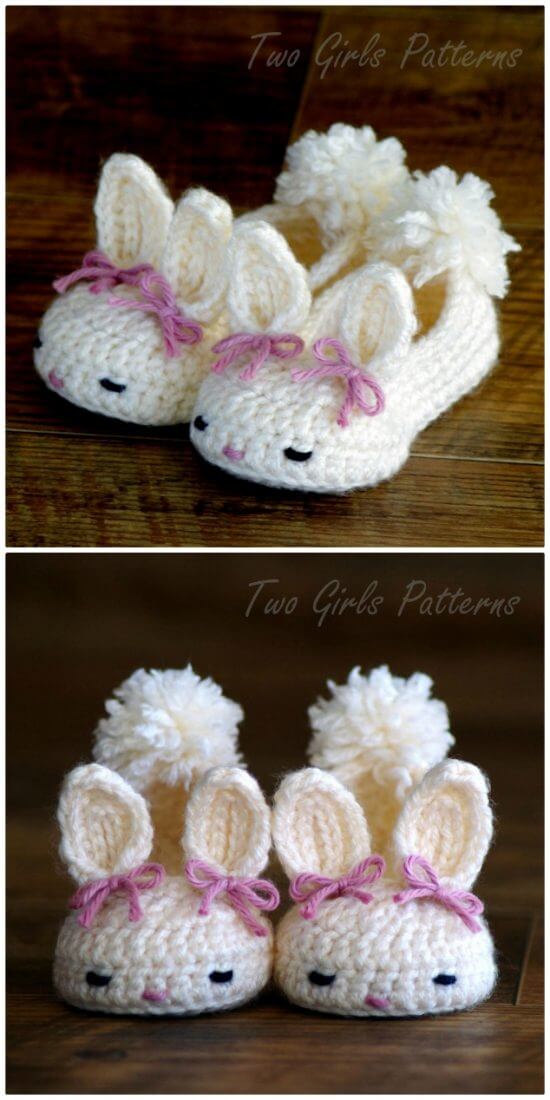 These cute blue little crochet booties are inspired by winter although your baby can rock them throughout the year. The white snowy crochet laces and sole add such an amazing touch! 
2. Crochet Baby Moccasin Booties
Make your little one a pair of this cute baby moccasin booties. They go up above the ankle and are fitted with a crochet lace for a tight fit and to keep your baby's feet extra warm.
3. Crochet Cowboy Boots Free Pattern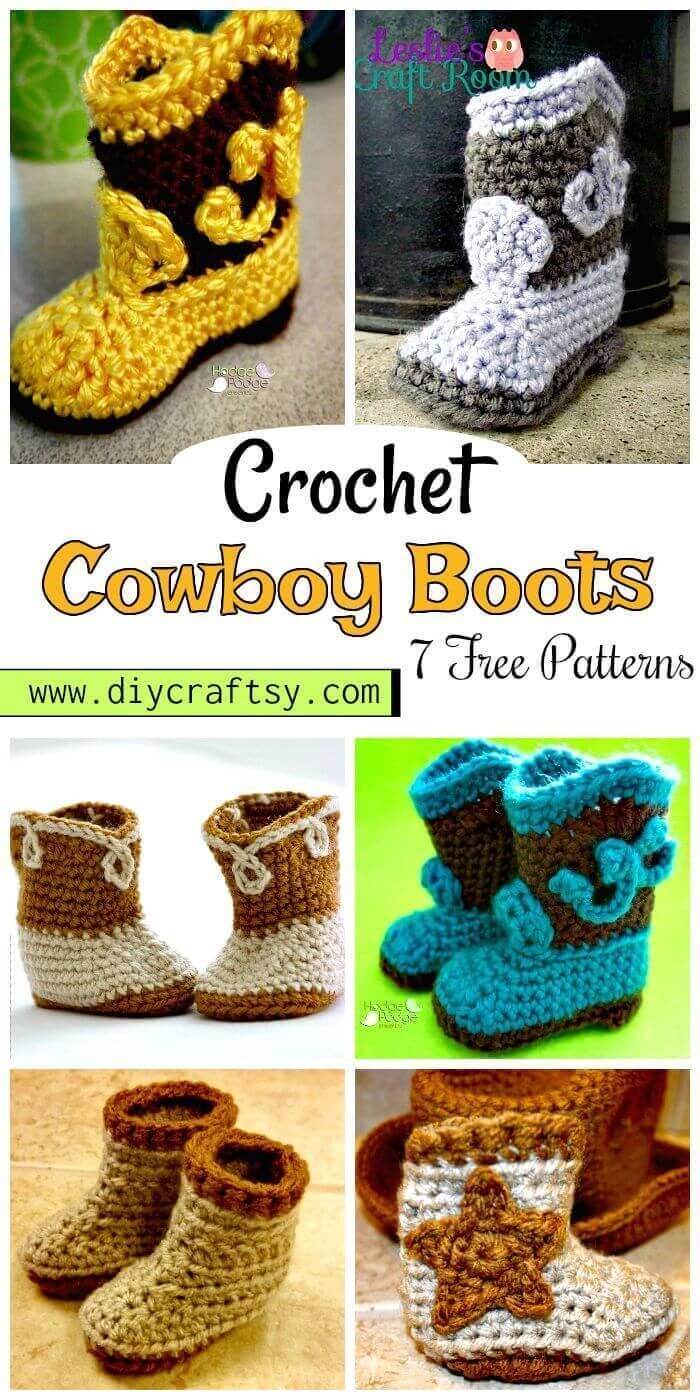 The crochet cowboy bootie is an intermediate pattern. You need to have advanced skills on basic baby bootie crocheting and how to execute the reverse single crochet. But if you are daring enough, you can pull of this magic pattern quite easily.
4. Crochet Cuffed Baby Booties Free Pattern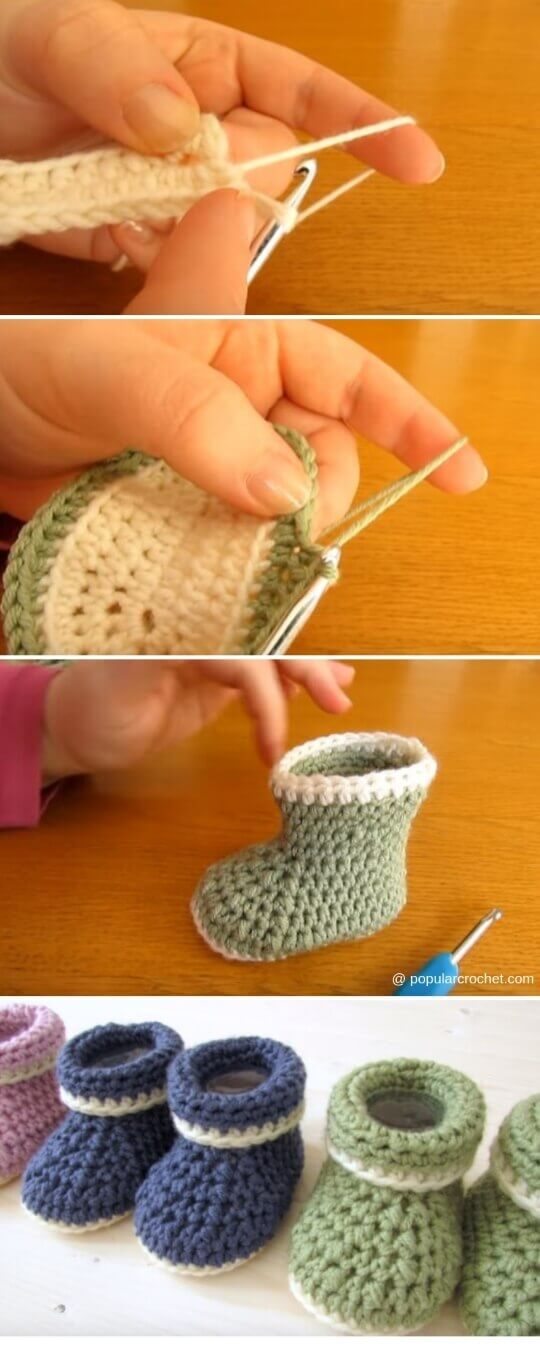 These cute little boots are made to resemble the rain boots. This free pattern provides some awesome ideas on how to make a pair both for boys and girls. The flower button is optional but adds a decorative touch to the girl's design. 
5. Crochet Minion Baby Booties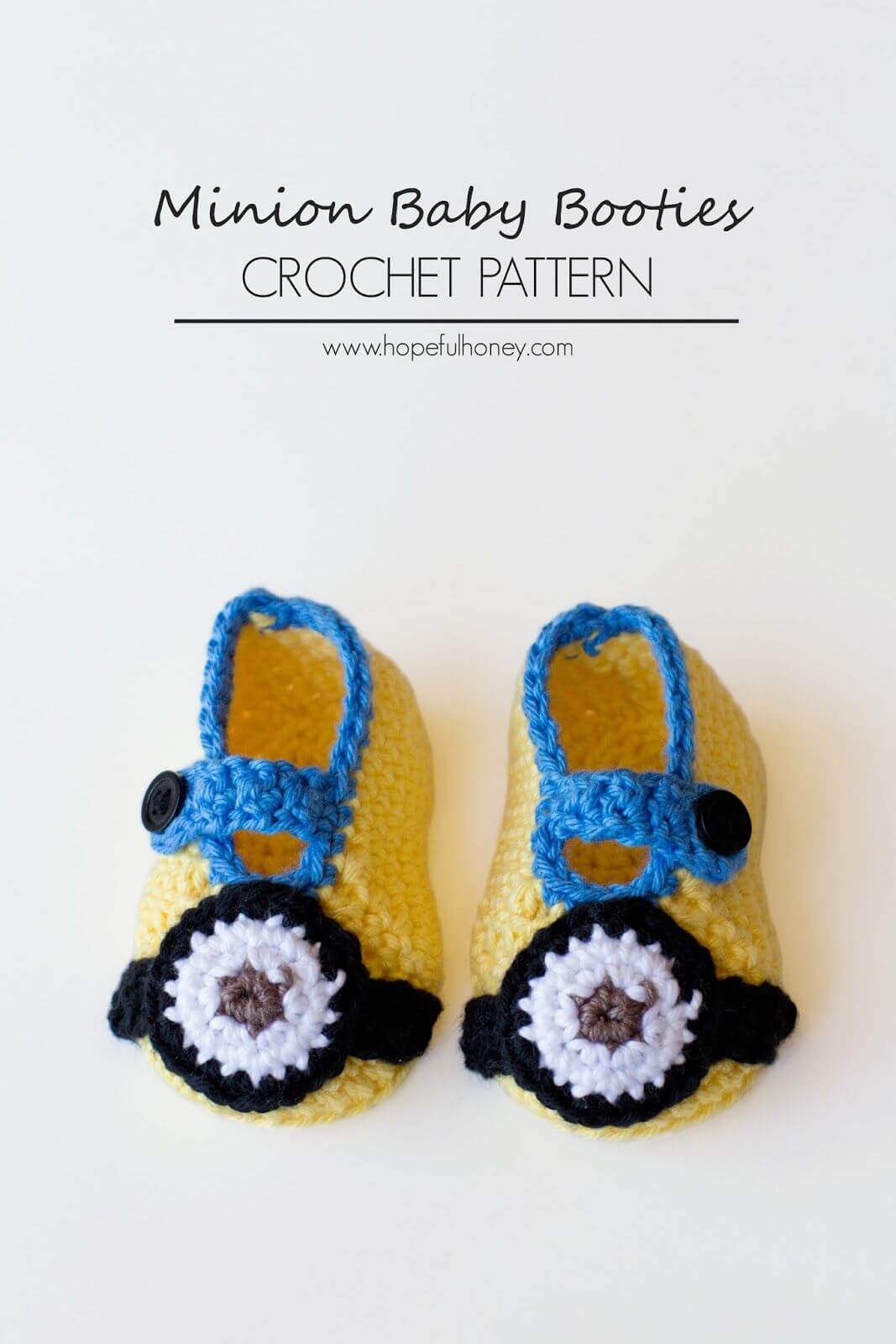 Different minion crochet patterns have always been a hit! These cute little crochet minion boots are no exemption. They are available in two sizes for little babies below one year but you can adjust the size of the yarn and hook to make bigger ones.
6. Loopy Love Baby Booties
These gorgeous Loopy Love Baby Booties are crocheted using three colours of yarn but you use your favourite colours for a more personalized design. 
7. Fur Topped Baby Booties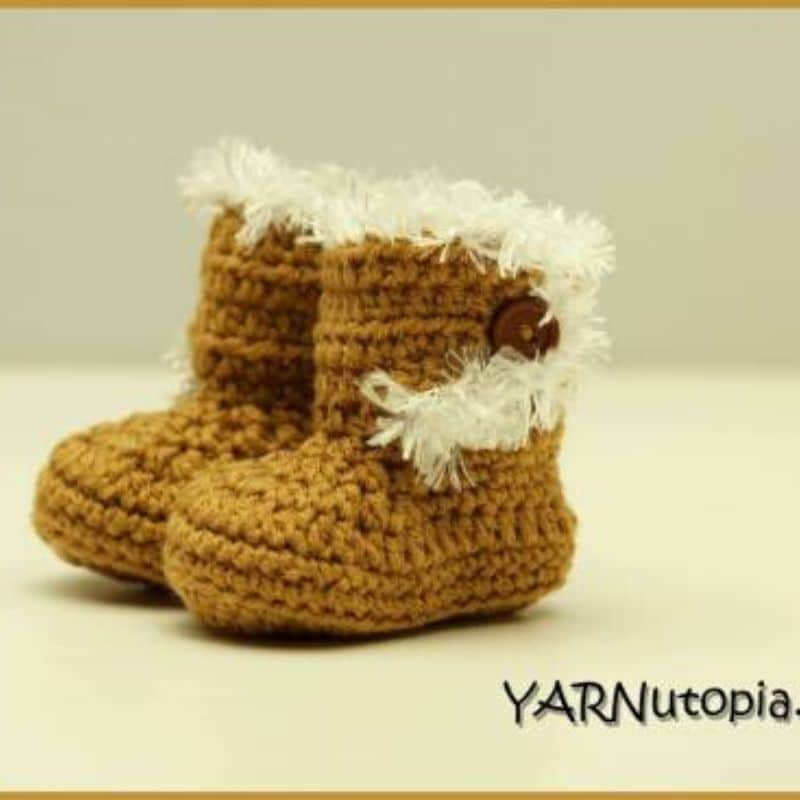 These tiny fur-topped baby booties are so cozy. They are super easy and quick to make and endevour to keep your baby's feet comfortable and warm throughout the cold winter season.
8. Crochet Crocodile Stitch Baby Booties Free Pattern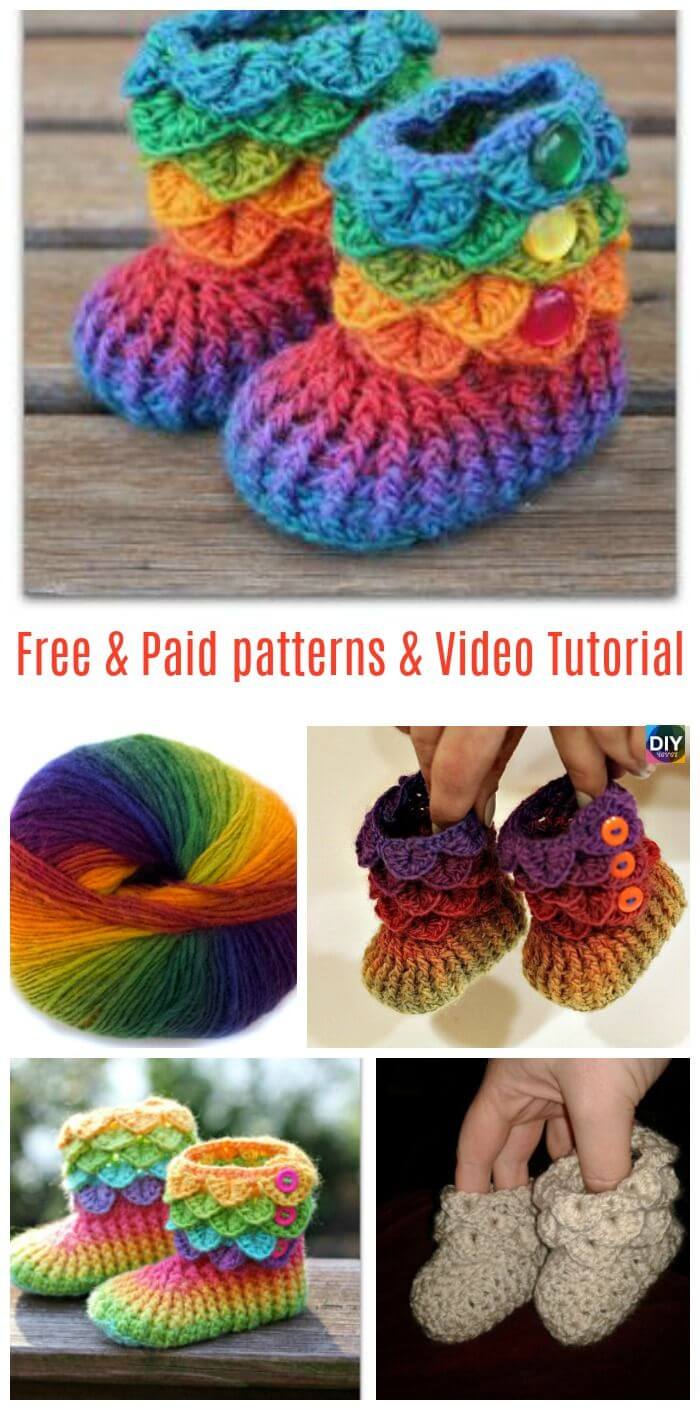 Let your baby rock these charming little crochet crocodile booties. They are stitch high top baby booties that give your baby's feet such an enchanting attractive look.
9. Baby Booties with Ribbon Free Crochet Pattern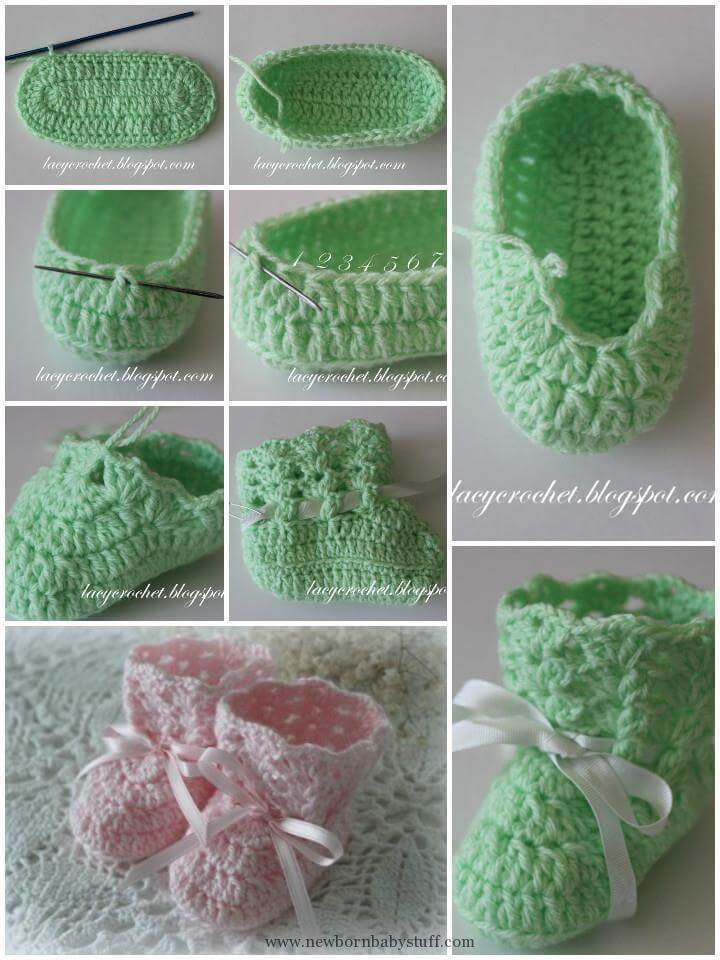 In stead of using lace, these gorgeous crochet bootie uses ribbons for an amazing decorative design. Feel free to alter the yarn and the ribbon colours to blend in with themes associated with different seasons of the year.
10. Fur Trim Crochet Booties Pattern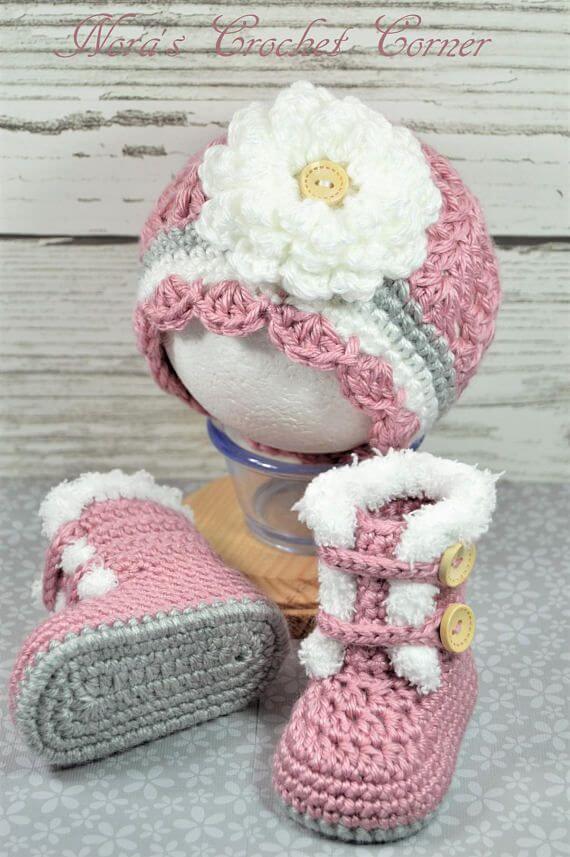 This is a unique version of the fur-trimmed baby bootie. This pattern takes up a sneaker style with matching crochet laces. This pattern is unisex and is super easy and fun to make.
11. Crochet Bunny Booties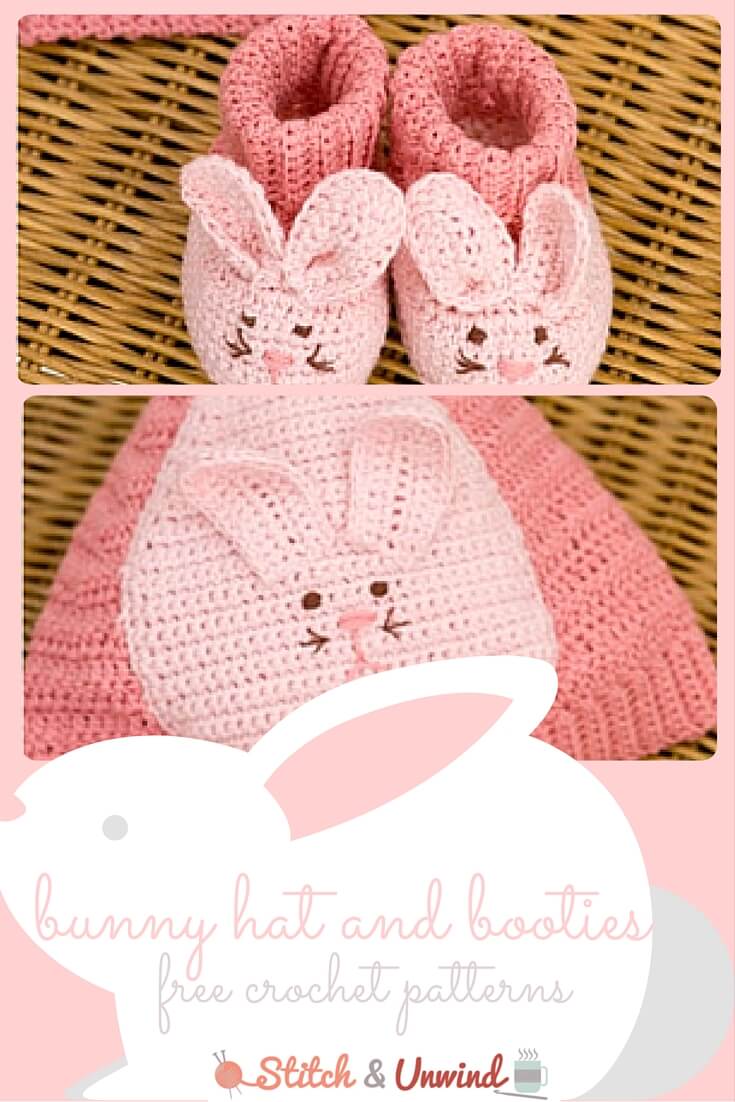 These cute crochet bunny booties are made using the bamboo crochet thread. The protruding clever ears and innocent eyes make this pattern so adorable. You can use your own colours to create your own little bunny booties.
12. Beaded Baby Booties Free Pattern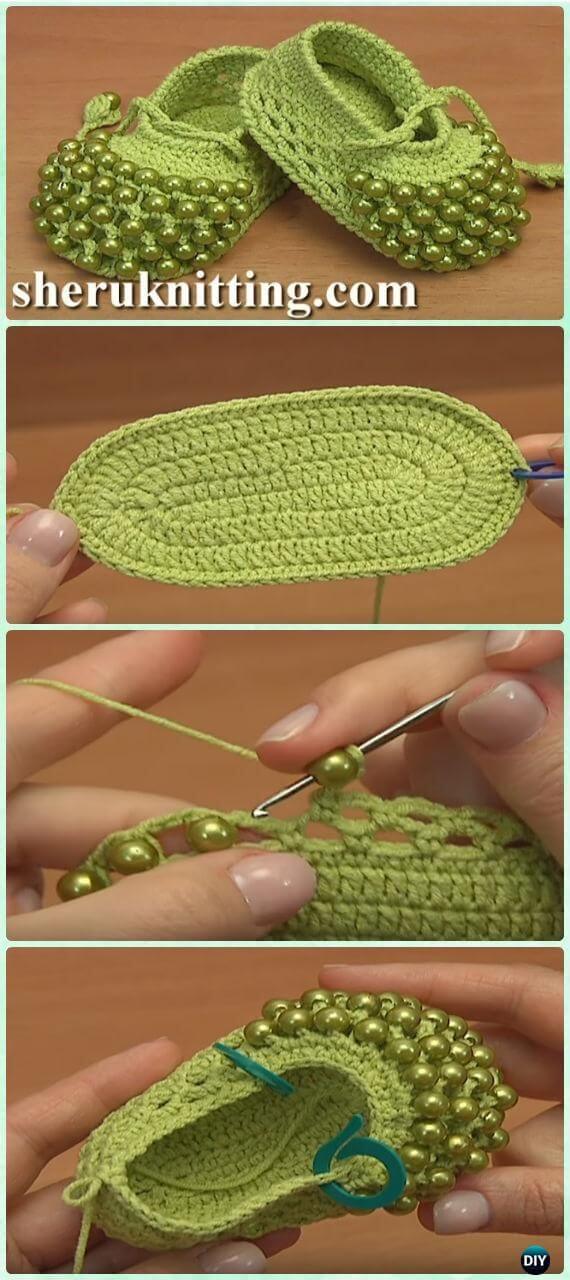 These tiny beaded baby booties are so gorgeous! The pattern commands femininity and comes with detailed instructions on how to crochet the pattern and incorporate the beads.
13. Crochet Baby Bubble Booties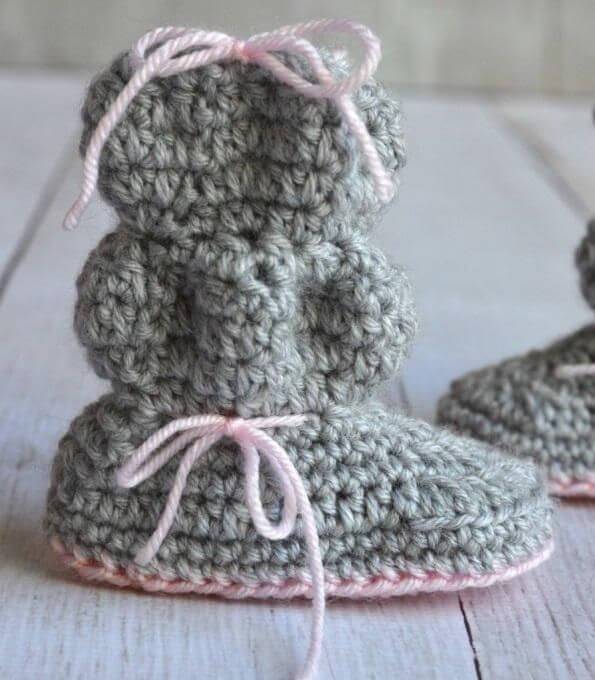 Brace yourself for the upcoming winter season by crocheting your little one a pair of these terrific bubble crochet booties. They fit way above the toes and knees ensuring that your baby's feet stay warm.
14. Cocoa Baby Ankle Booties Crochet Pattern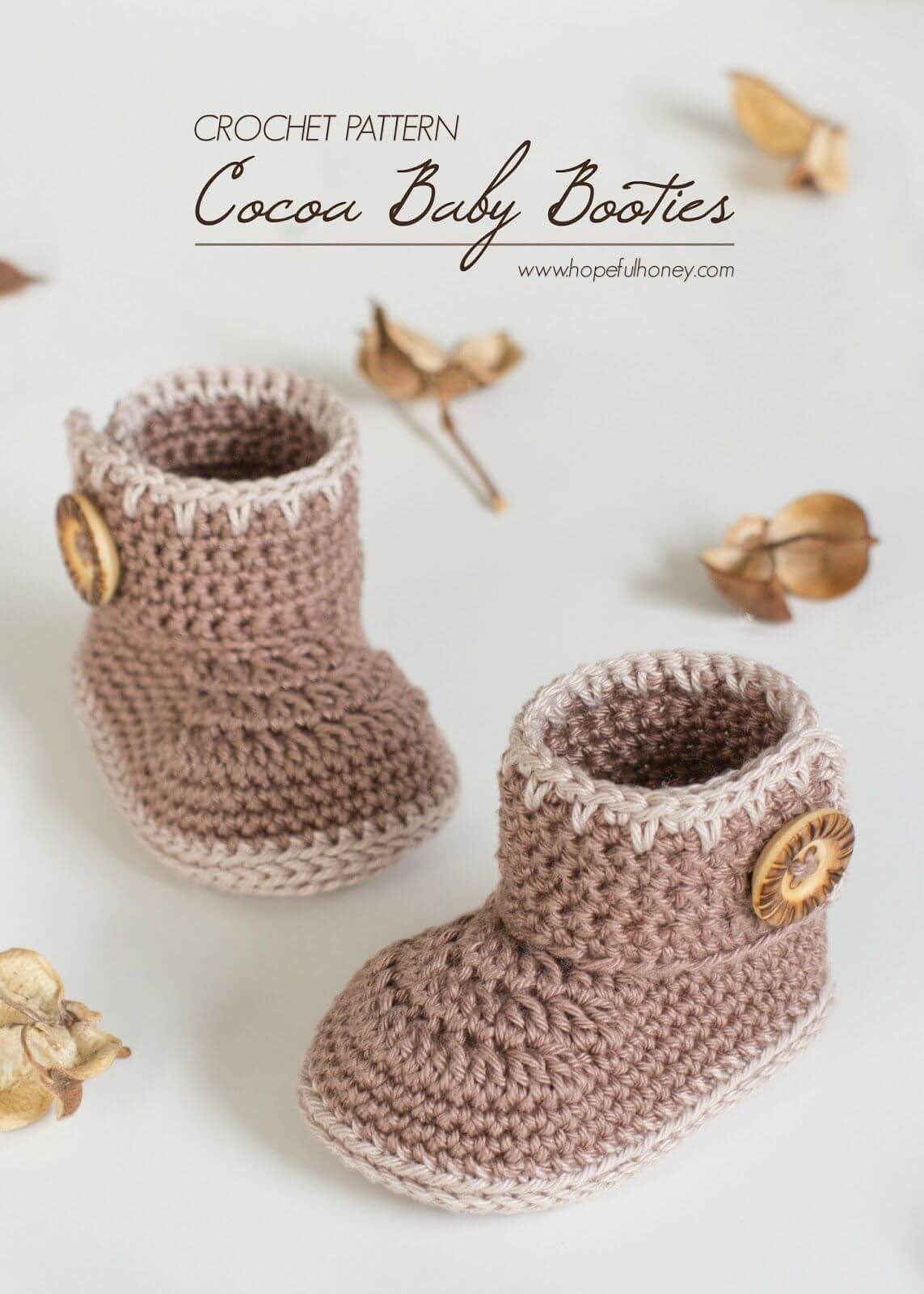 These crochet ankle boots are sophisticated and stylish. The large button at the side of the boot adds a decorative polished design. Use the recommended colours for this amazing classic look.
15. Dinosaur Baby Booties Free Crochet Pattern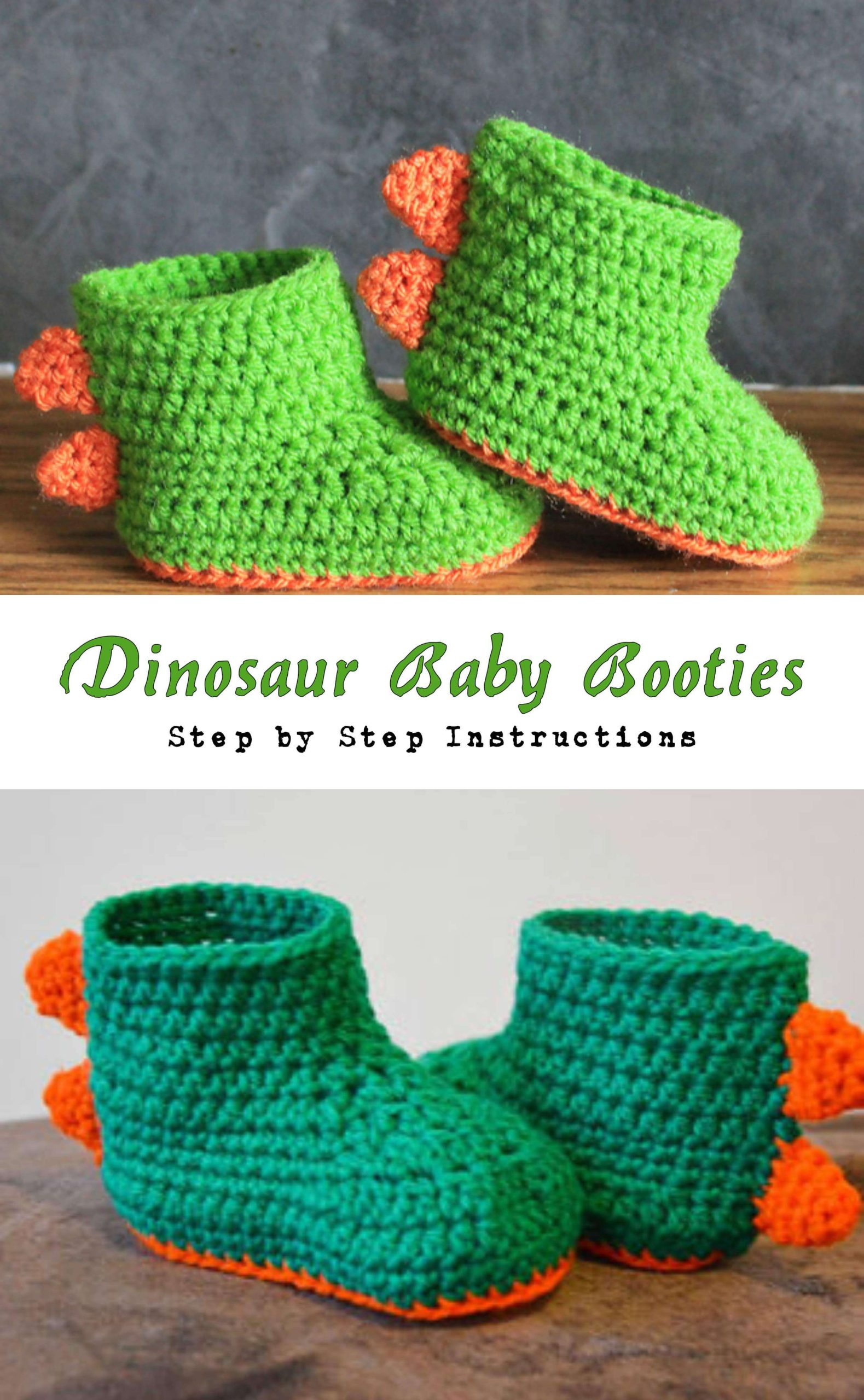 These dinosaurs baby booties will never fail you! They are made in 2 bright colours that bring out a stylish terrific look. The pattern comes with instruction on how to make three different bootie sizes.
16. Baby Bonnet and Booties Crochet Pattern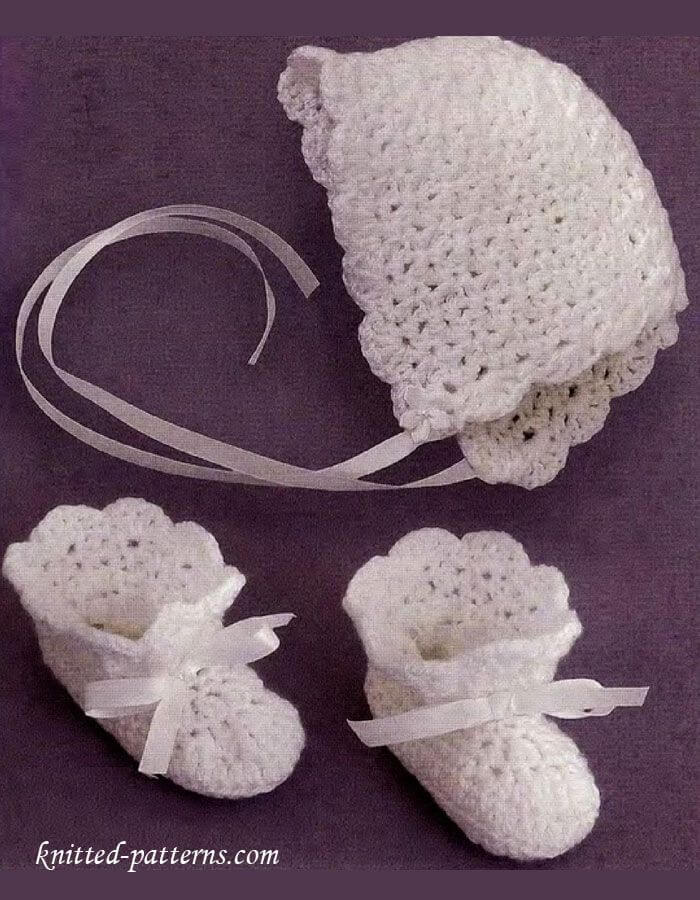 Get your baby in style with this adorable pair of booties with a matching equally gorgeous crochet bonnet. The booties are made with a cuff that open which is fitted with large stylish buttons. 
17. Super Soft Crochet Baby Sneakers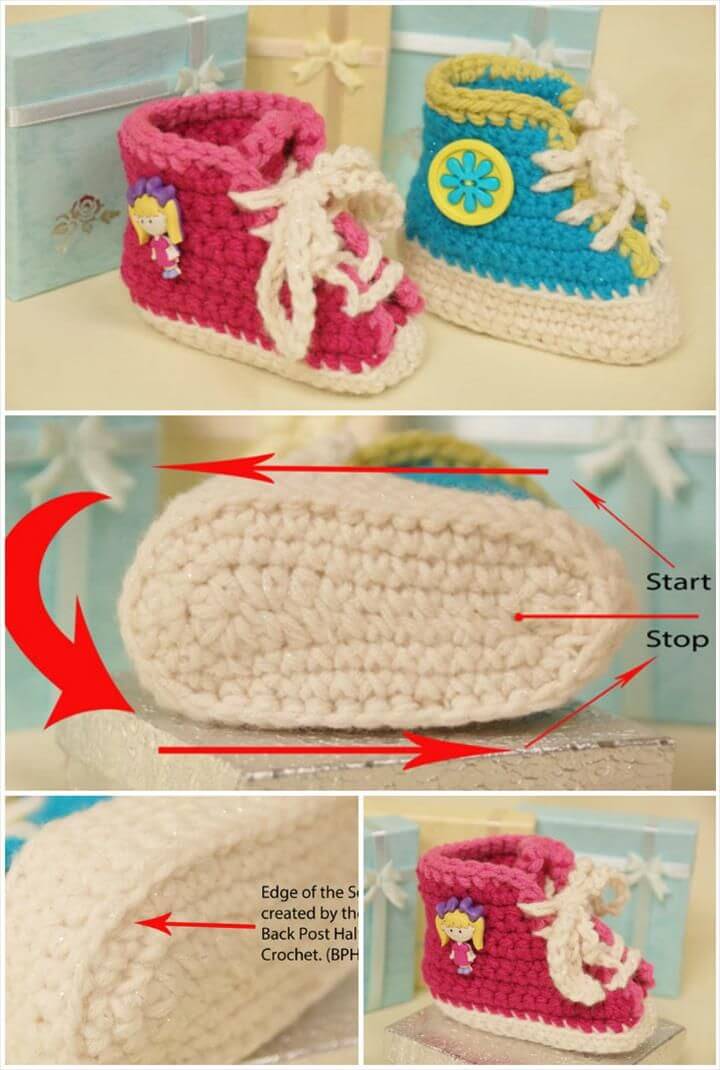 Grace up those adorable tiny feet with this stylish super soft crochet snickers. Add a stylish wooden button on each bootie for a decorative polished touch.
18. Crochet Bow Baby Bootie Free Pattern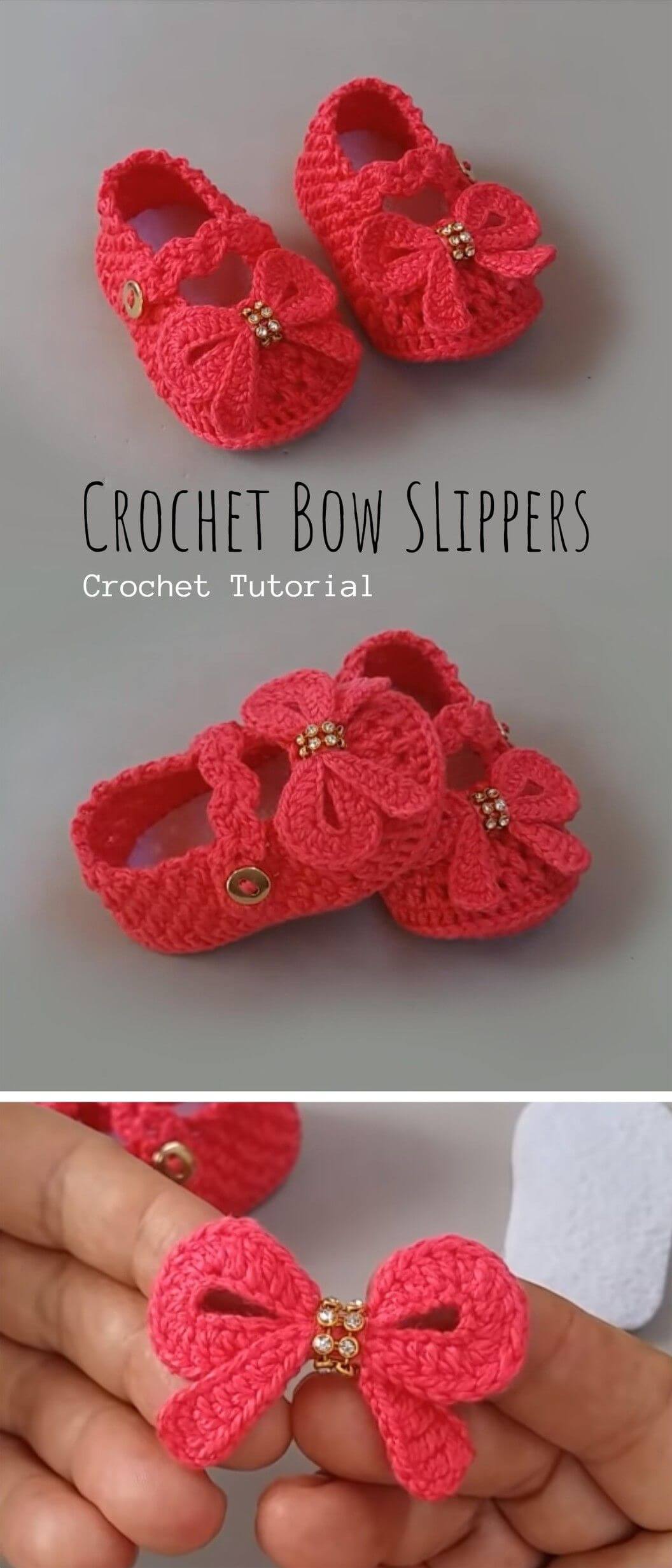 These tinny cute high-top crochet booties are simple to make. They are so comfy and warm and make a perfect gift to a new mom. 
19. Crochet Newborn High Top Converse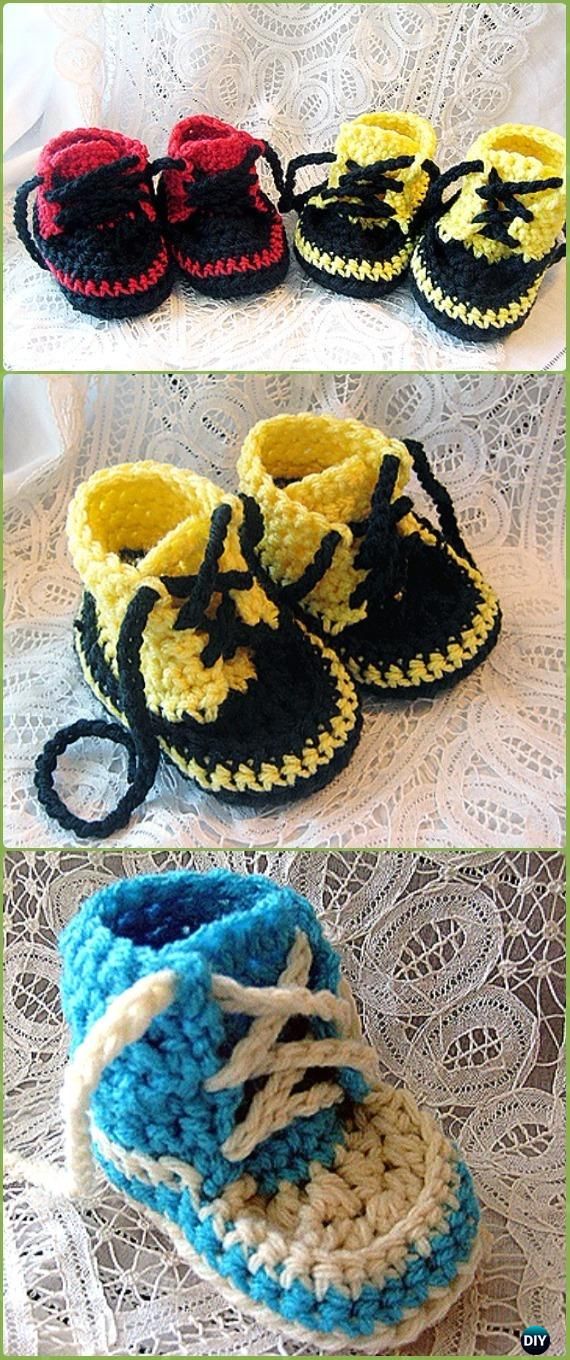 These high-top crochet converse booties are gorgeous! They have an amazing texture which provides extra warmth to sweet baby's feet especially in the freezing winters.
conclusion
There you have it! Grab your hook and get to work.