Are you considering crocheting special clothing for yourself and your little girl? A crochet skirt is a perfect idea. Crochet skirts come in different designs and styles ideal for women and girls of all ages and sizes.
Where can I rock a Crochet skirt?
You can rock these stylish crochet skirts for the summers to the beach or wear one for a family dinner gathering or rock the mini crochet skirt to a fun party. No matter the occasion or season, crochet skirts got you covered!
Today, I have put together a collection of 20 beautiful Crochet Girl's Skirt Free Patterns that you should try out.
1. Sassy Ruffle Skirt Free Crochet Pattern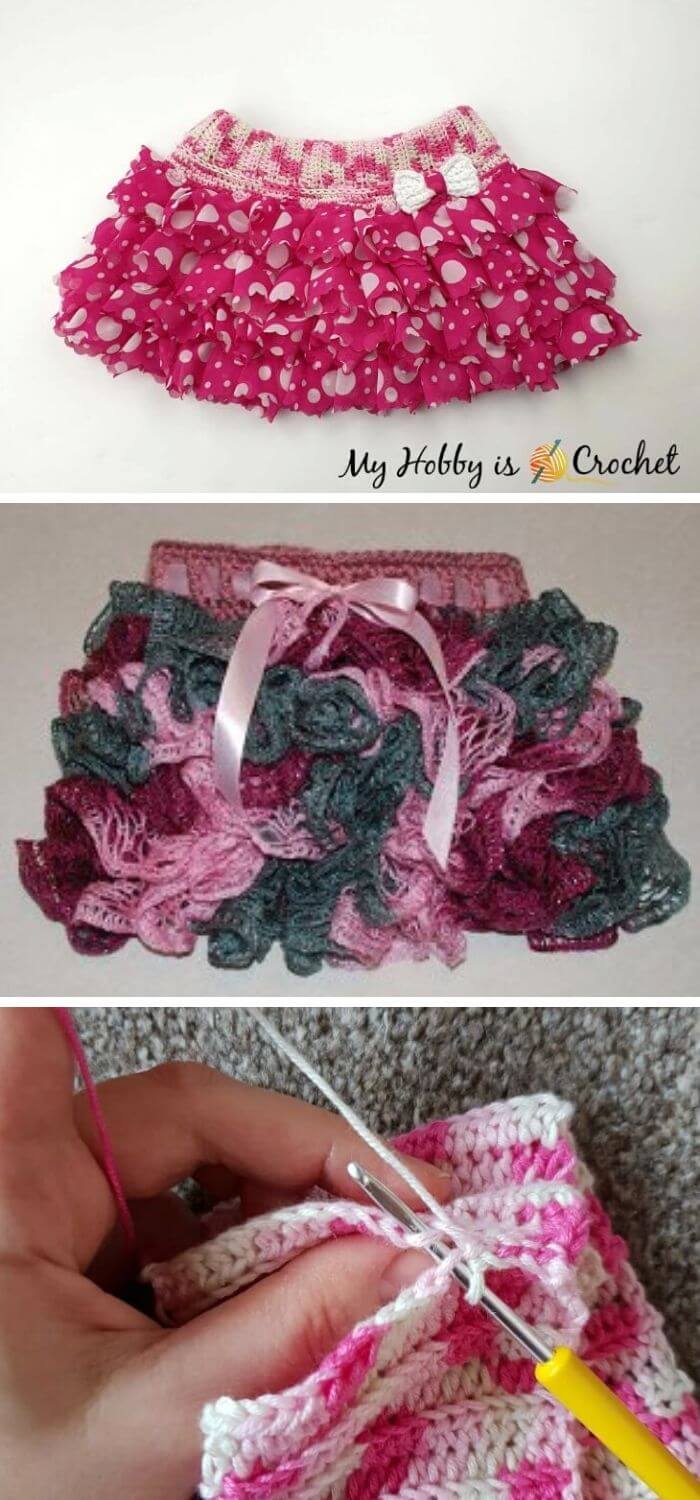 This adorable ruffle skirt with elasticized waistband is crocheted with a Red Heart Boutique Sassy Fabric and a soft piece of fabric strip with holes evenly distributed to make crocheting easy. Both the ruffles and the inner lining are crocheting together at the same time.
2. Crochet Mouse Hat Skirt Free Pattern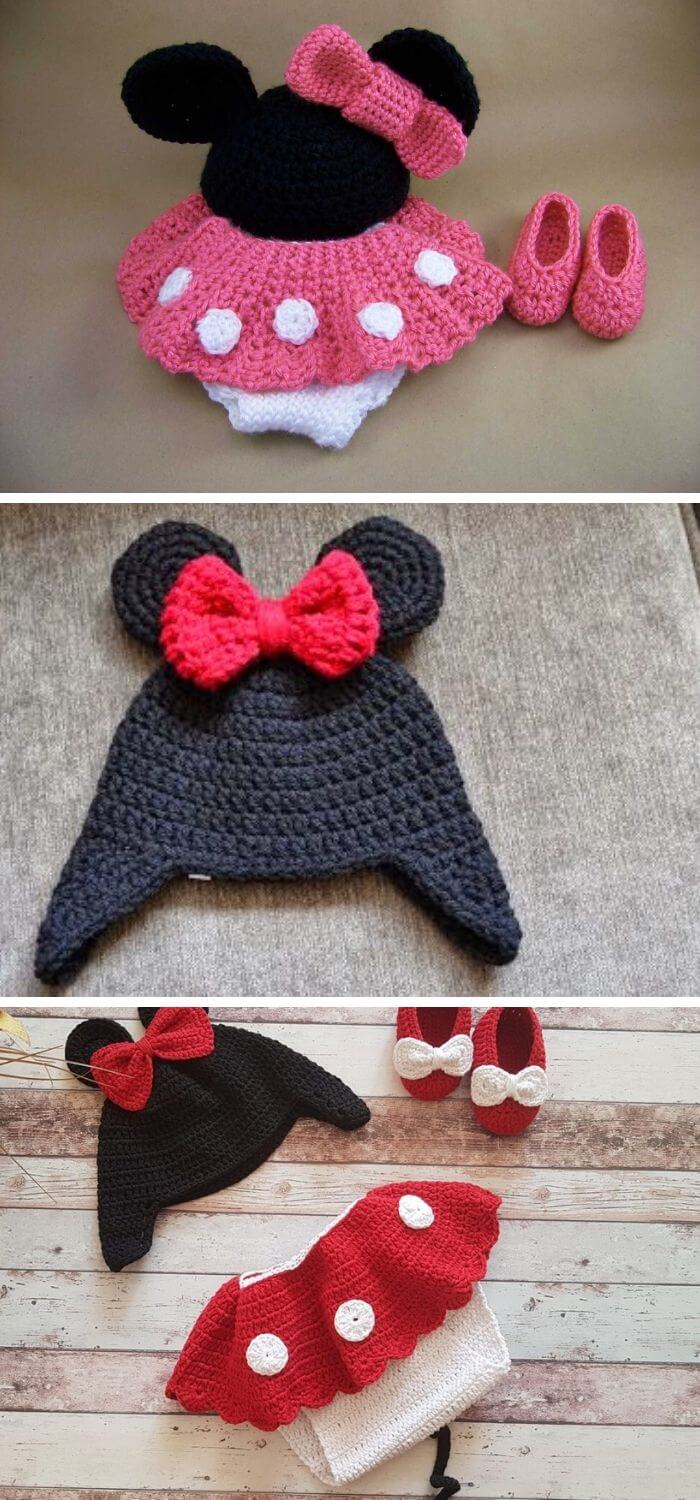 This is the simplest, well, one of the simplest crochet skirts to make. It is basically a beanie design fitted with ears. And the tiny shoes with a bow? I love everything about this adorable little skirt!
3. Crochet Shells Skirt Pattern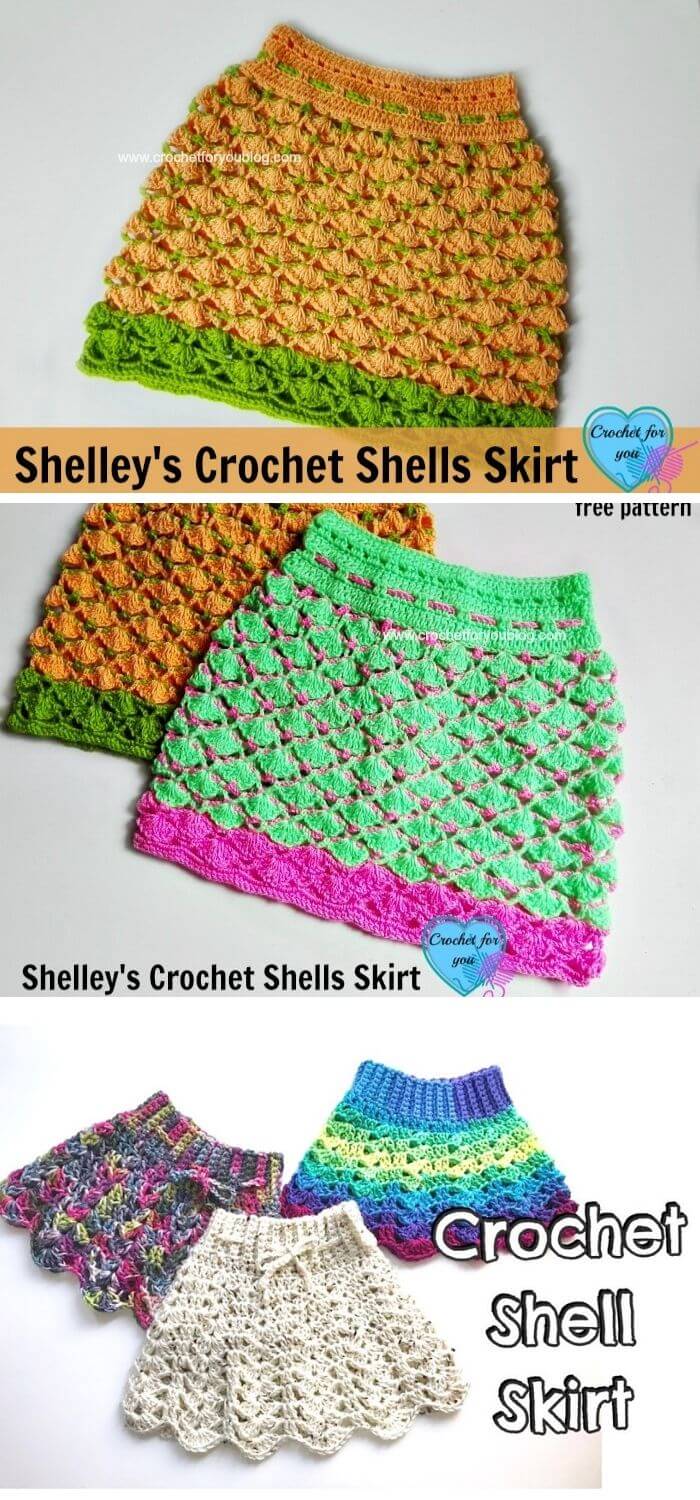 This tiny beautiful Shell skirt is crocheted for little girls between 1 and two years. It is fitted with an internal wait band and laced at the edge for a stylish look. However,  you can use the worsted weight yarn for a bigger skirt.
4. Spiderweb Crochet Skirt Pattern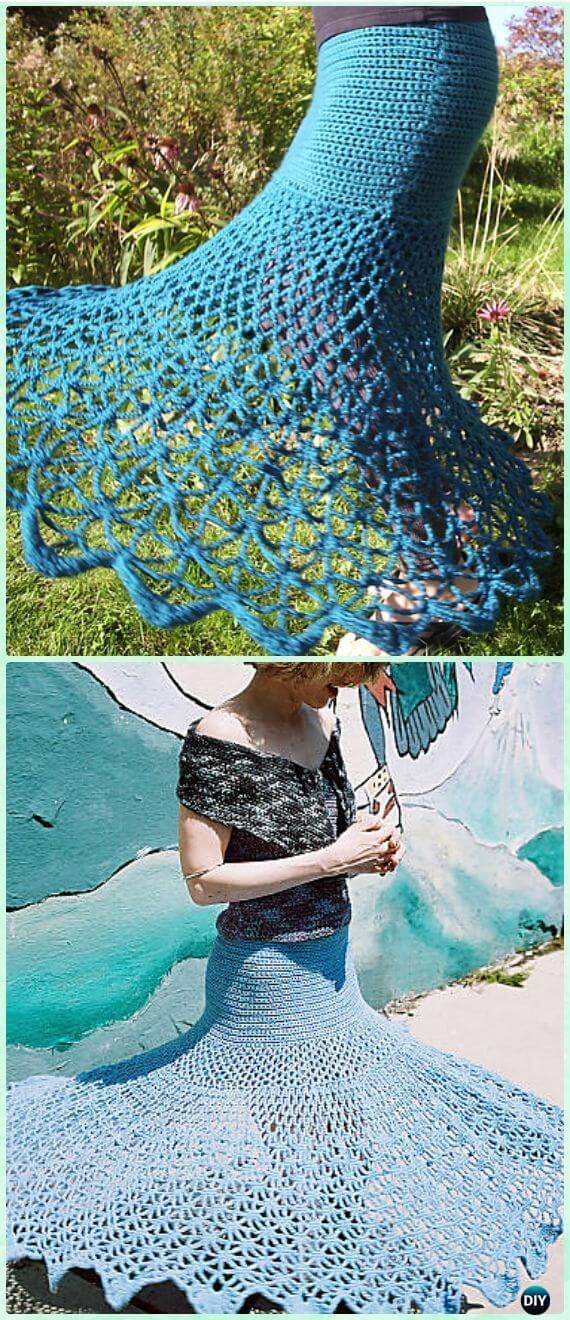 This long fabulous skirt designed by Josi Hannon Madera fits perfectly at the waist and finishes down in a spectacular dramatic flair of spider-web-inspired crochet race. This skirt gives you an aura of satisfaction in the hot summer season
5. Sea Breeze Crochet Skirt Pattern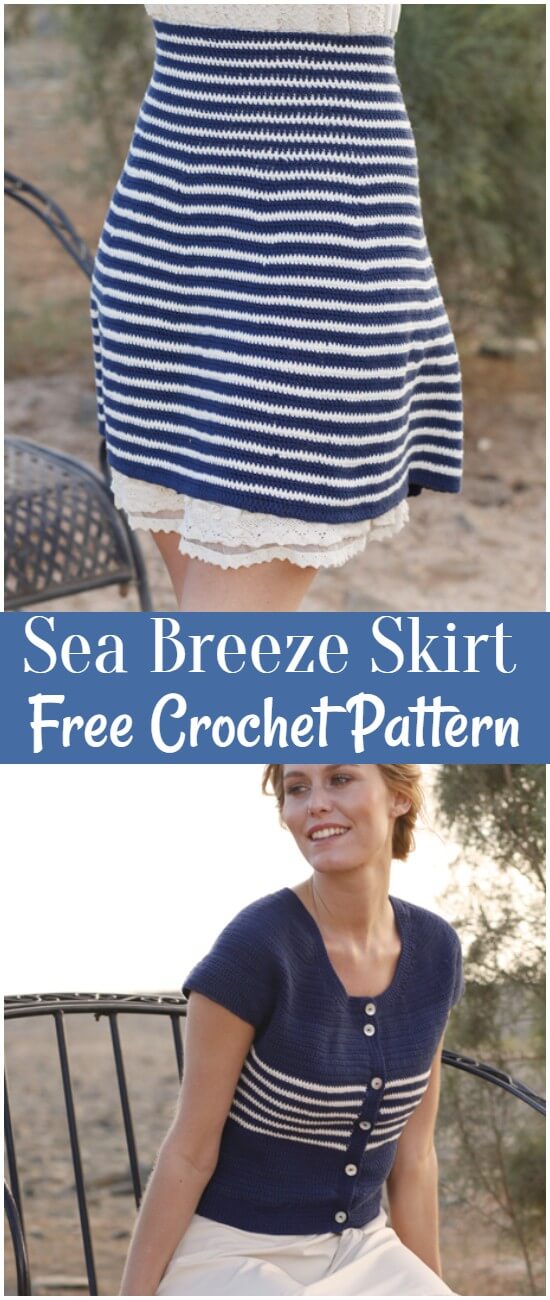 This beautiful striped crochet skirt should be in your pack list for the next beach vacation. It is a high waist flattering skirt that is crocheted using fine cotton. 
6. Archena Crochet Skirt Pattern by Doris Chan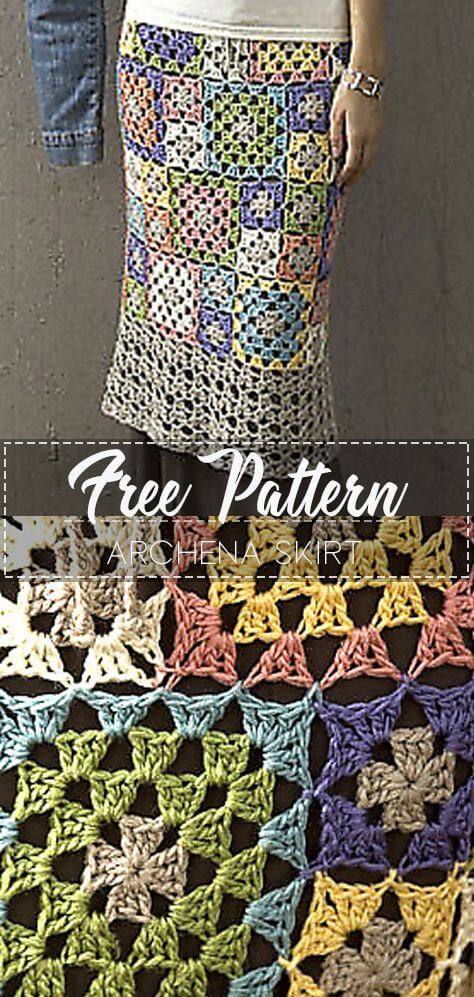 This is simply a multicoloured patchwork granny square skirt. Granny squares are crocheted, incorporating different colours and ideas. They are then stitched together, and a lace added at the hem to create this design.
7. Jean Overall Skirt Free Pattern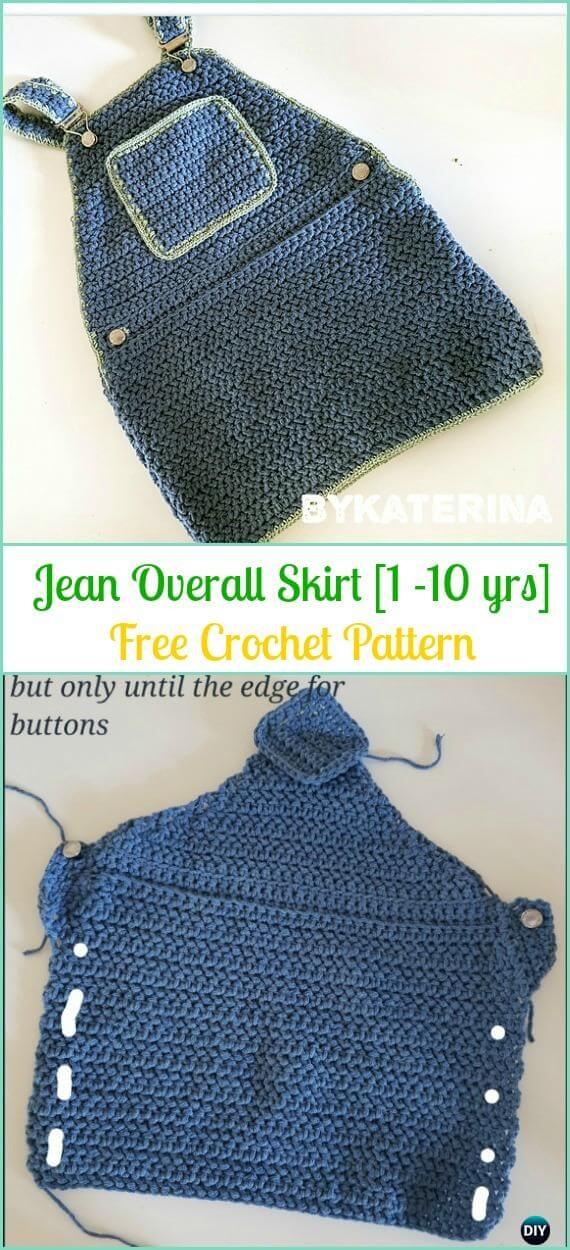 This adorable crochet Jeanie skirt is for girls aged ten years and below. The front and the pack pieces are stitched separately, employing the herringbone half double stitch and later joined together to create this amazing Jeanie skirt. 
8. Salsa Party Skirt Free Crochet Pattern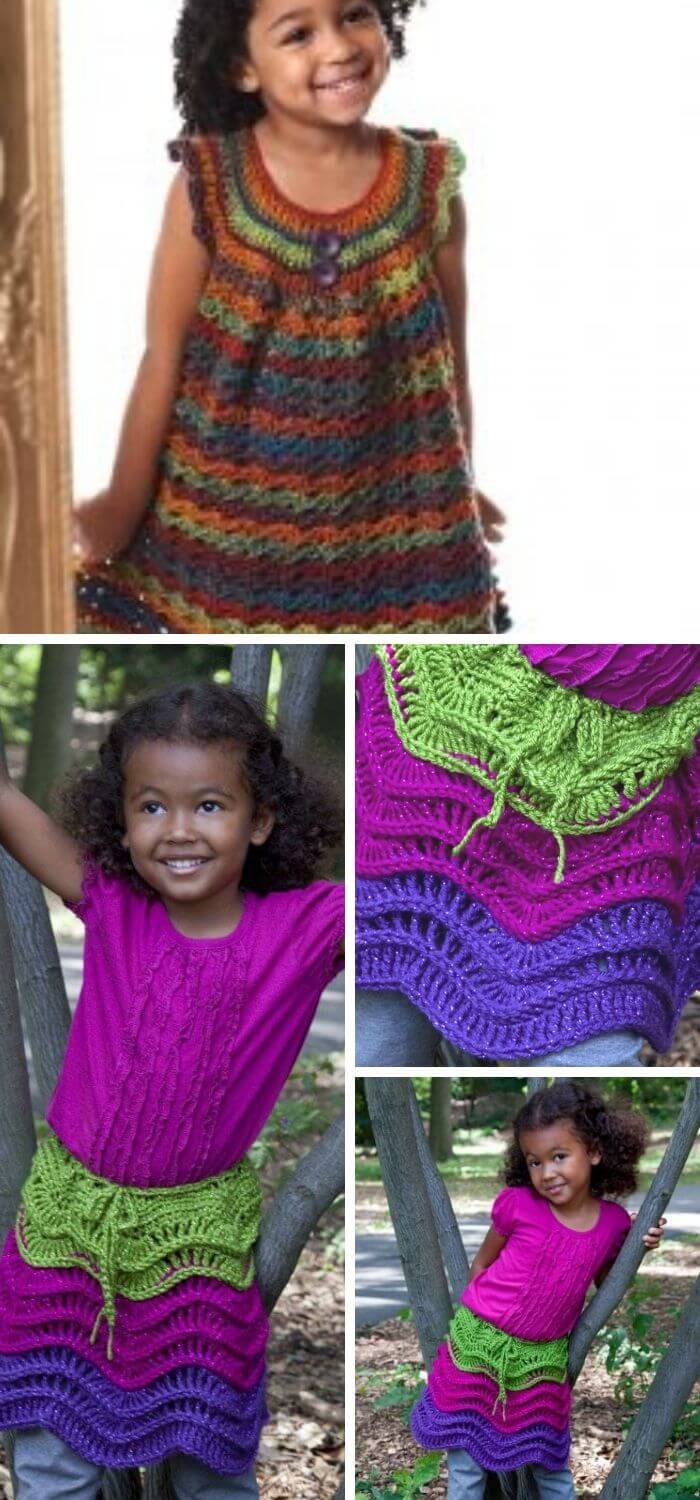 This adorable chevron crochet skirt is amazing! The different alternating colours and the width makes the skirt a terrific crochet project. Your little girl will love this salsa skirt!
9. Crochet Vintage Skirt Free Pattern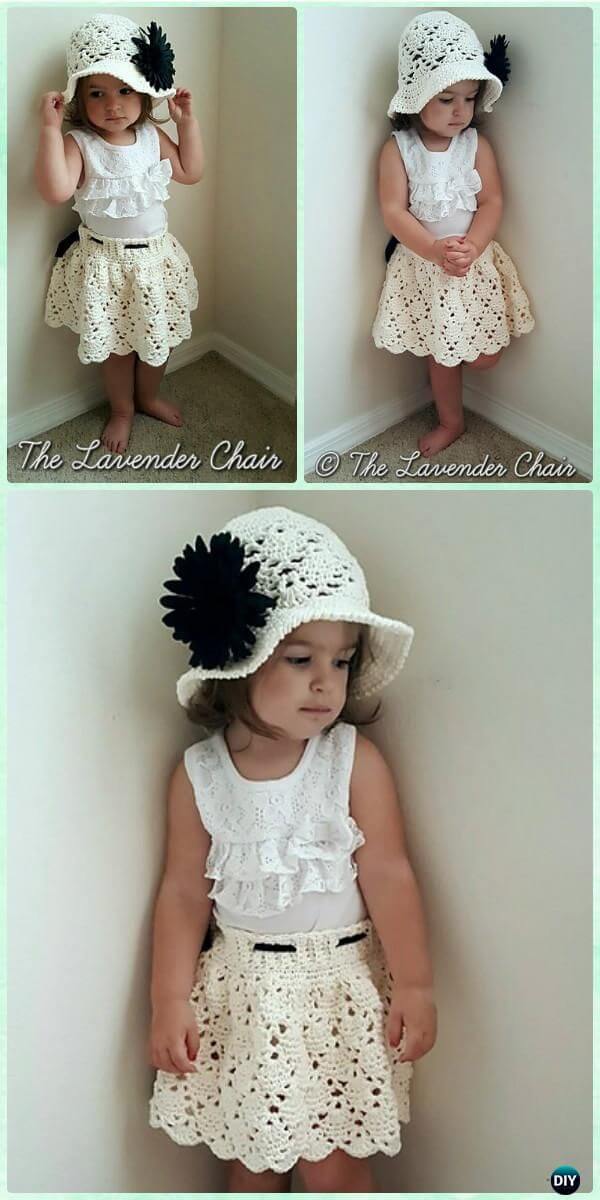 This adorable vintage crochet skirt is made for little girls below five years. It employs the worst weight cotton yarn with a waistband. Sometimes, it is made together with a vintage hat for a matching outfit.
10. Chevron Skirt Free Crochet Pattern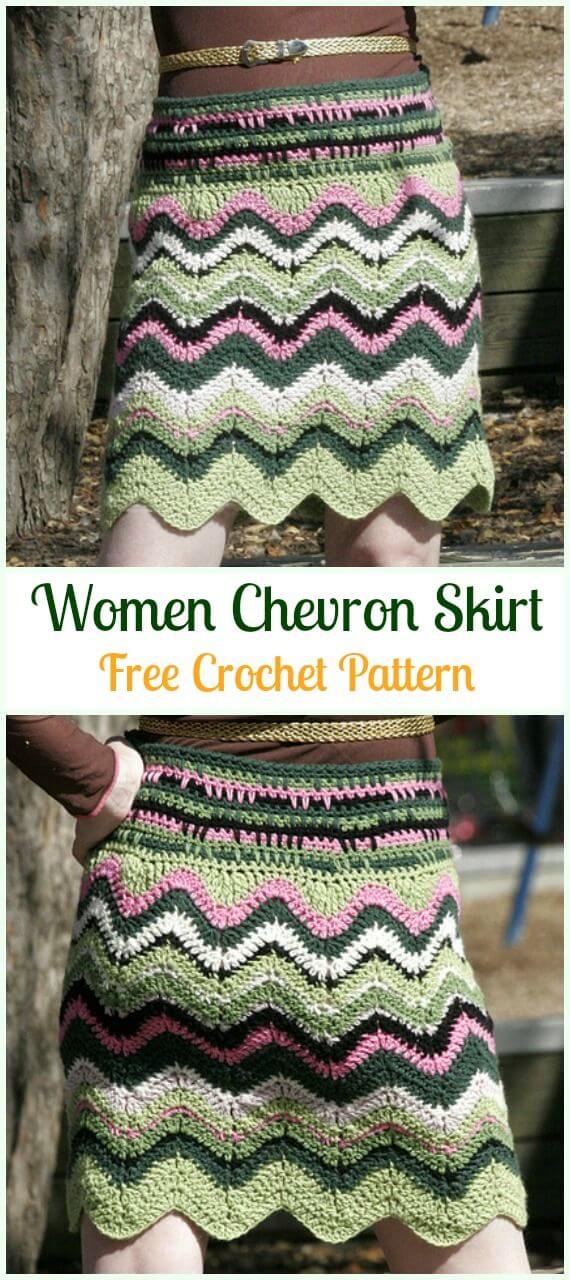 This gorgeous multi colored crochet skirt is an amazing crochet idea. Choose your own alternating colours to create a cute personalized zigzag pattern.
11. Sedona Toddler Crochet Skirt Pattern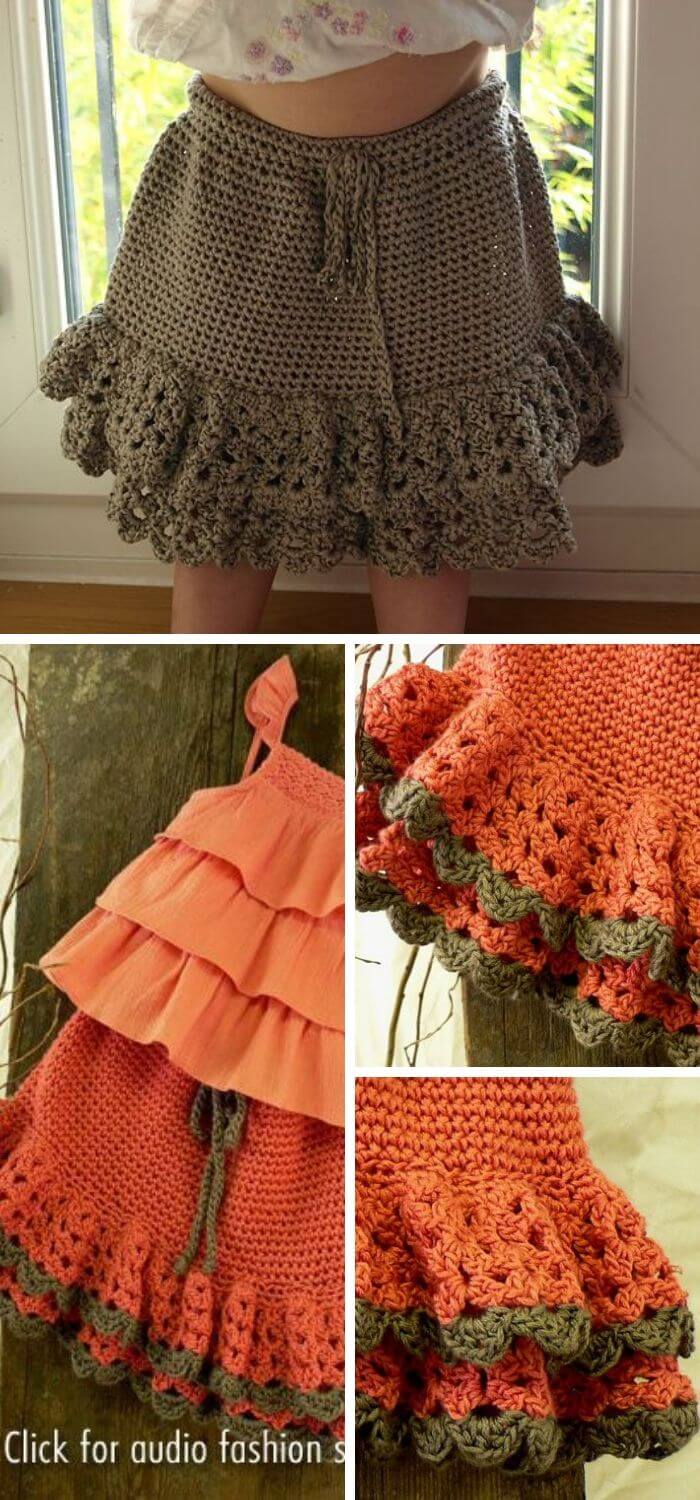 The Sedona crochet skirt is such an adorable feminine lacy design. Unlike other patterns that begin with joined rounds, it begins by working in spirals starting with a lower ruffle. The upper ruffle is made separately and stitched together to create the finished design.
12. Sparkles & Sprinkles Crochet Skirt Pattern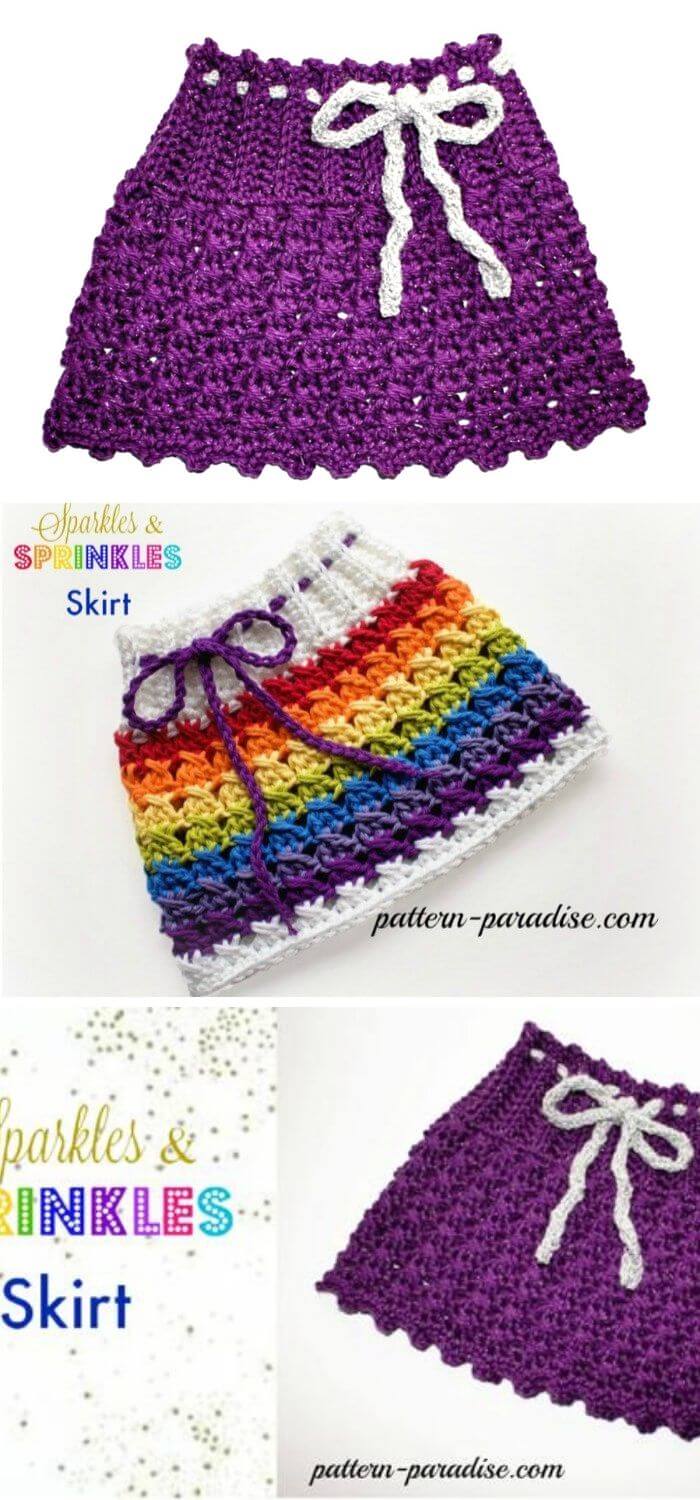 This tiny colourful crochet skirt will melt your heart. The rainbow colour blend is just incredibly gorgeous! It is the carefully blended colours that make this skirt irresistible.
13. Crochet Granny Square Flounced Skirt Pattern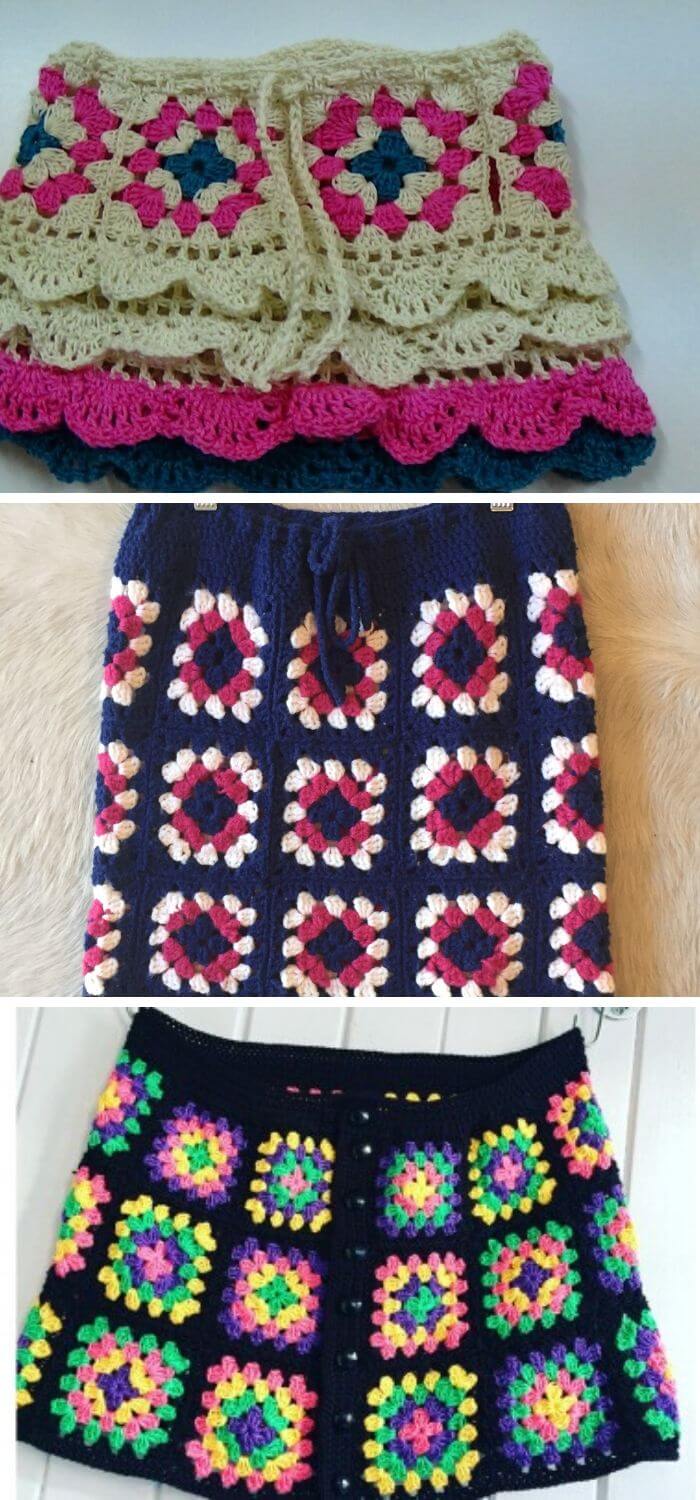 This beautiful granny square toddler skirt is super easy to make. It is made up of several granny squares individually crocheted, and then stitched together with rows of lace flounces at the hem to create this amazing design.
14. Scallop Skirt Crochet Free Pattern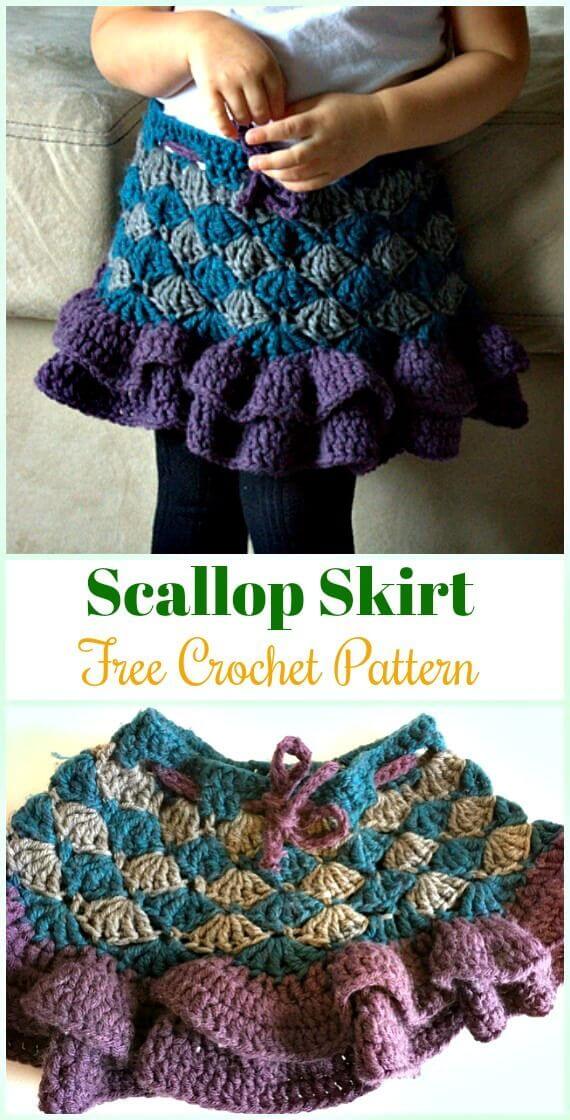 This fabulous scallop crochet skirt employs the worsted weight yarn and with a drawstring of the elastic waist.The ruffles give it a curly and bouncy effect, perfect for your little girl.
15. Crochet Ripple Skirt Free Pattern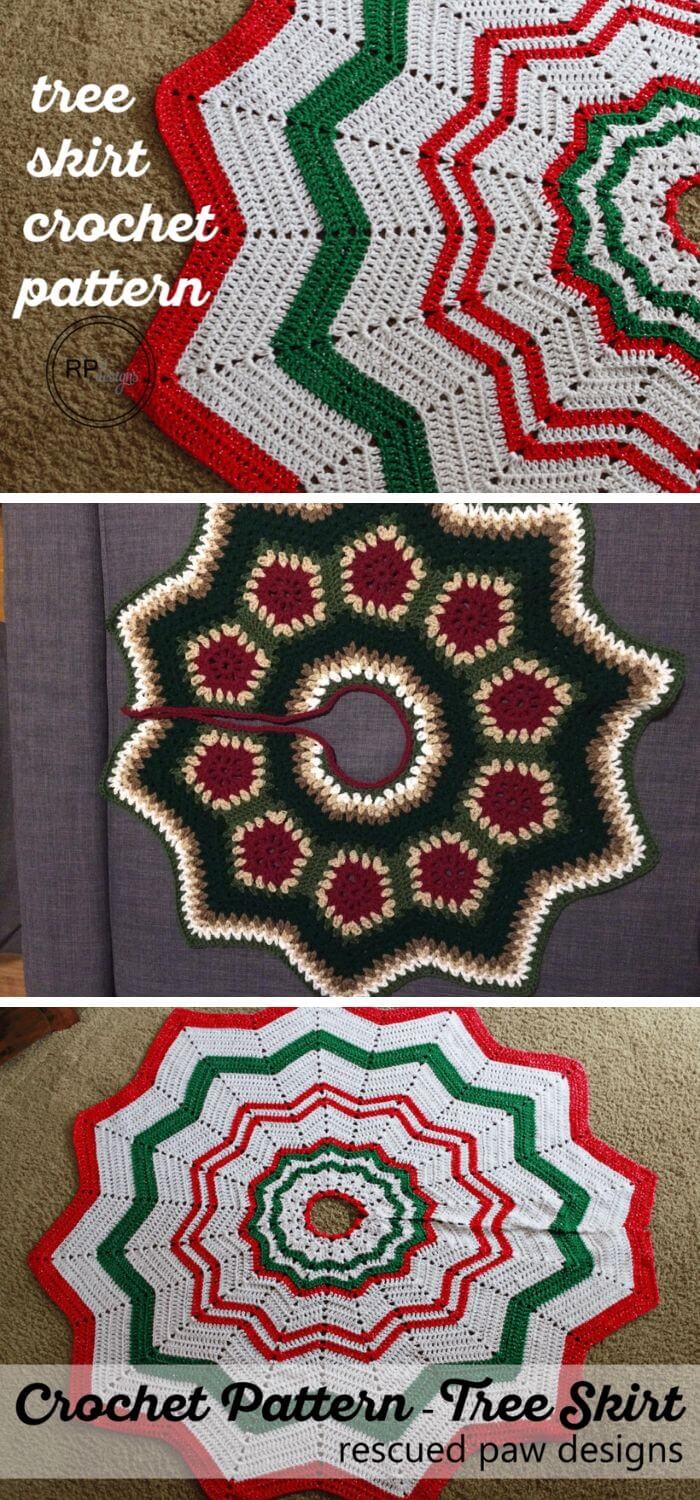 This colourful rippled skirt can be short or long, so there's a size for everyone. It is created with a basic ripple stitch and is super easy and quick to make.
16. Crochet Maxi Skirt Free Pattern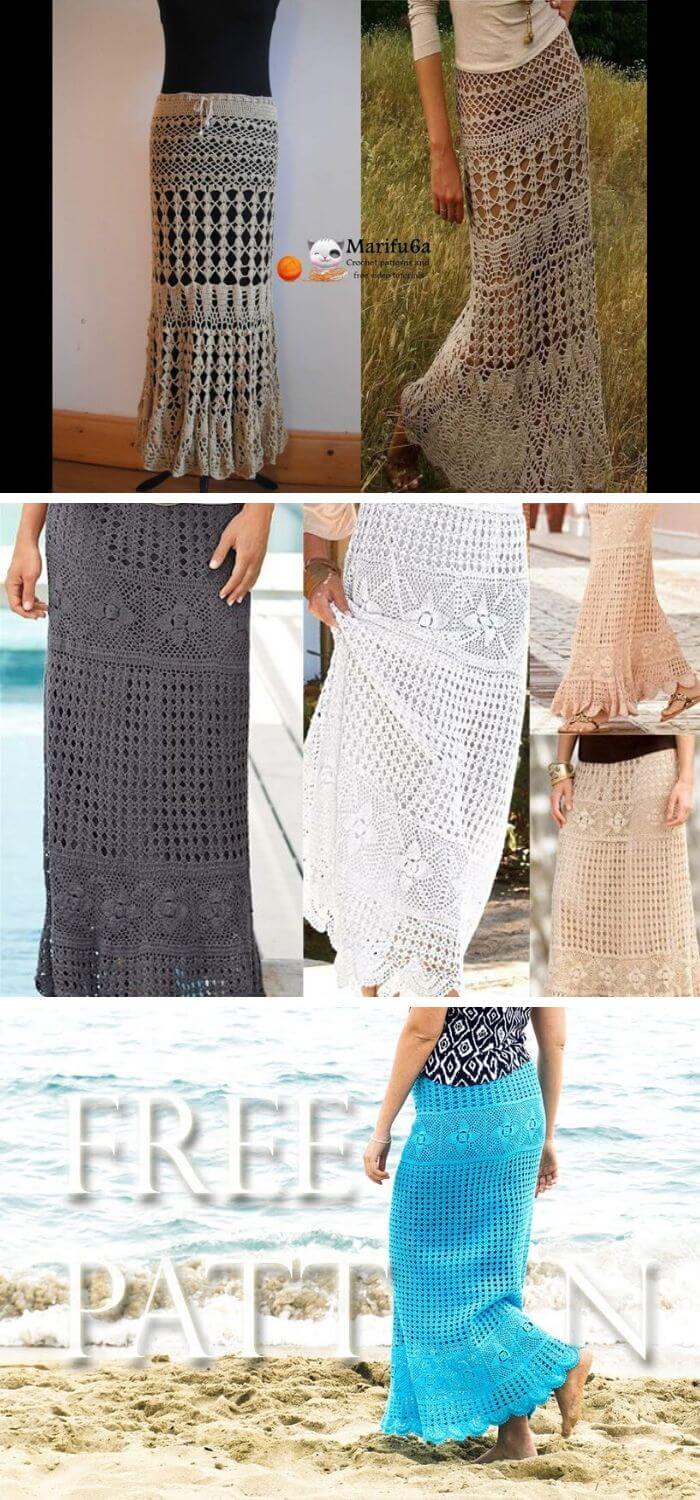 Do you fancy a maxi skirt? You should definitely try this gorgeous summer crochet maxi skirt. You can make it using any colour of your choice. 
17. Crochet Bobble Skirt Free Pattern
This beautiful crochet skirt is simple and fun to make. It falls just below the knees, perfect for any occasion throughout the year.
18. Crochet Pineapple Stitch Skirt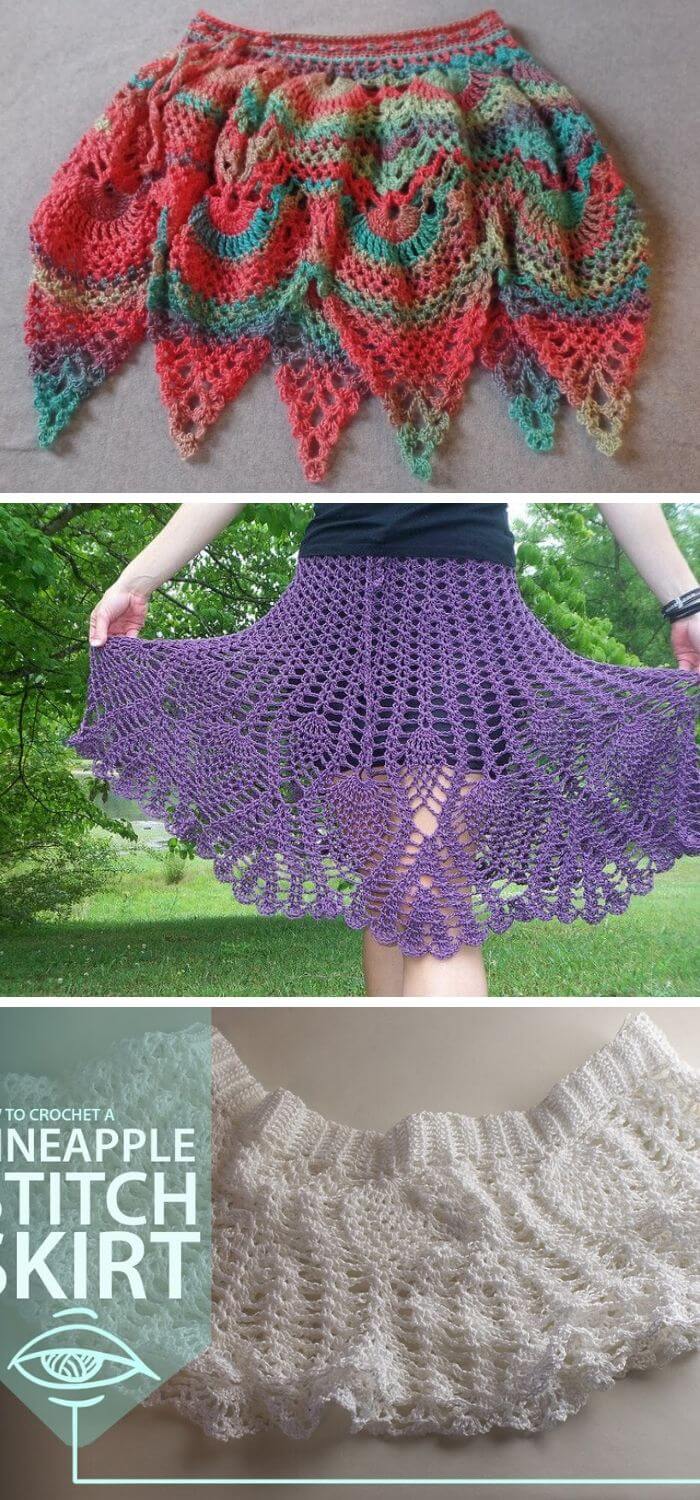 This Crochet Pineapple Skirt is very attractive. It is intricately designed as an open pattern to resemble a pineapple. You can also wear the skirt as a poncho. 
19. Crochet Mini Skirt Free Pattern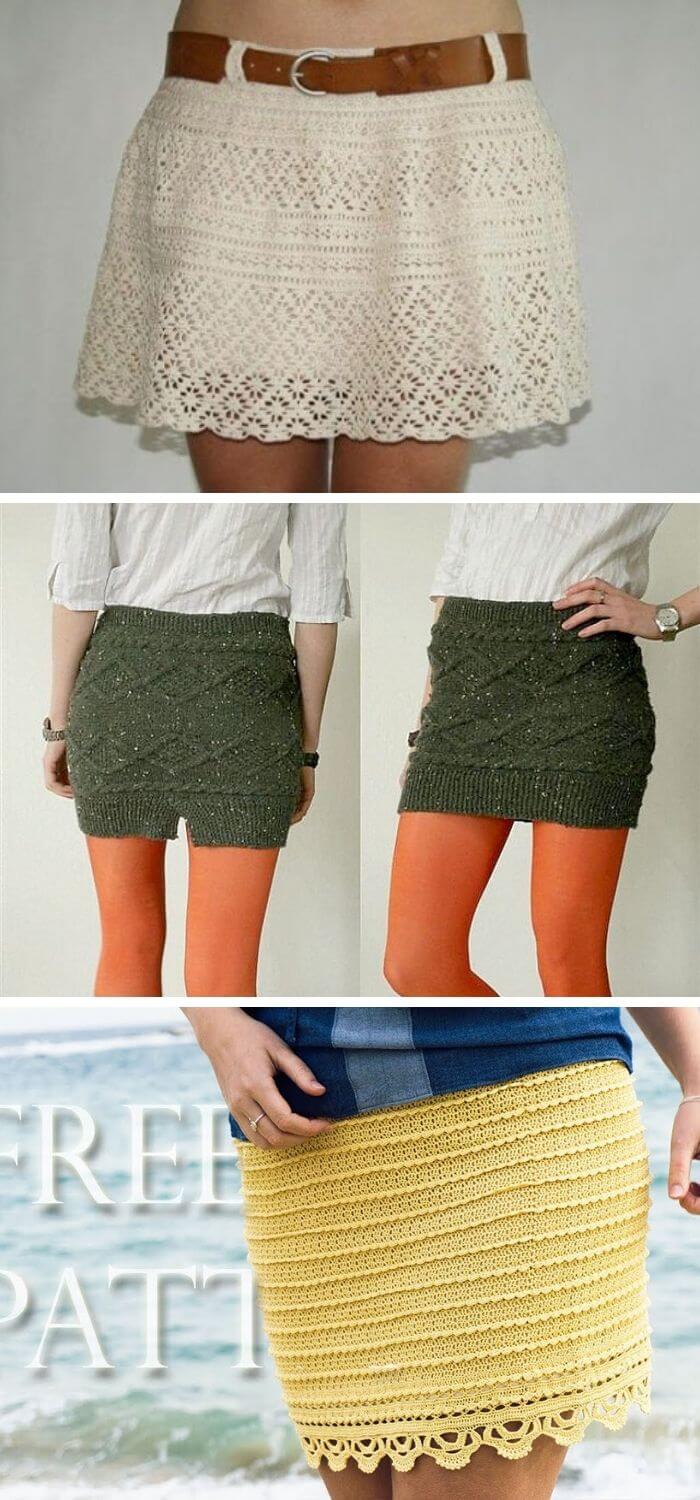 You will fall in love with this red crochet mini skirt. It is sexy and unique,  ideal for a beach cover or party outfit when worn with a pair of black tights.
20. Crochet White Ruffle Skirt Free Pattern
This gorgeous mini skirt fitted with eye-catching ruffles all around is fun and quick to make. This skirt is a perfect beach outfit.
conclusion
Give your wardrobe a new makeover by crocheting these super easy and quick Crochet Girl's Skirt Free Patterns today!