What is the Bullion Stitch?
Bullion stitch, also known as the roll stitch, is an exclusive form of crochet that entails wrapping the yarn several times around the crochet and then pulling a loop through to create highly textured designs. 
Uses of the Bullion stitch
Mostly used as a decorative type stitch to create excellent decorative details around the house and in different projects such as Jewelry.
How to Crochet Bullion Stitch?
Learning the unusual Crochet Bullion Stitch may seem a daunting task at first, but it is not that hard to master. There are different forms of Bullion stitches ranging from simple to very complex stitches. Let's look at the basic bullion stitch. First, insert your hook into the designated stitch space, yarn over the number of yarns you need, it could be 5,6, or 7 yarn-overs, and then pull up a loop. Yarn over again and pull the loop to tighten the stitch. This, however, is easier to learn using video tutorials.
1. Baby Bullion Square Crochet Pattern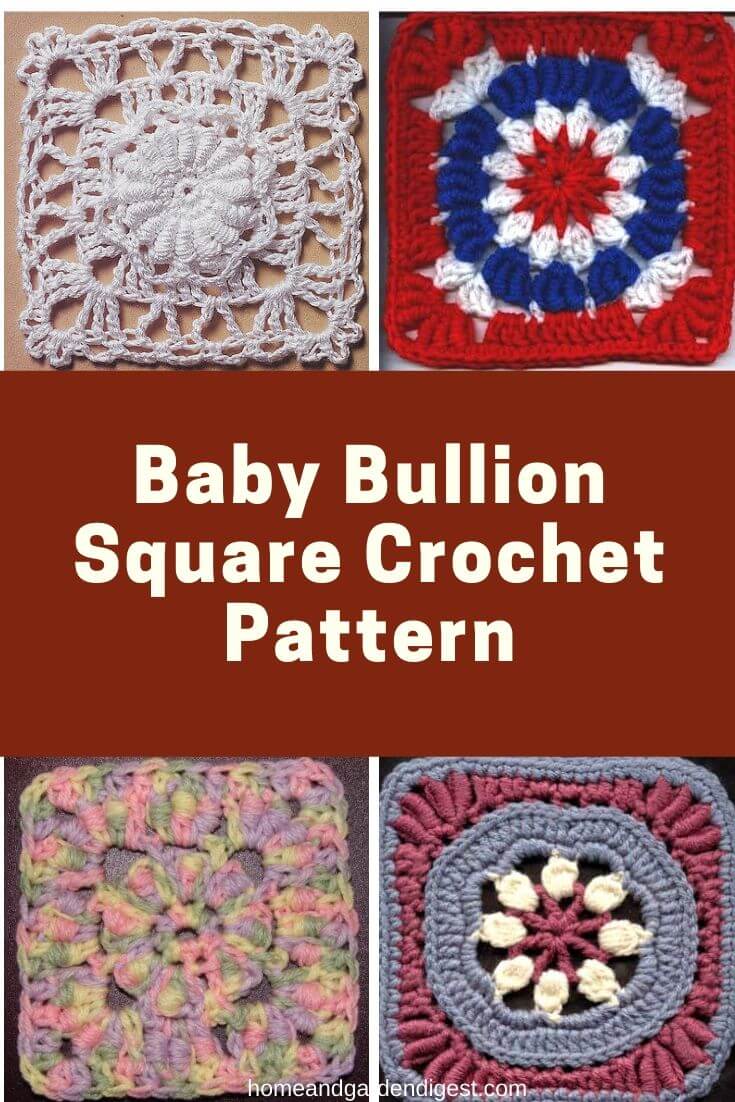 This pattern is quite easy to learn as it only uses five yarn-overs, unlike other bullion stitch crochet patterns that use a whopping 16 yarns. It comprises a textured flower stitched inside the bullion square. This square can be stitched together with other squares to make placemats and other similar projects.
2. Bullion Stitch Crochet Flower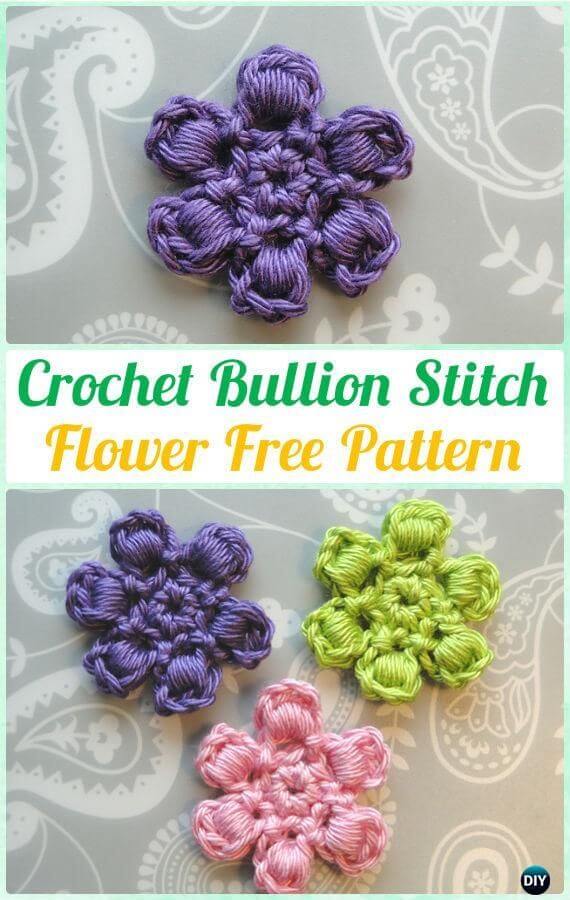 This is yet another simple crochet pattern that employs the bullion stitch. By following a few written instructions on how to use a latch hook, you can easily create this beautiful bullion flower Pattern at home.
3. Bullion Valentine Heart Pattern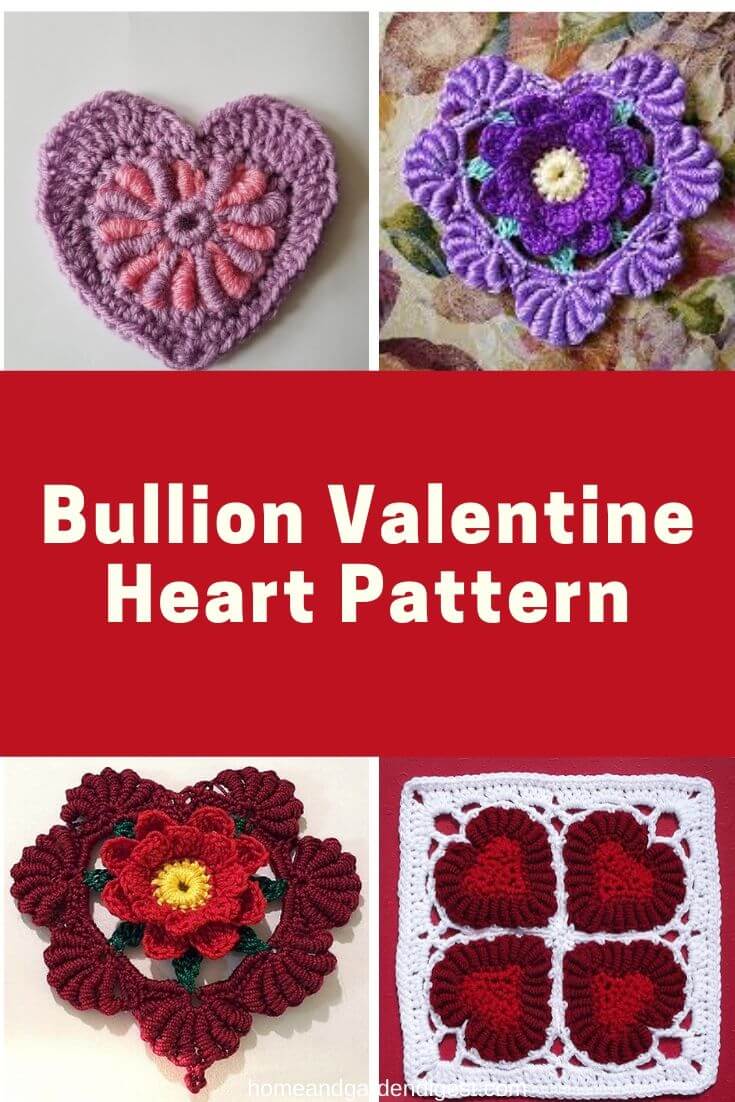 This is a more advanced form of the bullion stitch pattern that employs 15 yarn-overs to create this gorgeous design. A normal design usually covers 3" squares, but you can adjust the number of yarns and with a larger crochet hook to create a bigger Heart design.
4. Bullion Stitch Butterfly Pattern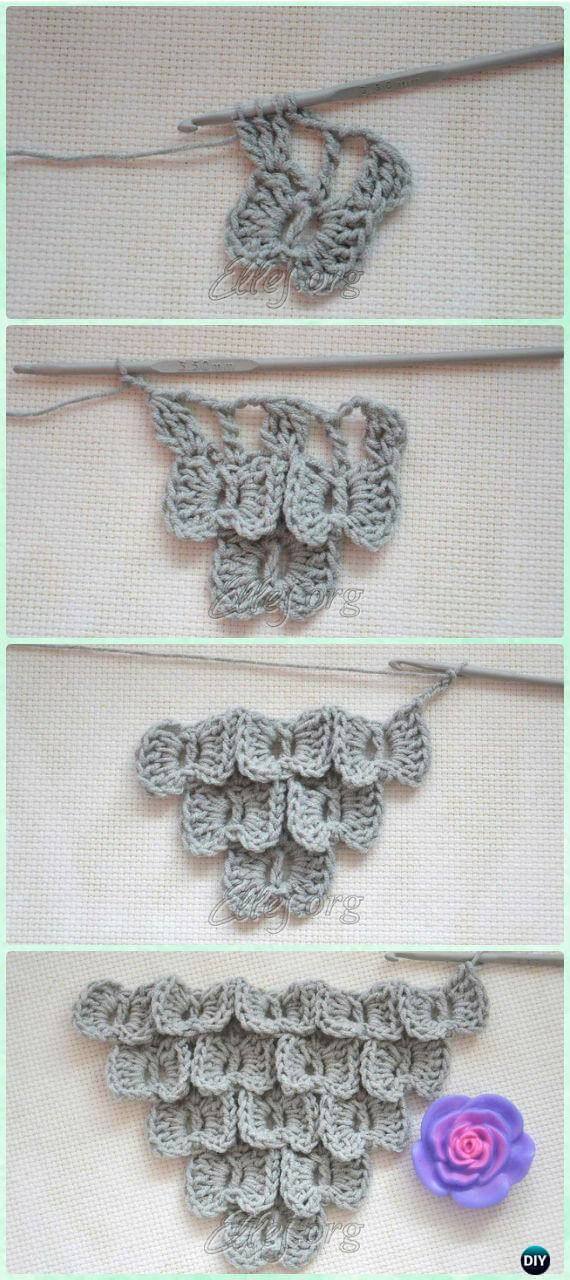 This is a more detailed pattern of the Bullion Stitch. It employs both a single stitch and the seven yarn-over as a butterfly's body to create this beautiful design.
5. Bullion Stitch Hearts Pattern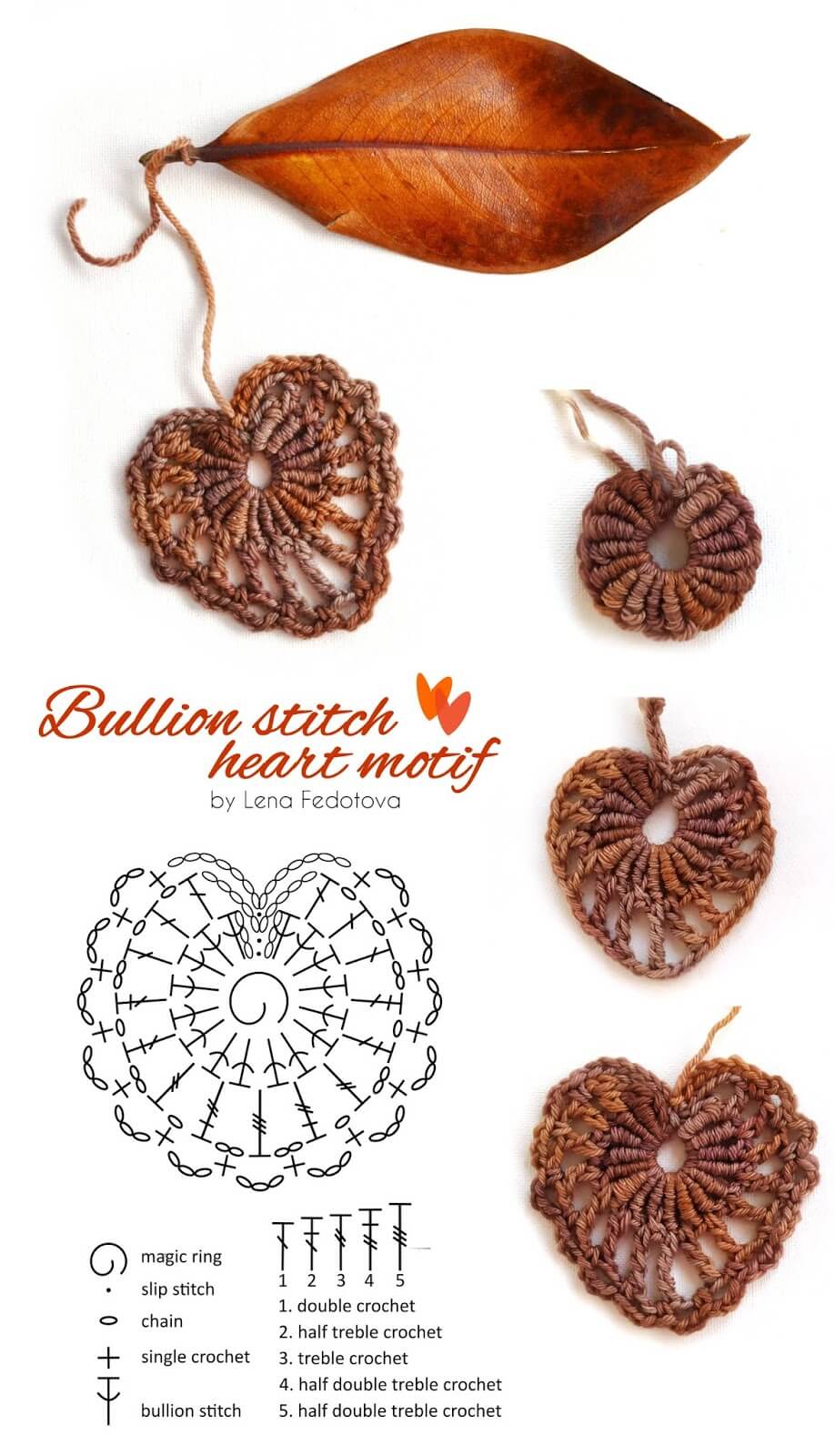 These simple heart patterns begin with bullion stitches that are advanced outwards into three rounds to form magical circles which are perfect gift tags.
6. Bullion Butterfly Square Crochet pattern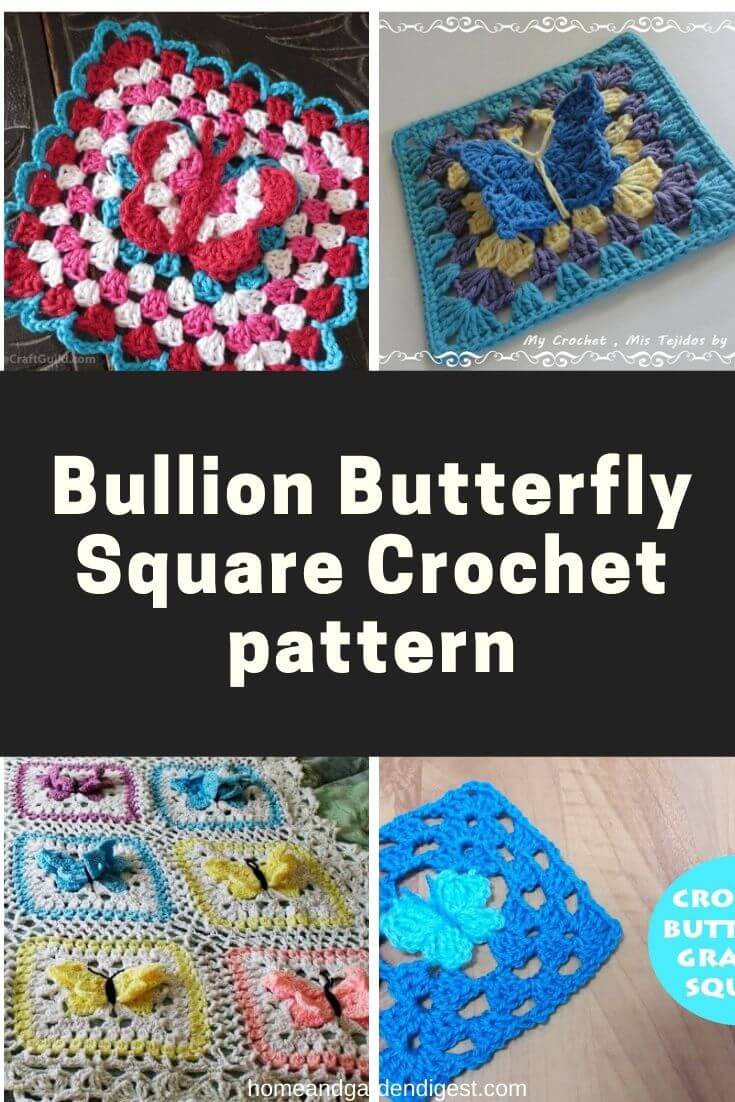 Almost similar to the Bullion butterfly pattern. The only difference is that it employs two rows using two bullion stitches stacked on top of each other to create the full-body around which the wings are placed.
7. The Bullion Stitch Bag
Six yarn-over bullion stitches are employed and complemented by single and double basic stitches to create this fabulous distinctive bag.
8. Bullion Stitch Fingerless Gloves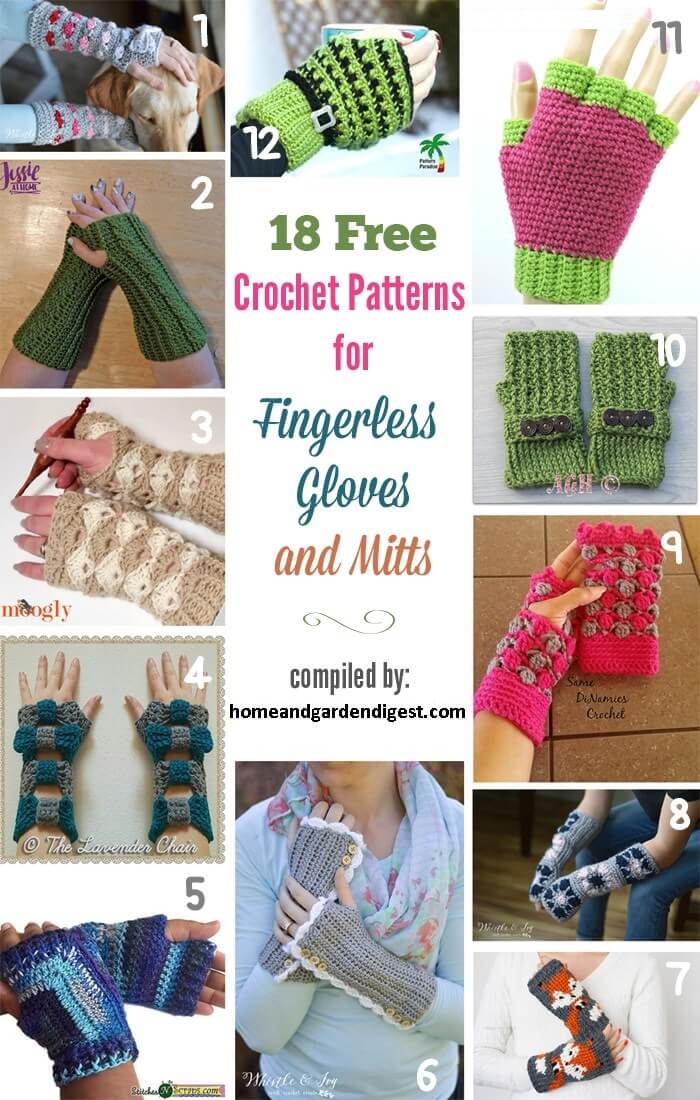 These gorgeous and cozy fingerless gloves are created exclusively using only the bullion stitch staggered against each other without employing any other type of stitch in between. 
9. Bullion Stitch Picture Frame project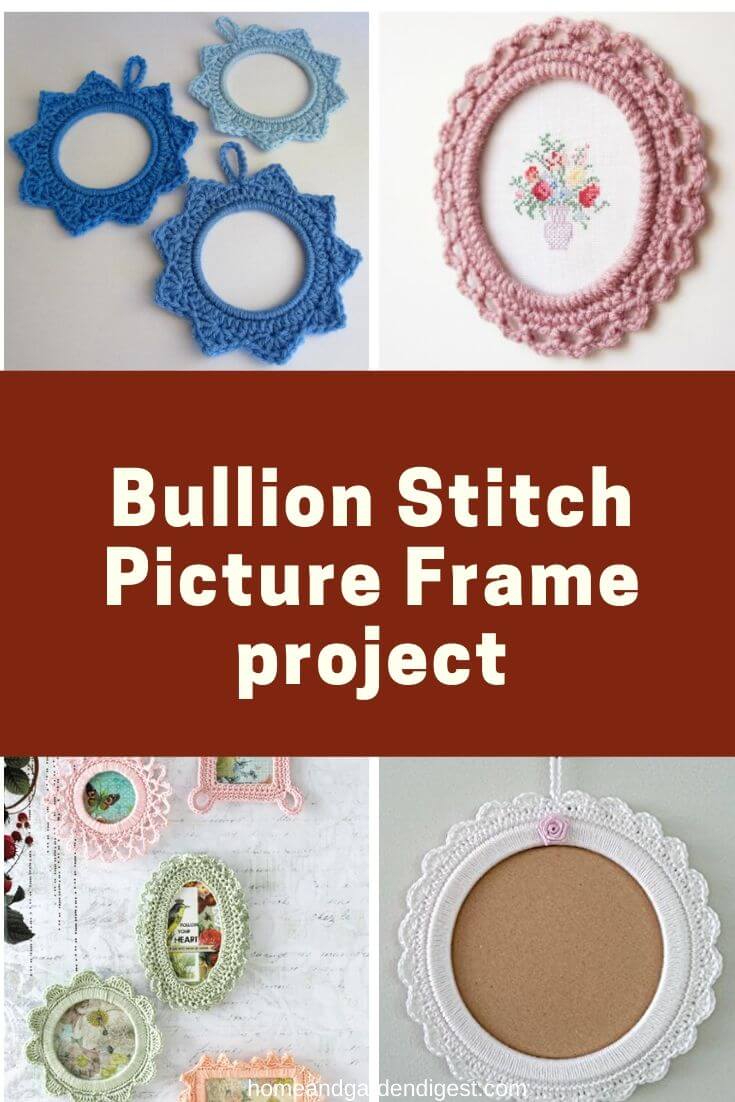 You can make this elegant picture by creating a row of neat bullion stitches to create this great edging used as a picture frame.
10. Split Bullion Stitch Slouch Hat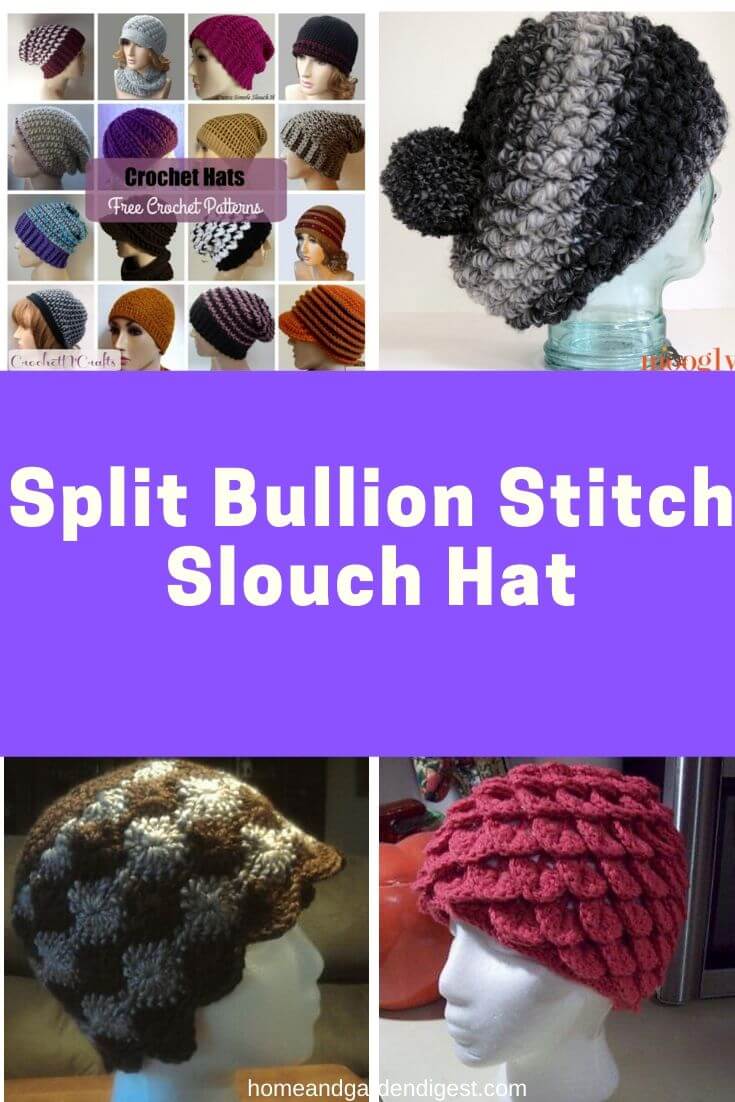 This hat was created by Tamara of Moogly, who split the bullion stitch across into two to form a similar texture with much ease.
11. Roll Stitch Hot Pad Pattern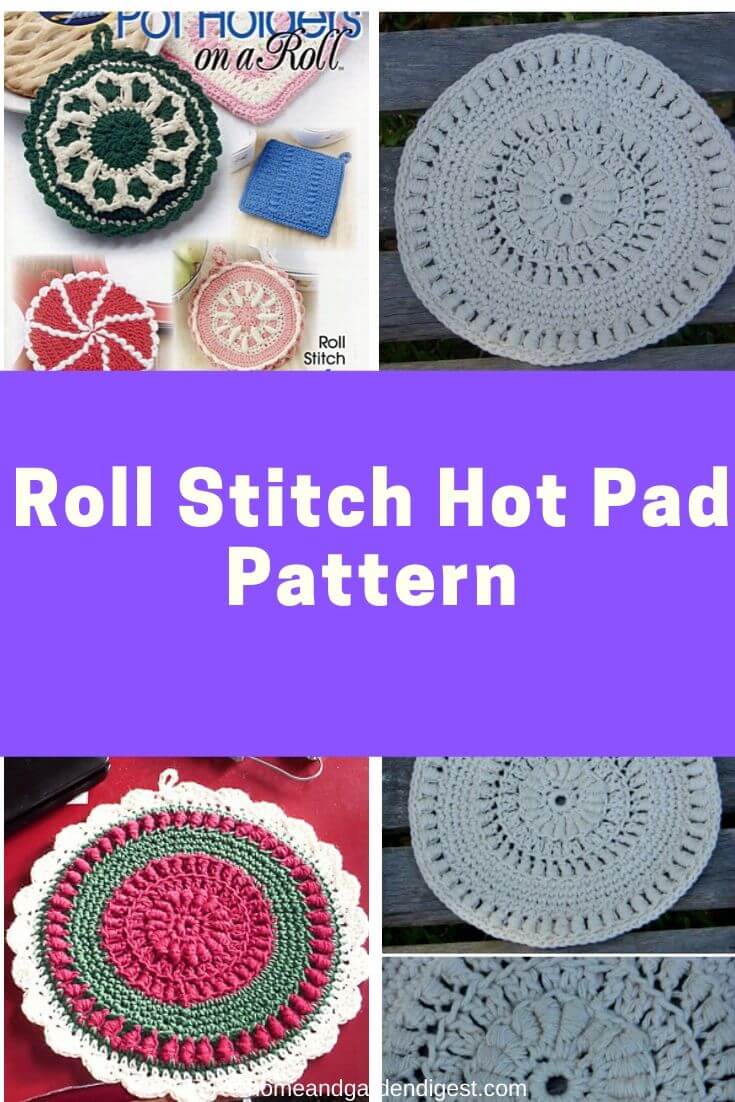 To create this beautiful hot pad, six yarn, and ten yarn-overs are employed in an outward round manner which are separated by single and double crochet stitches.
12. Beards and Bullions Clay and Crochet Boho Necklace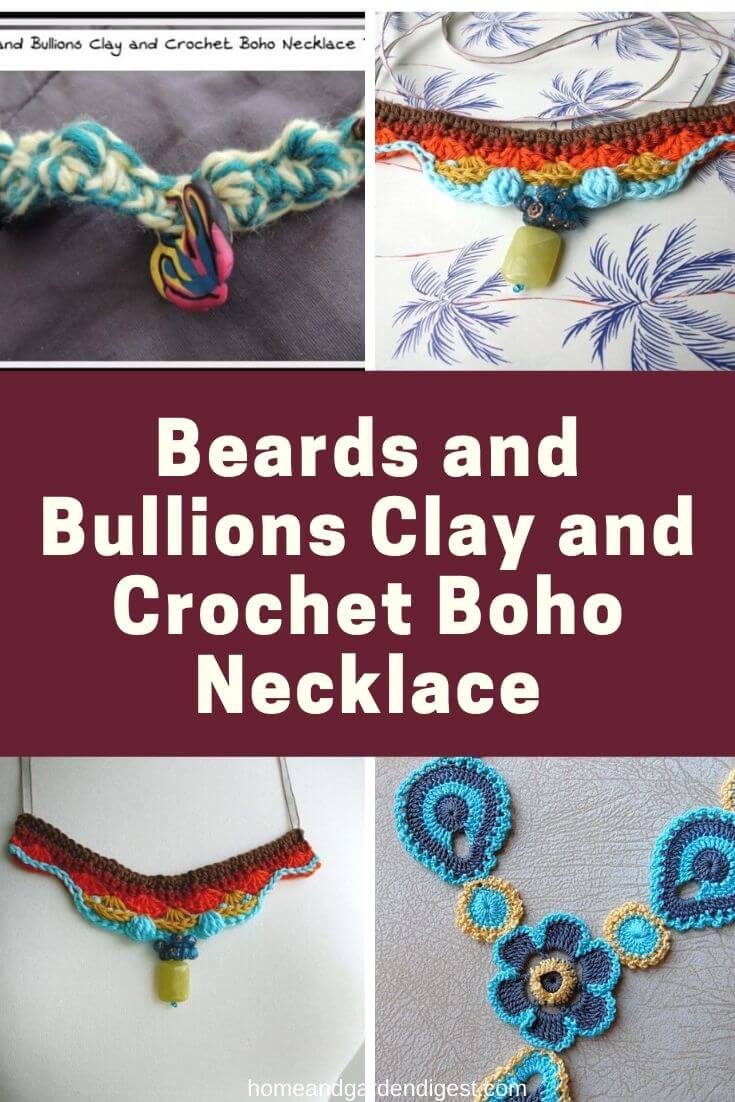 This simple-to-create yet amazing necklace is purely a double-stranded single crochet design enhanced by bohemian clay beards. Of course, you can enhance the necklace with other beards of your choice.
13. Baby Bullion Phone Cozy Pattern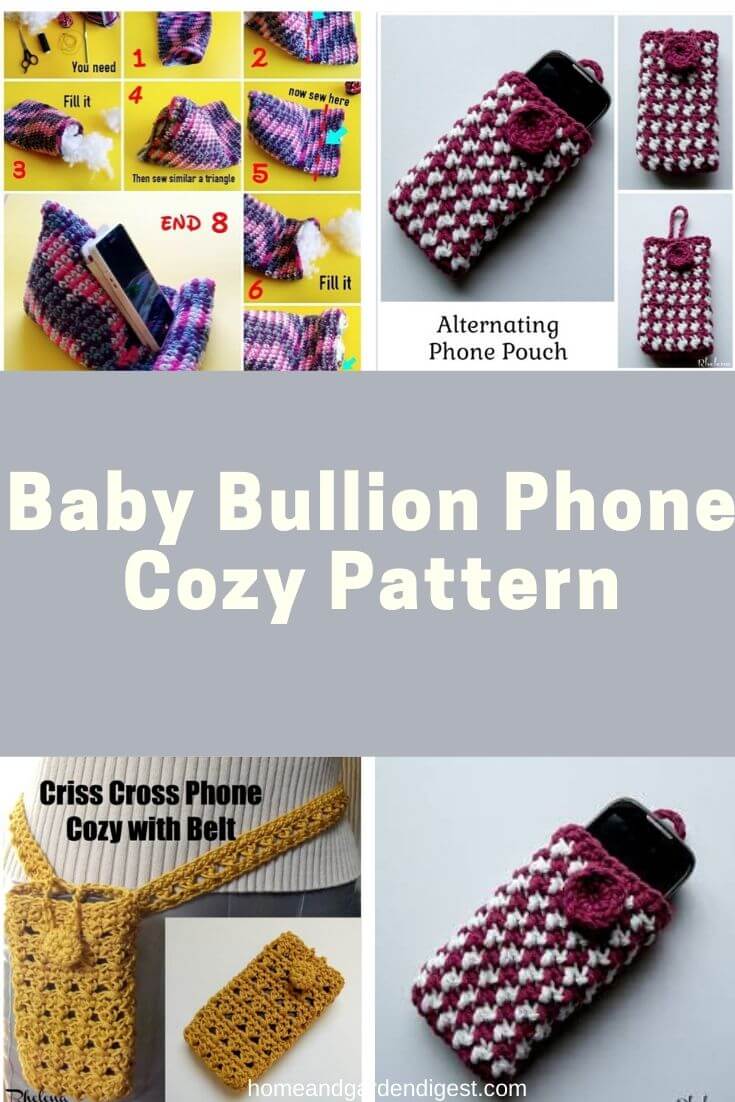 This textured phone cozy employs a "baby bullion" stitch pattern with 3 yarn-overs incomplete stitches that are secured by a basic single crochet stitch.
14. Roll Stitch Snowflake Patterns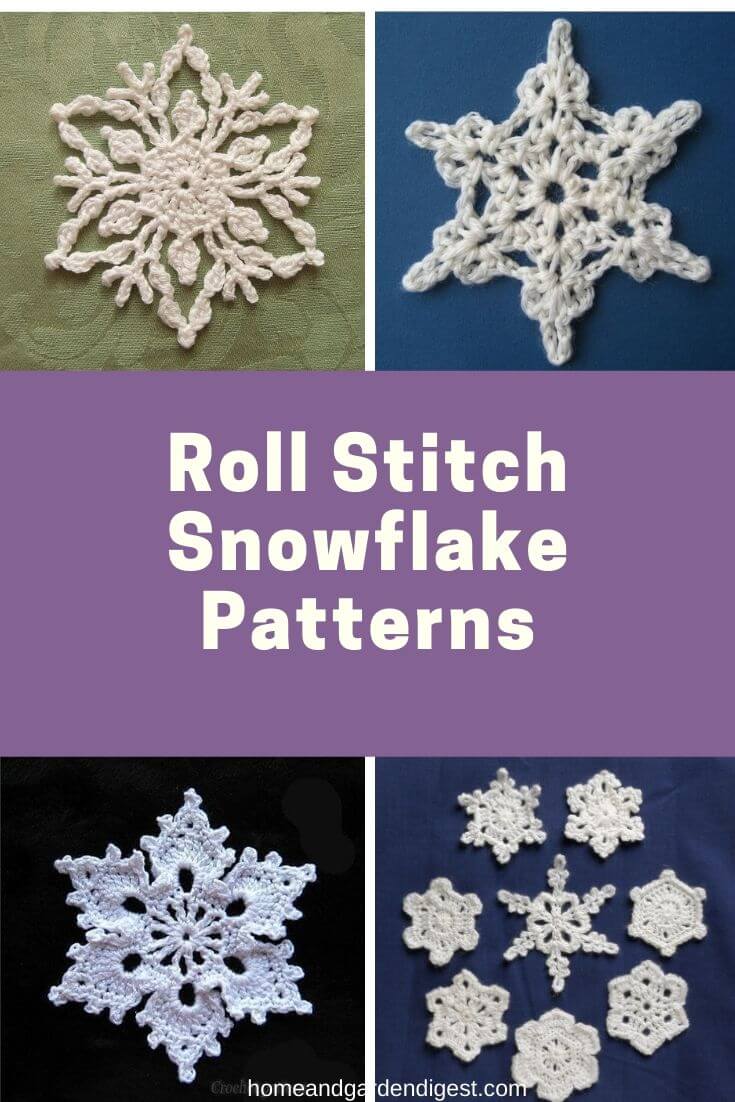 Like with the Bullion Flower, the bullion stitch is employed to create this beautiful 3-dimensional 12 yarn-overs snowflakes.
15. Bullion snail Granny Square Crochet Pattern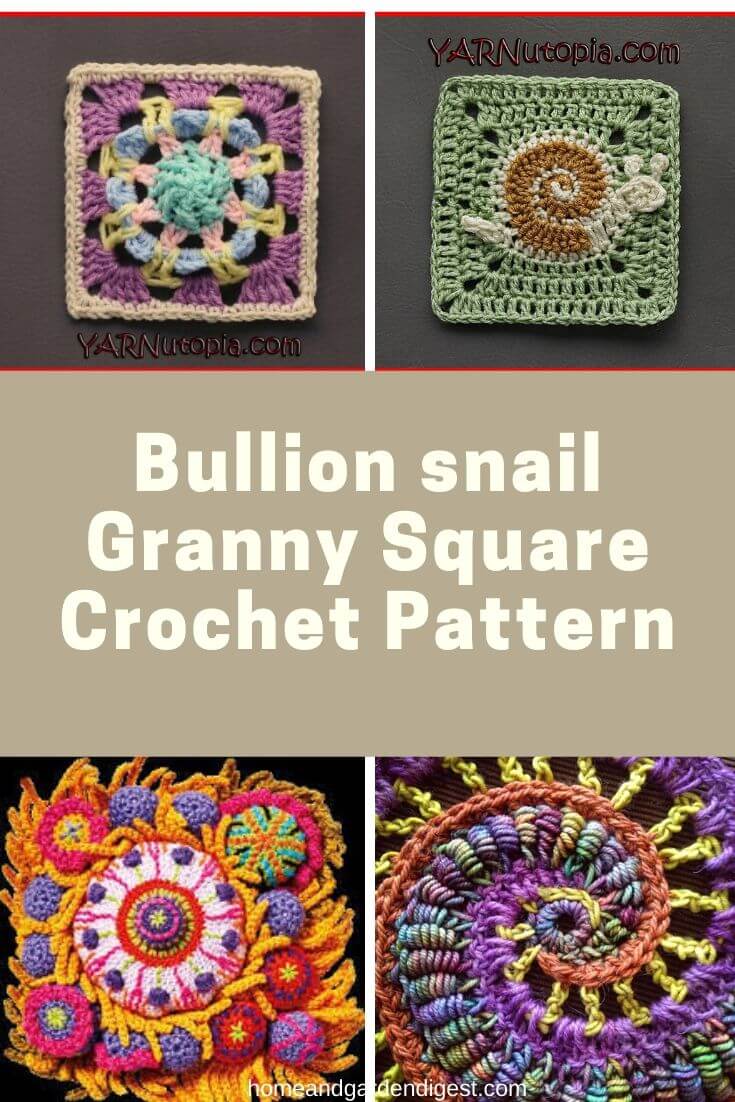 The bullion stitch pattern is used to create this cute textured shape of a snail, which, when placed inside a square, is a great piece of wall art.
16. Bazillion Bullions Bag Design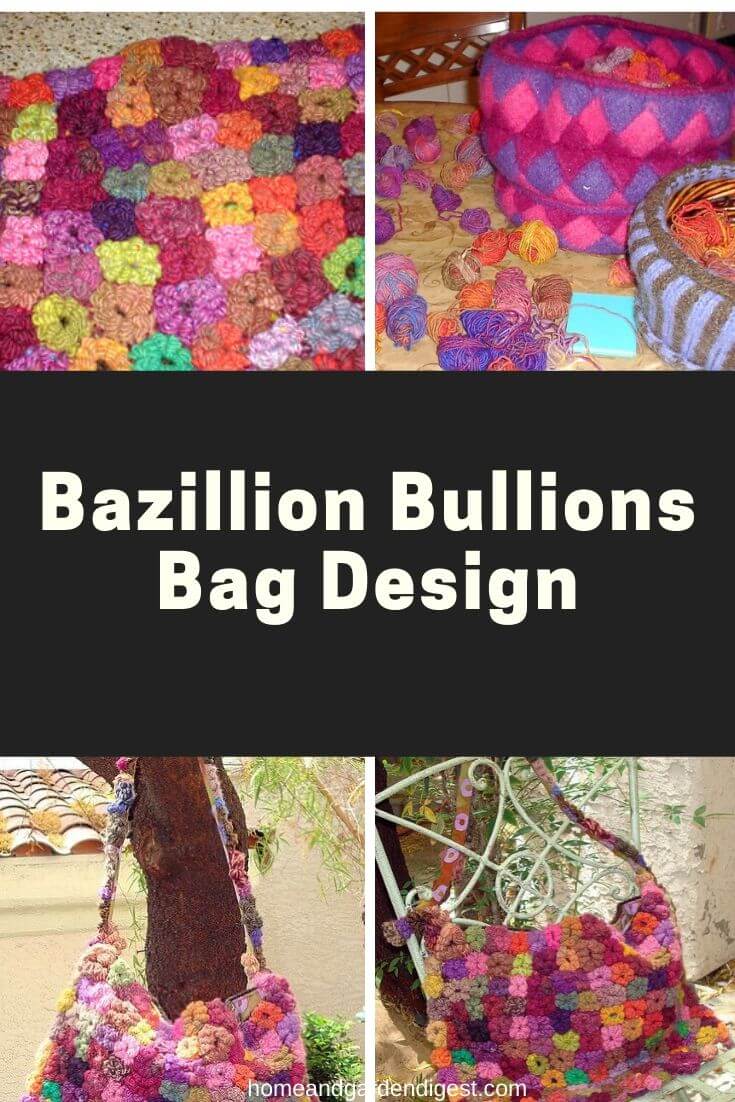 Revelry, through a tutorial, shows how you create bullion rings, which you later stitch together to make this beautiful bag.
17. Bullion stitch Edging Scarf Pattern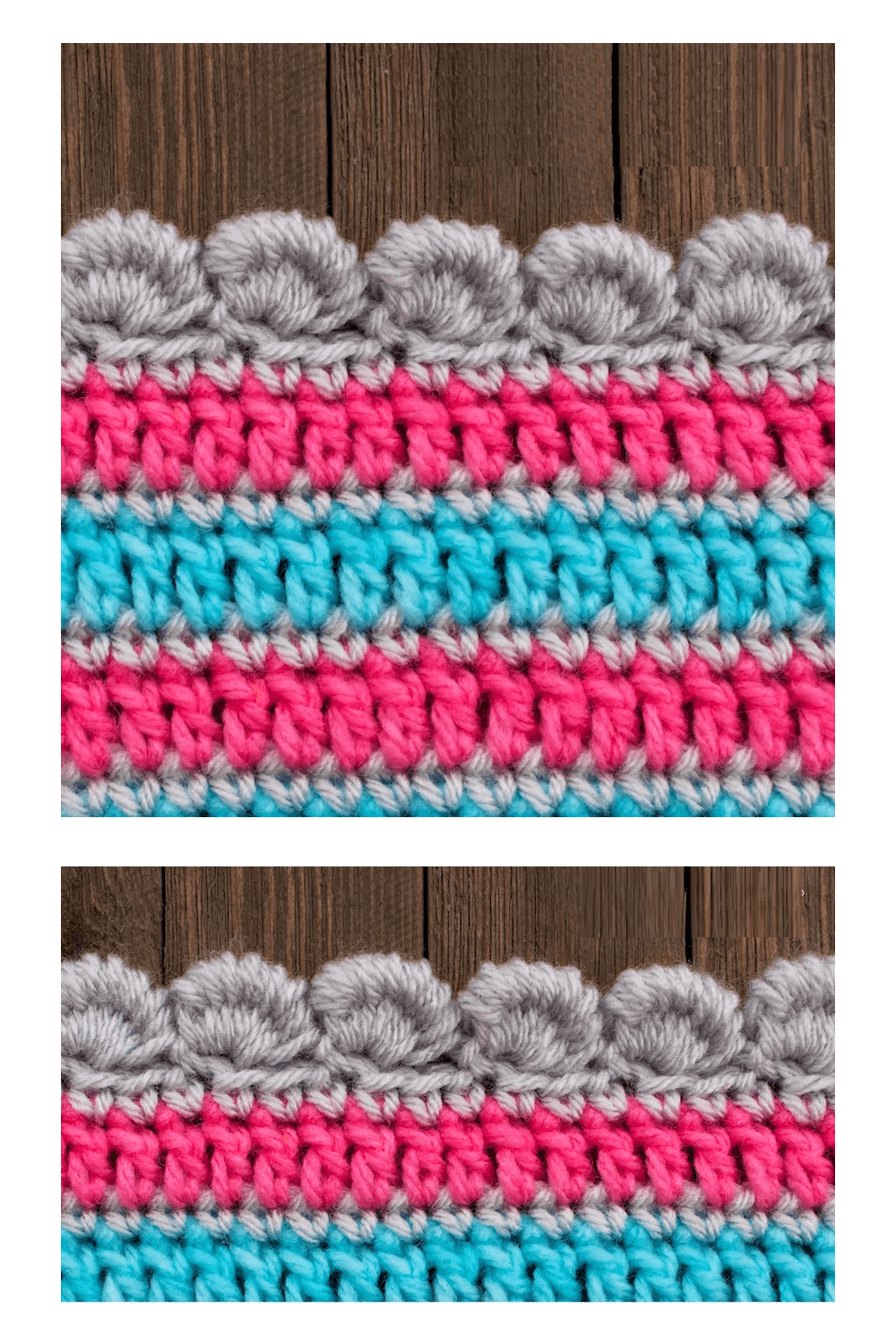 The first and the last row of this cozy scarf incorporates the Bullion stitch pattern to form the long edges of the narrow scarf.
18. Bullion Stitch Thread Victorian Bag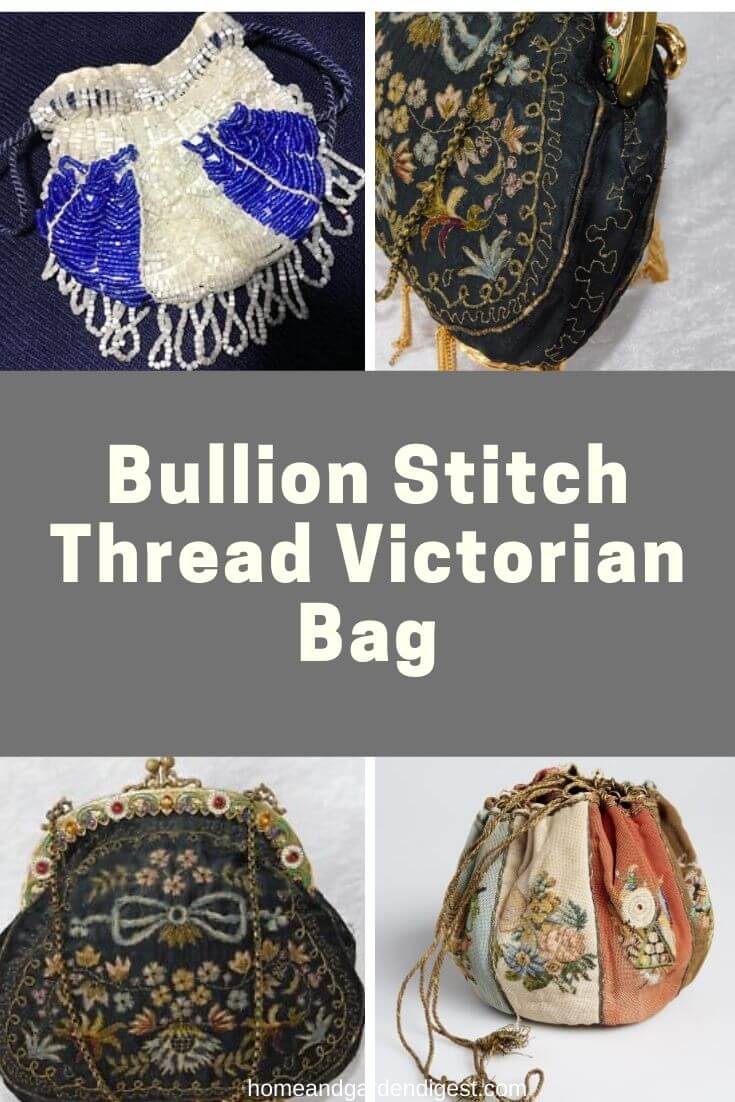 It is a more complex recreation of the Victorian-era bag incorporating the bullion stitch pattern. It employs different versions of the billions stitch from 10 to 16 yarn-overs using cotton threads 
19. Coiled Medallion Necklace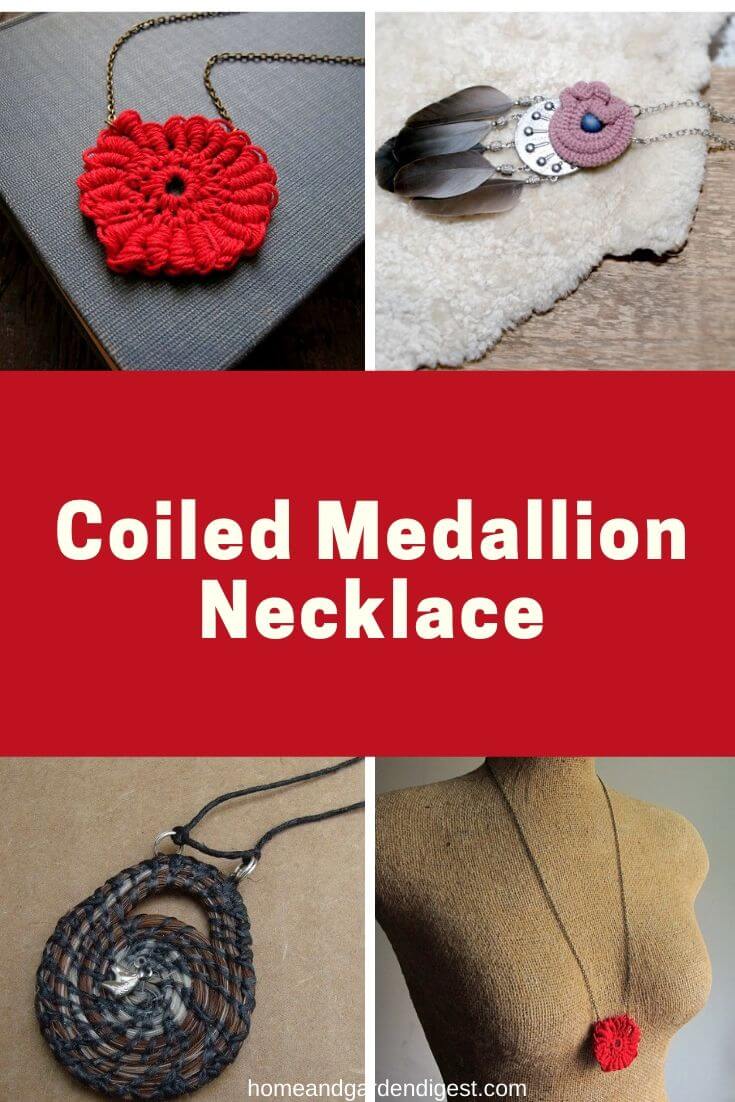 Different types of Bullion stitches are used to create this round beautiful floral motif that is often used as a medallion for a necklace.
20. Bullion Stitch Square Pattern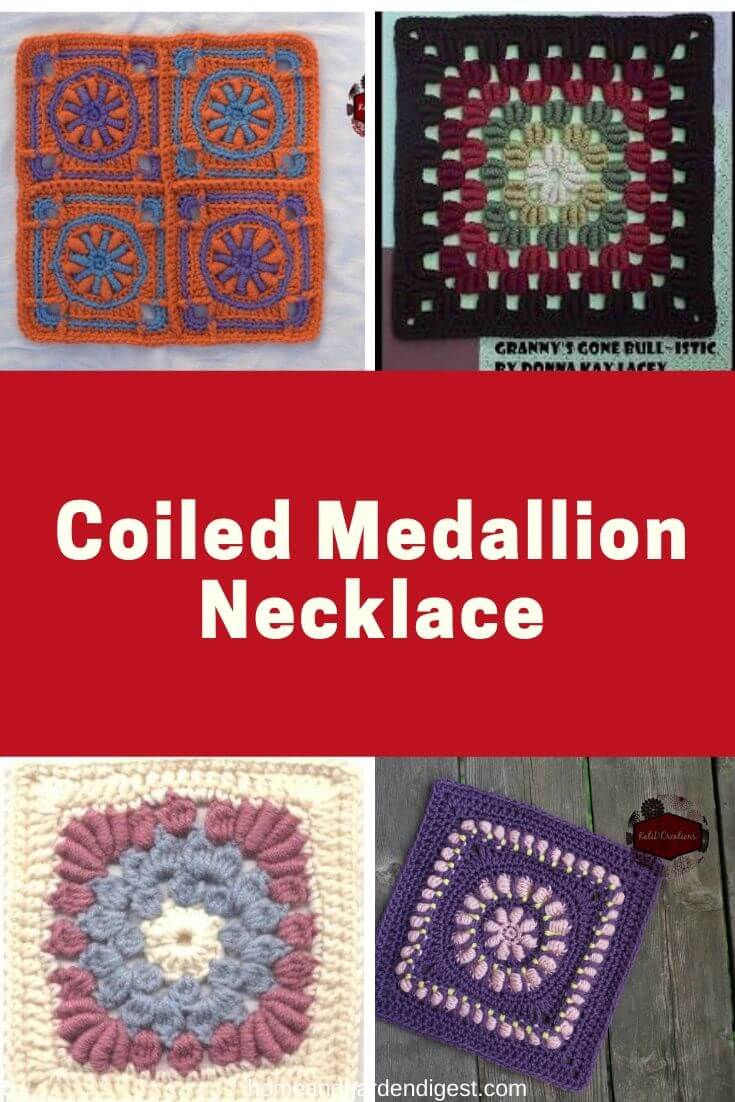 This design uses a 7 yarn-over and sometimes incorporate other textured stitches like the front post stitches to create this beautiful squared floral detail.
Conclusion
Most of the Bullion stitch patterns require a lot of patience. However, this should not discourage you.  Once you learn the patterns, you will enjoy making this and many more designs.