Creating Crochet Block Blanket Free Patterns involves different types of knitting and crochet techniques. Crochet is a craft which helps to create scarves, blankets, baby cloths, shawls or other household items using wool, or cotton. A special curved needle with a hook or a curve at its end is used to crochet. Knitting involves 2 different pen-shaped knitting needles which help to create clothes or fabrics using wool or yarn. Creating loops, stitches and meshes are the basic knitting techniques which will be required to create these Block Patterns. 
Before staring, make sure you are aware of all the basic Crochet techniques that are mentioned below.
Single Crochet 

Double Crochet

Half Double Crochet

Double Crochet

Treble Crochet
And, here is a list of the basic knitting techniques that will be required if you wish to create these patterns at home:
Stockinette Stitch

Warp Knitting

Knitting Stitches: Knit Stitch, Purl Stitch, Elongated Stitch, Plaited Stitch, Increasing and Decreasing Knitting

Plaited Stitch

Double Knitting

Slip-Stitch Color Knitting
With knowledge of the above techniques, you will be able to create these simple to complex block patterns by yourself without any problems. Here is a list of 20 different Crochet Block Blanket Free Patterns just for you:
1. Basic Stripes Pattern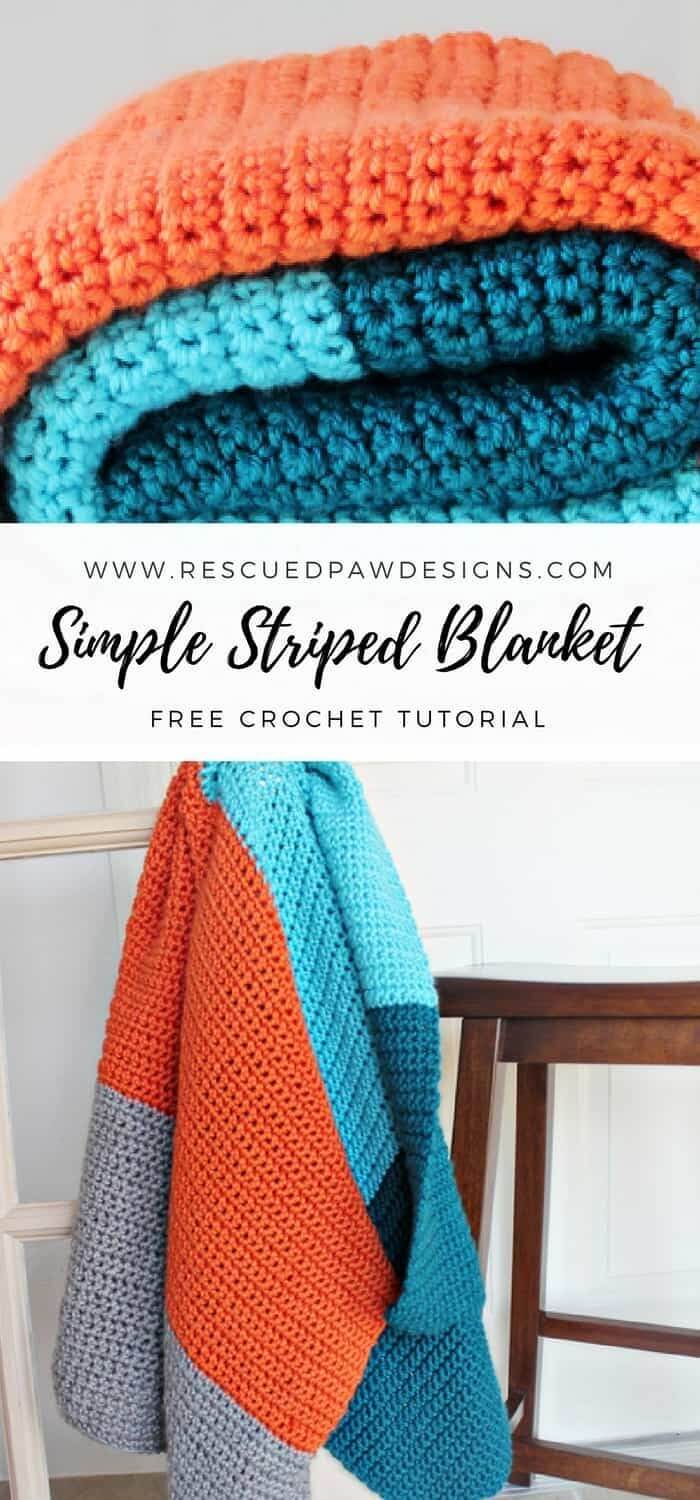 This is the best design for people who are still practicing their crochet techniques. Create small blocks using 3 to 4 colors.

2. 3D Block Pattern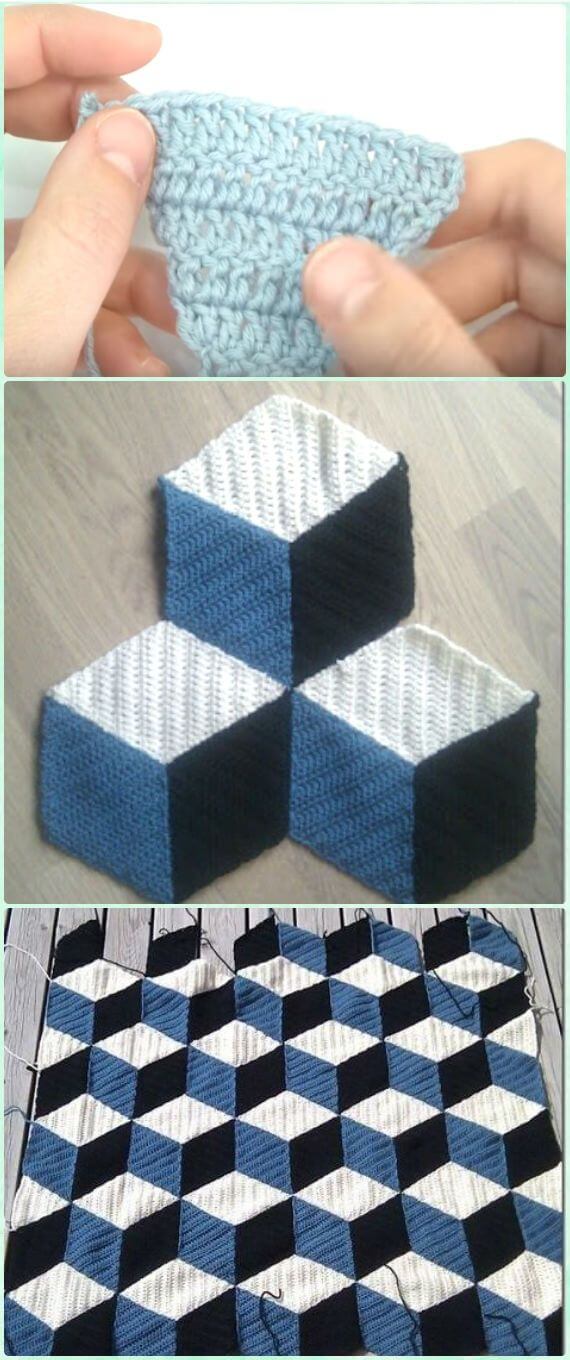 Use 3 different colors and create a single side of a cubical block to create this pattern. Create titled square or diamond shaped stitches to give this texture a beautiful look.
Source Information:
3. Blue and White 3D Pattern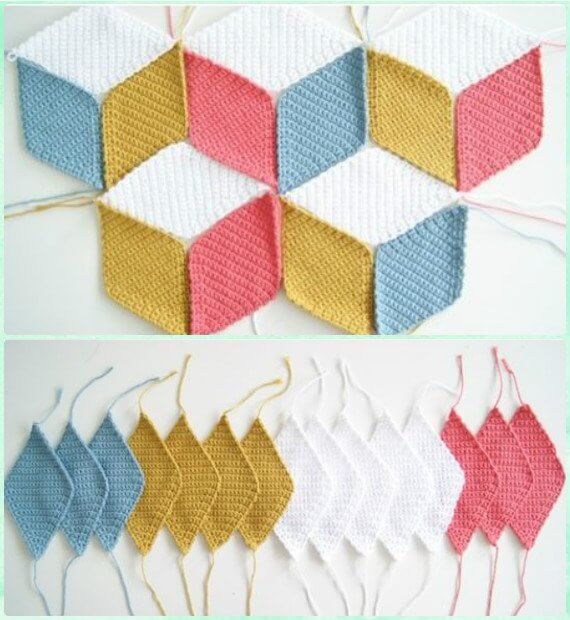 Just like the above pattern, you can use a variety of different color shades to create this block pattern. Try to use a single shade to create a cute texture.

4. Harlequin Pattern

Harlequin fabric is known to be an ancient fabric and its design was popularized around the '50's. It is created by using different colored diamond shaped square blocks stitched together. Use as many colors as you like to create a colorful texture. A black and white texture can also look equally adorable.

5. Tutti Frutti Block Blanket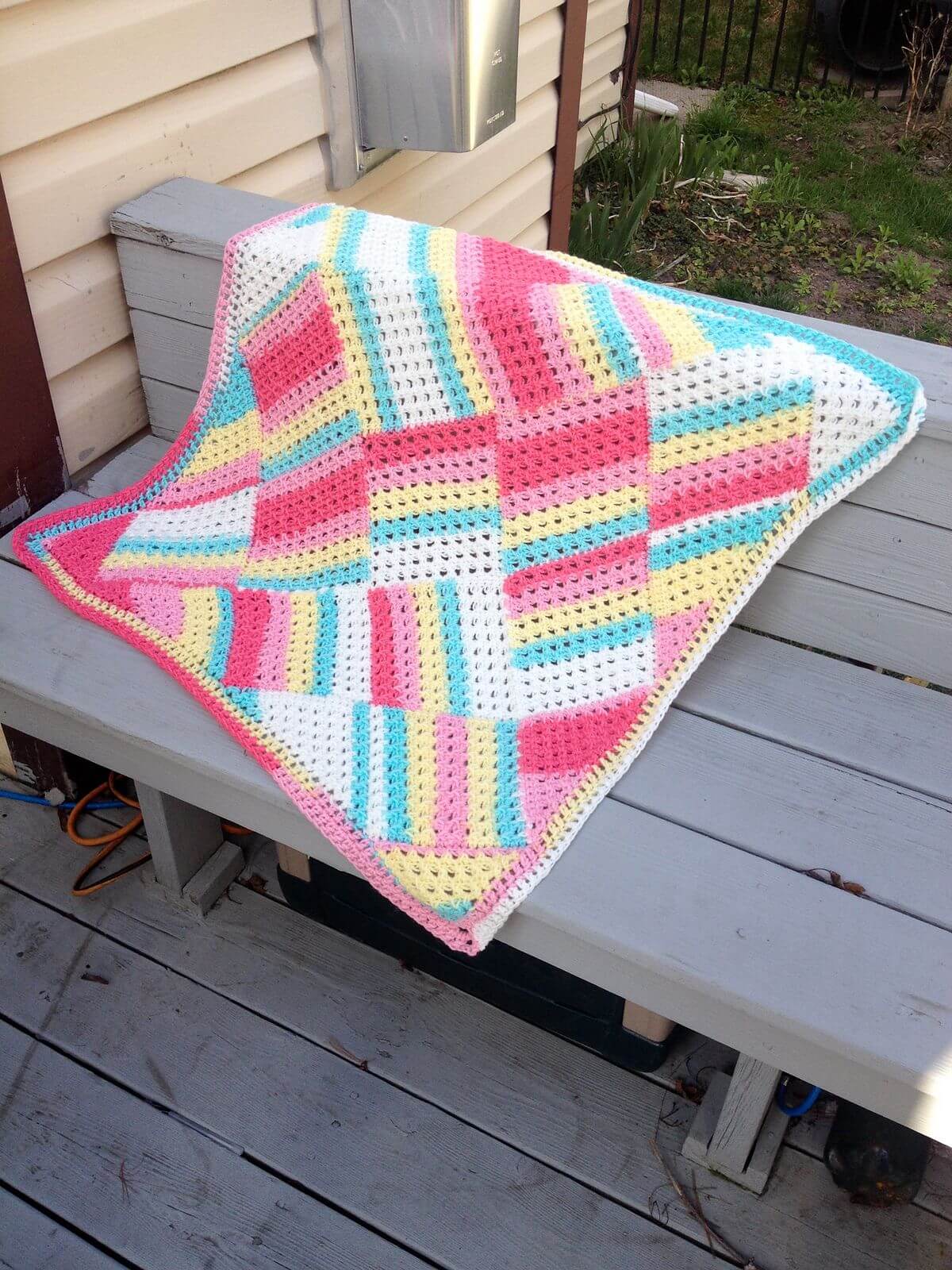 Just like the ice cream, this pattern involves a variety of colors. Use different shades of pink, blue, white and yellow to create a Tutti Fruity texture for your blanket block. Stitch them together to complete the overall design.

6. Building Blocks Lego Pattern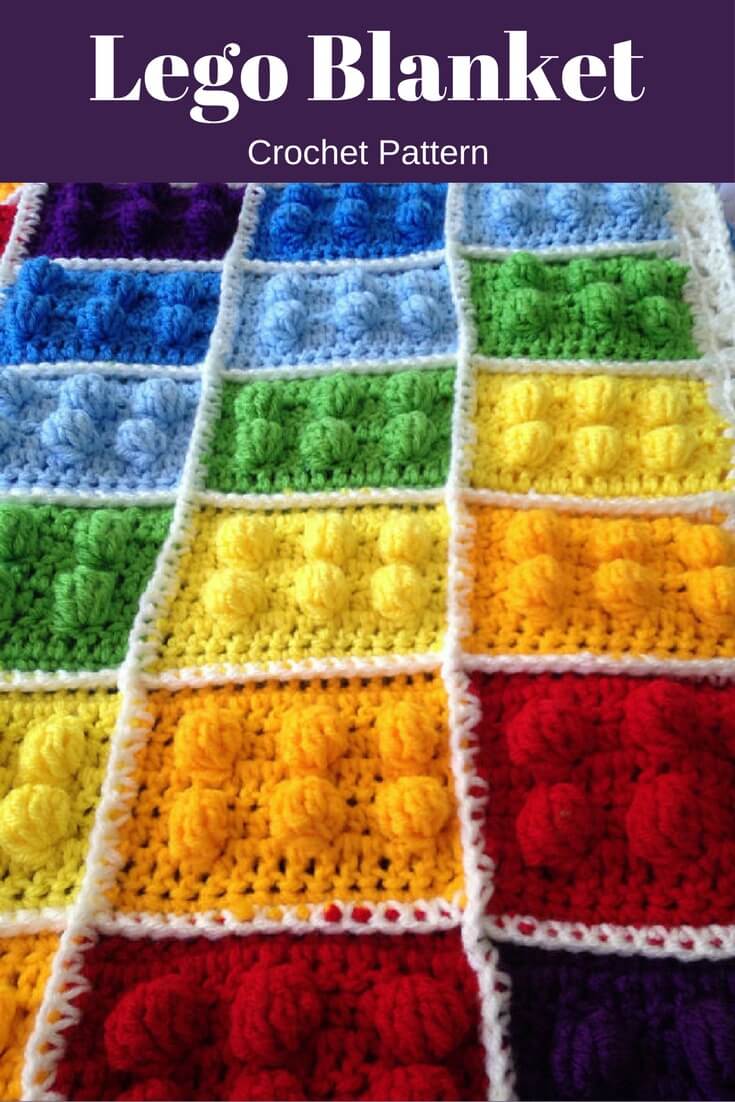 Your child is going to love this Lego pattern on his/her blanket. Use popcorn or bullion stitching to create the building block structure and use different colors for each block.
Source Information:
7. Mexican Block Pattern

Mexican Block patterns are beautiful and colorful designs that can match with any color scheme. Use these tilted blocks to create a carpet or a blanket for your loved ones.
Source Information:
8. Black Outline Block Pattern

You can use various crochet techniques like bullion, corner to corner or simple double crochet technique to create the central pattern of this block design. After completing it, add black or white colored outline to give it a beautiful overall texture.
Source Information:

9. Tunisian Crochet Block Designs

Tunisian design involves creating alternate tilted blocks that are stitched together to create titled block designs. Use different colors (as shown below) to create the popular Tunisian Crochet Design for your blanket.
Source Information:

10. A Different Tunisian Block Design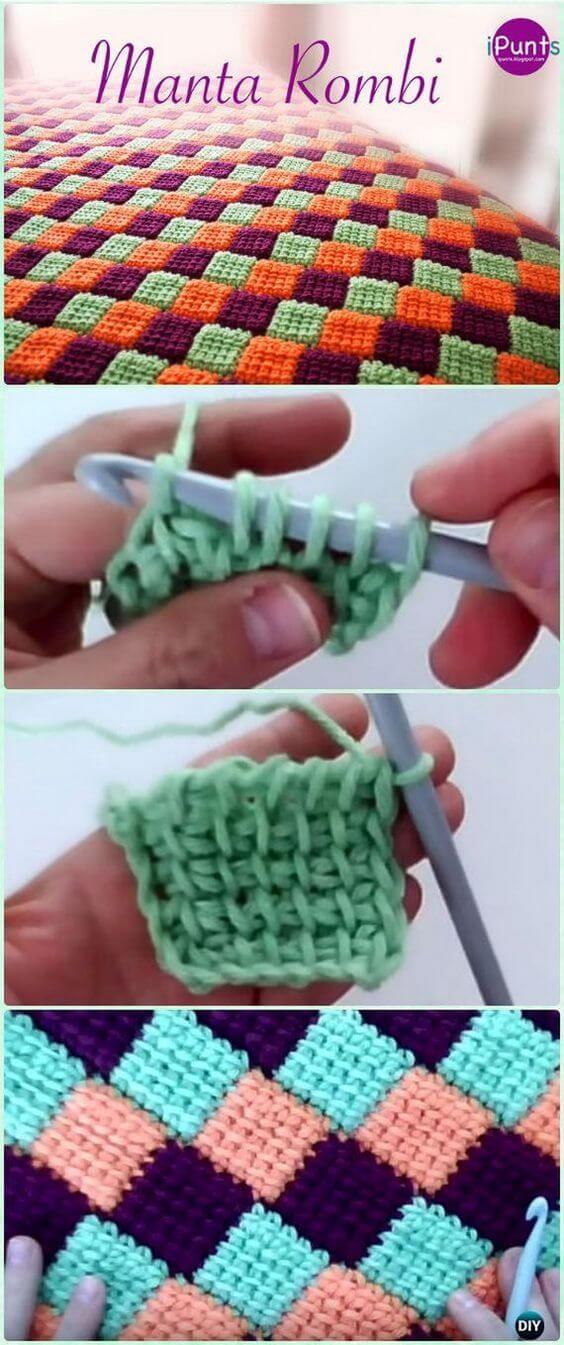 Tunisian crochet designs are very famous designs and they are quite popular. Creating this design at home is a little complicated but with a few crochets and knitting techniques, you can easily make a perfect vertical Tunisian block design for your blanket.
Source Information:

11. Puffed Entrelac Block Pattern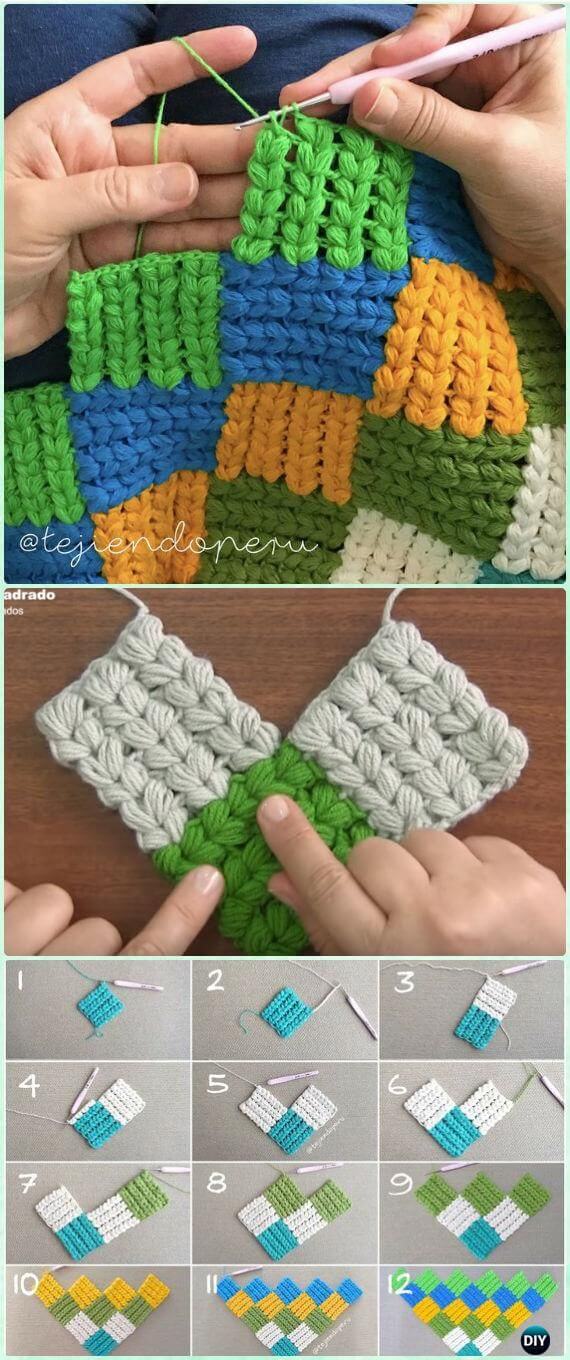 Using Bullion Crochet technique, use 3 to 4 different colors and stitch each block to create this puffed colorful blanket block.
Source Information:
12. Random Block Patches Pattern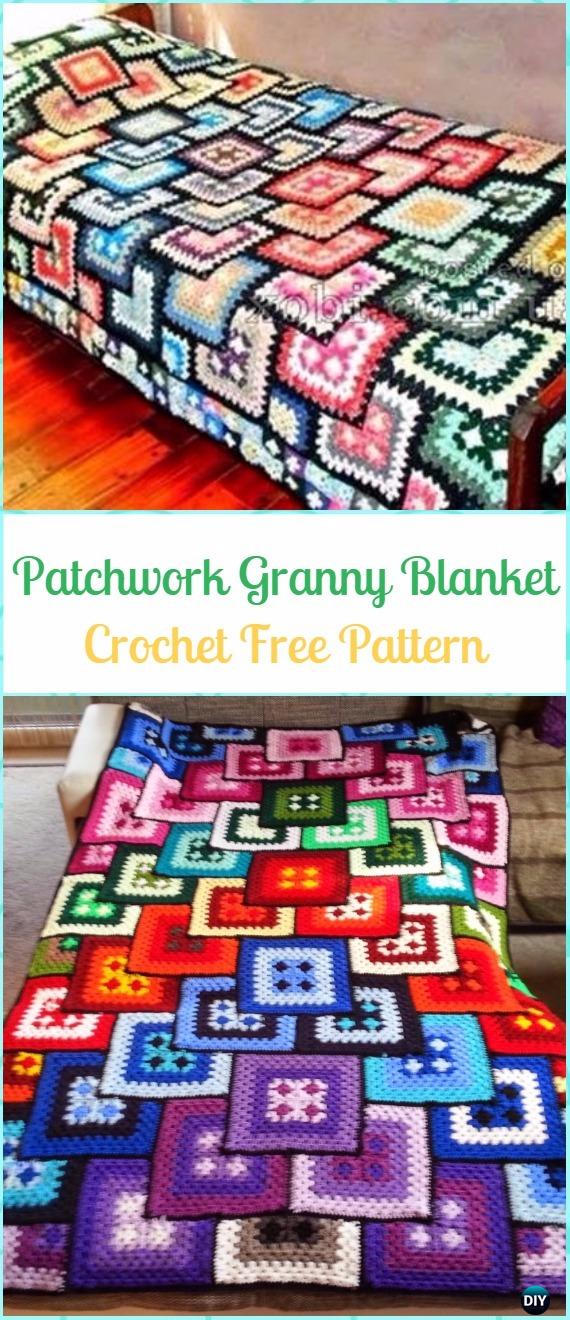 Create colorful block patterns with simple but different designs at the center of each block. Use double and single stitching to connect each one of them from different sides which will create a unique design.
Source Information:

13. Textured Block Afghan Blanket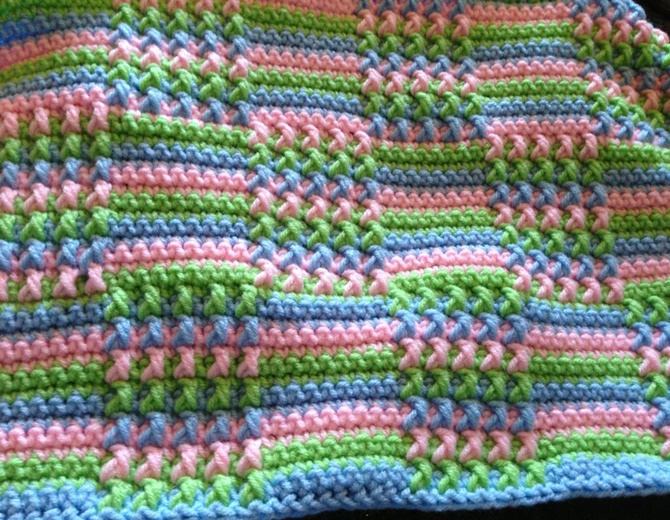 Use 3 to 4 different bright colors to create the Afghan textured blanket.
Source Information:
14. Mandala Block Pattern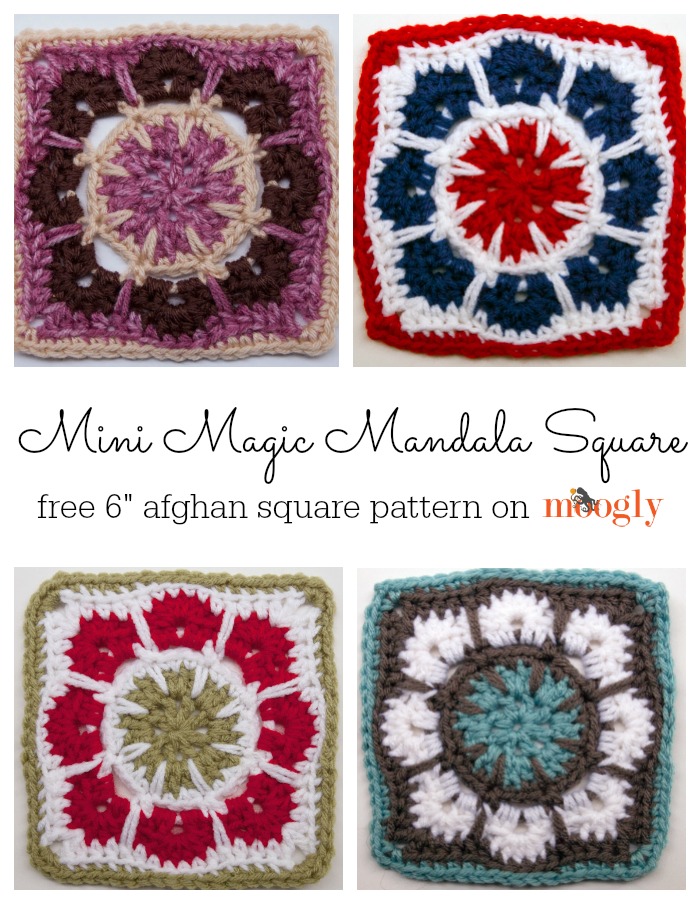 Mandala Block Patterns are beautiful designs. They have a peaceful vibe. You can use them as yoga mats, or you can place them in your meditation room. These patterns are very popular and are loved by everyone.
Source Information:
15. Colorful Afghan Block Pattern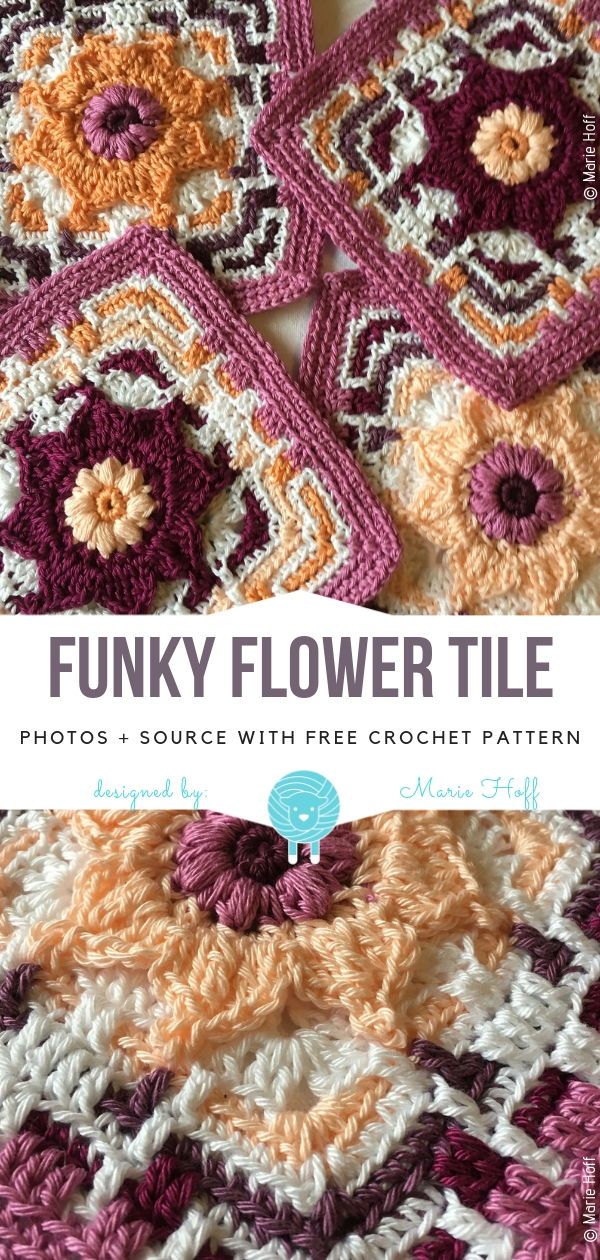 Afghan Block patterns are known to be colorful and lustrous. These patterns look adorable and they can be matched with almost every single type of coloring scheme.
Source Information:
16. Hue Shift Afghan Pattern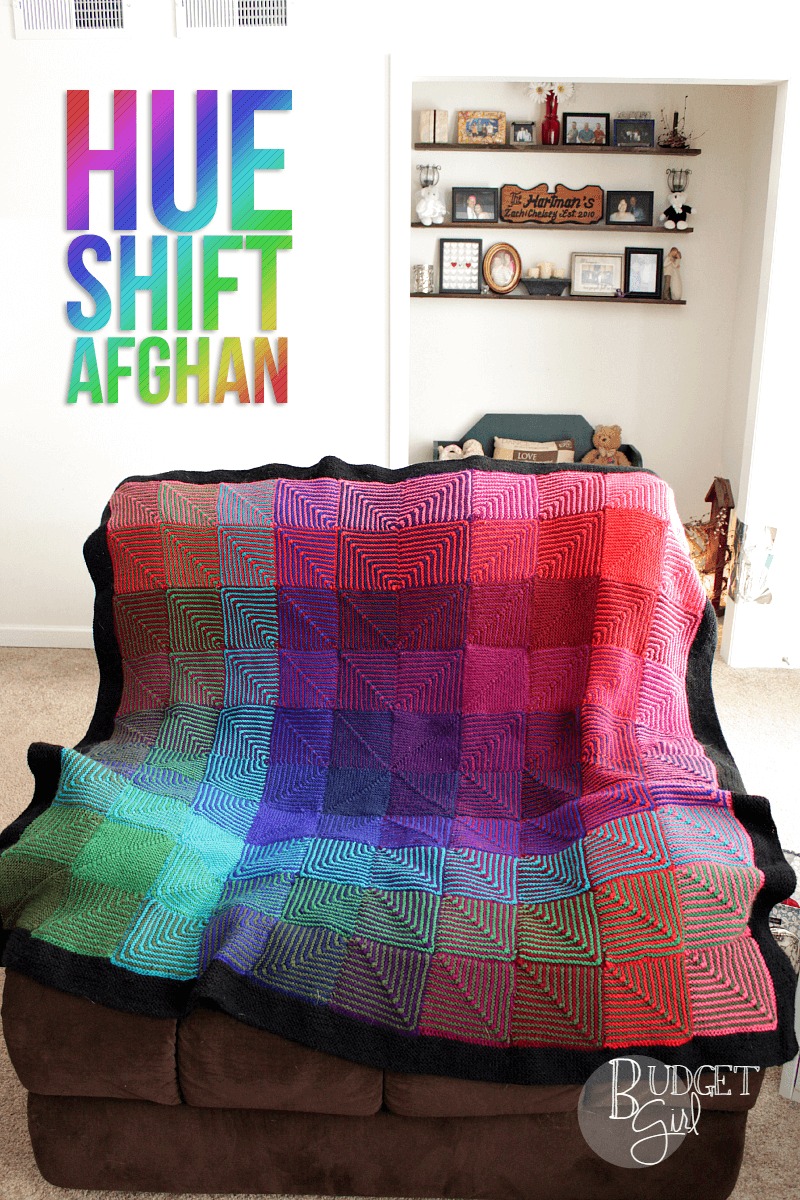 Hue Shift Afghan patterns look adorable and beautiful as they have a great texture that can resemble all decorative items that you will find in your house. This particular blanket has a colorful texture that will be perfect for your kid's room.
Source Information:
17. Desert Star Block Blanket Pattern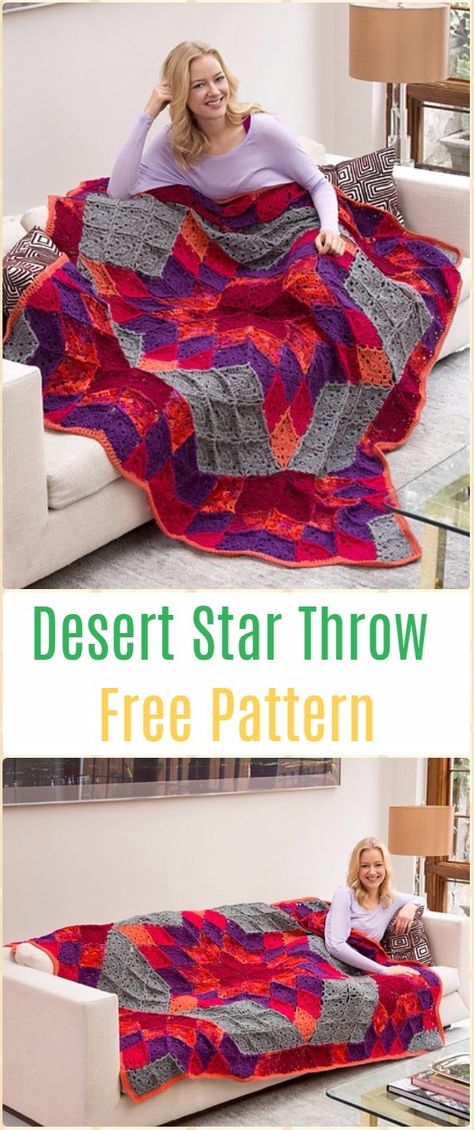 A desert star pattern is a diamond shaped block pattern which looks adorable when created with a little innovation. Use bright colors and try to leave space to boundaries, and according to the texture. These are a little complicated patterns but are not difficult to create at home if you are good at crochet and stitching.
Source Information:
18. Square Diamond Pattern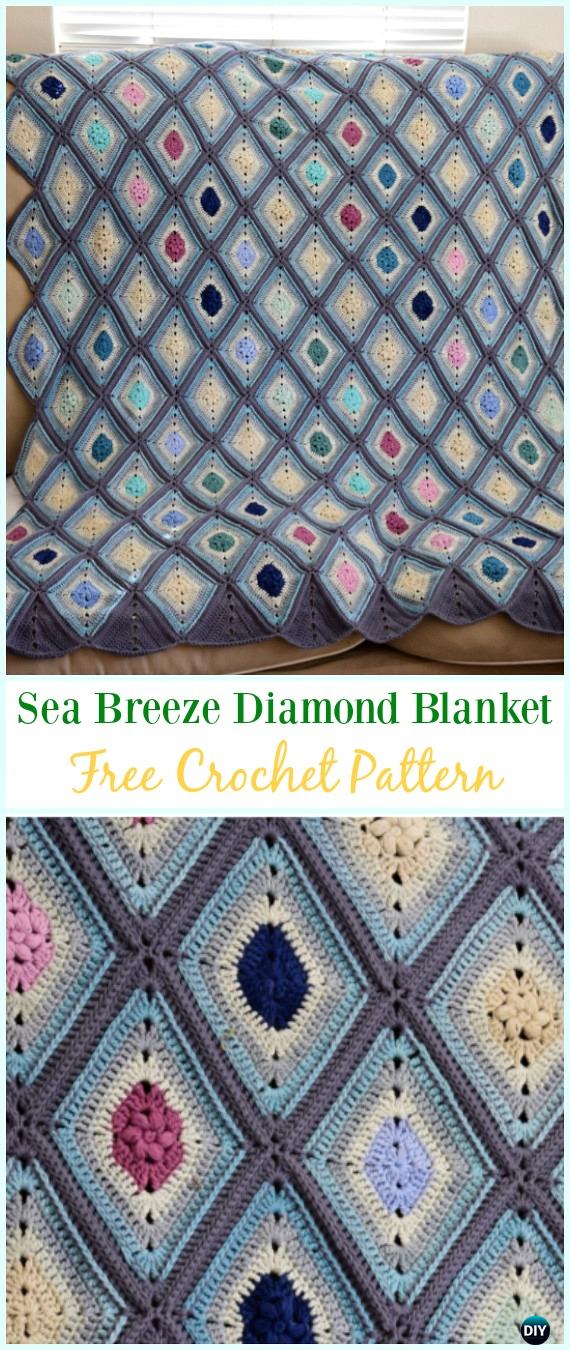 Everyone loves diamond patterns and every square shaped block in this blanket has a sea breeze texture. Use bright blue and green colors to make this beautiful piece.
Source Information:

19. 3D Falling Blocks Pattern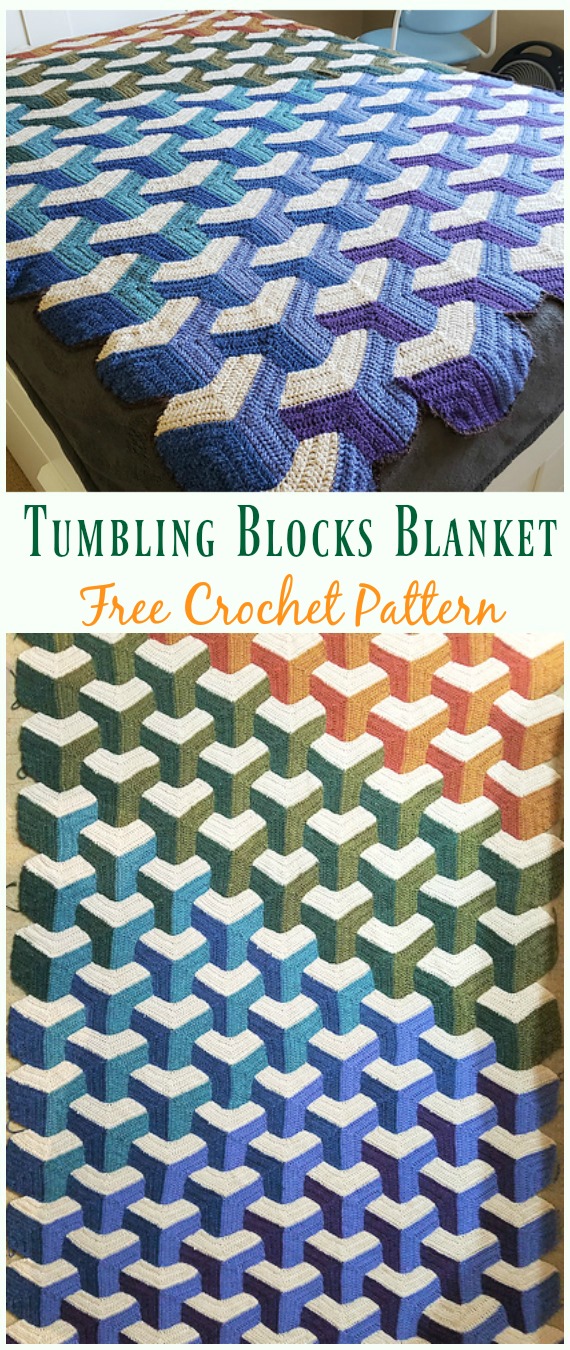 A great block design with a 3D texture. Use advanced bullion crochet techniques to create this adorable 3D design.
Source Information:
20. African Flower Block Blanket Design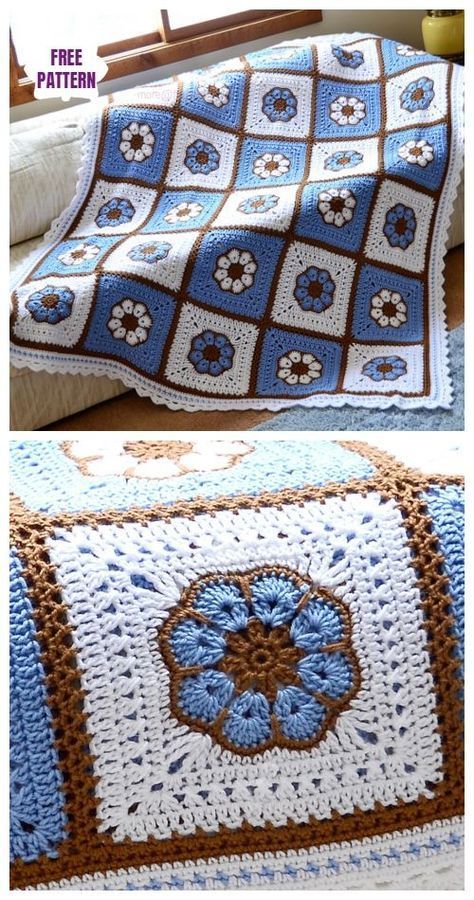 A great design which is a little complicated, but the final texture is beautiful. Try to use aqua and grey colored fabric for the interior flower pattern. Stitch the blocks together to create this beautiful design.
Source Information:
Conclusion: 
Creating Block patterns is an innovative way to design blankets and other decorative pieces is indeed a great idea. Blankets are usually the best option when creating block textures and patterns. We hope you loved our designs and found some inspiration to create some pieces for yourself and your loved ones.