Everyone loves Roses! Whether it's a red rose for love or blue roses for friendship, they represent joy and celebration. Crocheting flowers is fun, but making rose flowers is special.
Uses of Crochet Rose Flowers.
Crochet Rose flowers are commonly used as decorations around the house and in events such as weddings. They are also great embellishments on wearables like hats, shirts, coats, handbags, name them!
1. Crochet 3D Interlocking Ring Rose Flower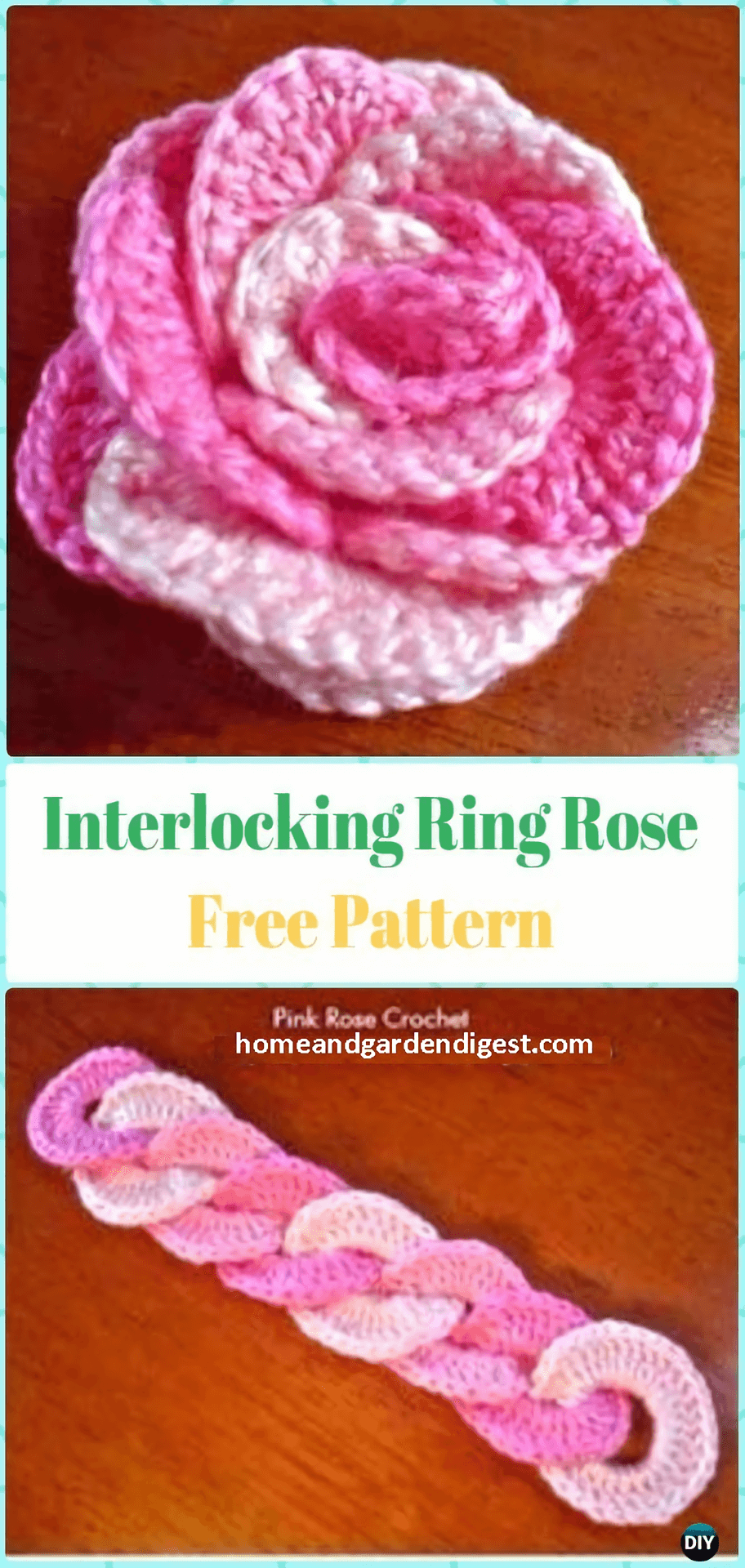 This unique 3D crochet rose is super easy to make. All you need to do is to crochet rings by interlocking them together. Feel free to employ any pattern that you have mastered and alternate colours to create a more personalized design
2. Crochet 3D Lace rose Flower Free Pattern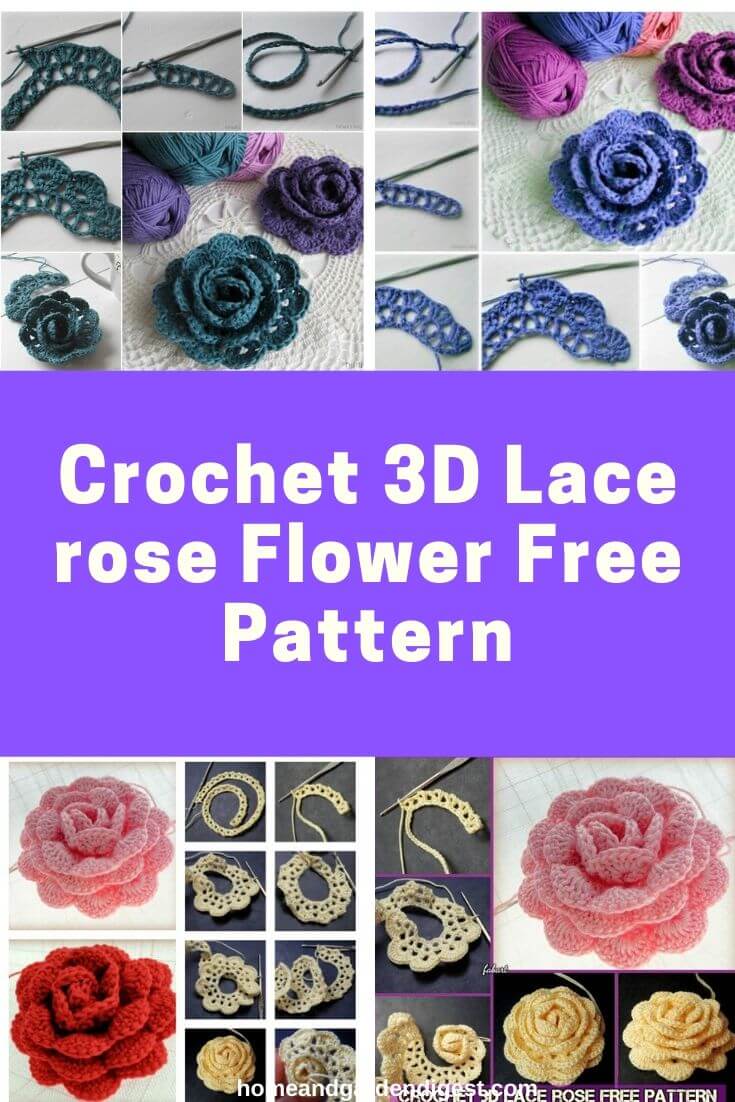 This beautiful 3D lace rose flower crochet pattern employs very basic crochet stitches to create this impressive lace rose flower. It is stitched on bags, shirts, and hats as decorations.
3. Easy Crochet 3D Rose Flower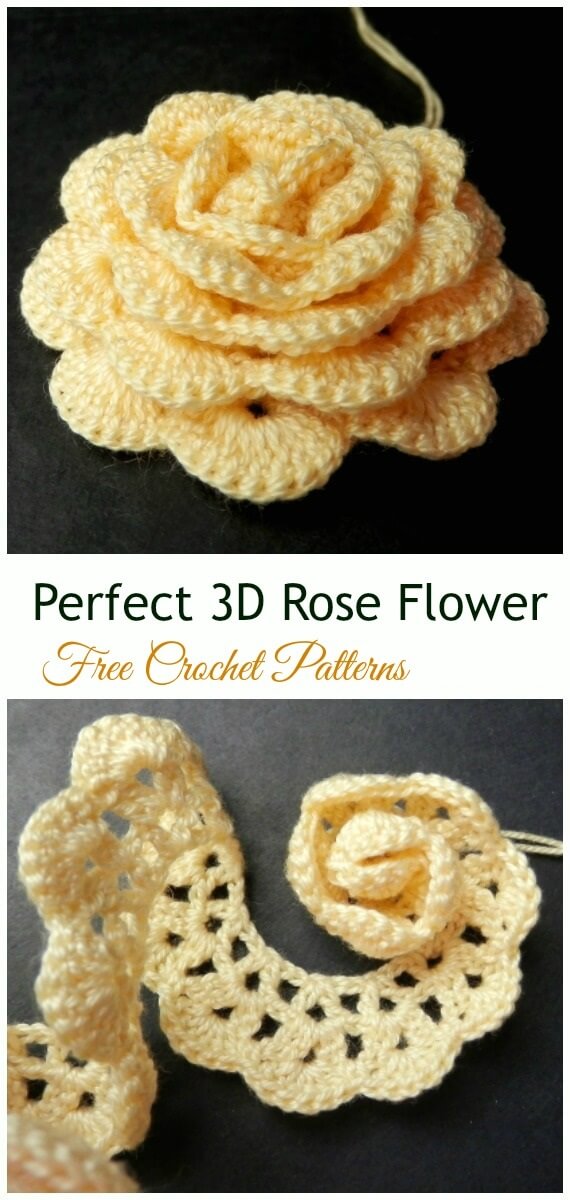 This Easy Crochet 3D Rose Flower is a simple pattern to execute. It works up pretty quickly and is a perfect embellishment for a crochet headband hat, or on a hair clip.
4. Irish 3D Crochet Rose Flower Pattern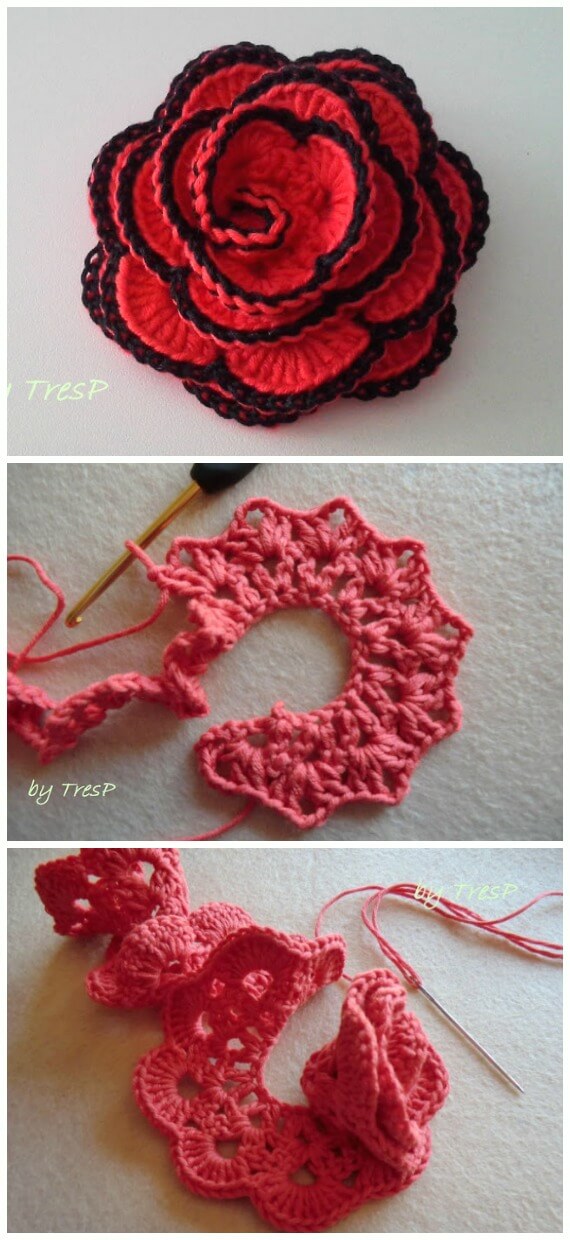 The Irish Crochet Rose flower design is quite an easy pattern. This cute crochet applique is a perfect embellishment on a coat or sweater. 
5. Layered Crochet 3D Rose Flower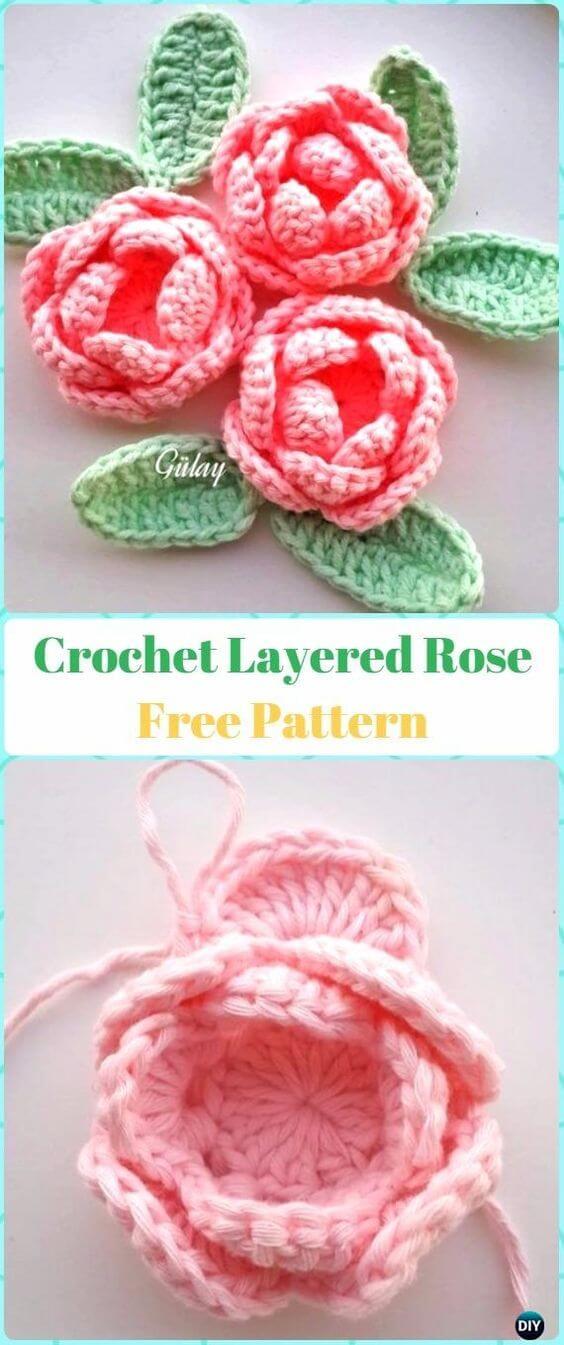 These layered crochet 3D rose flowers are so beautiful. You can make a beautiful bouquet from these layered roses or use them individually to personalize your hat, scarf or handbag.
6. Crochet Rosette/Rose Bud pattern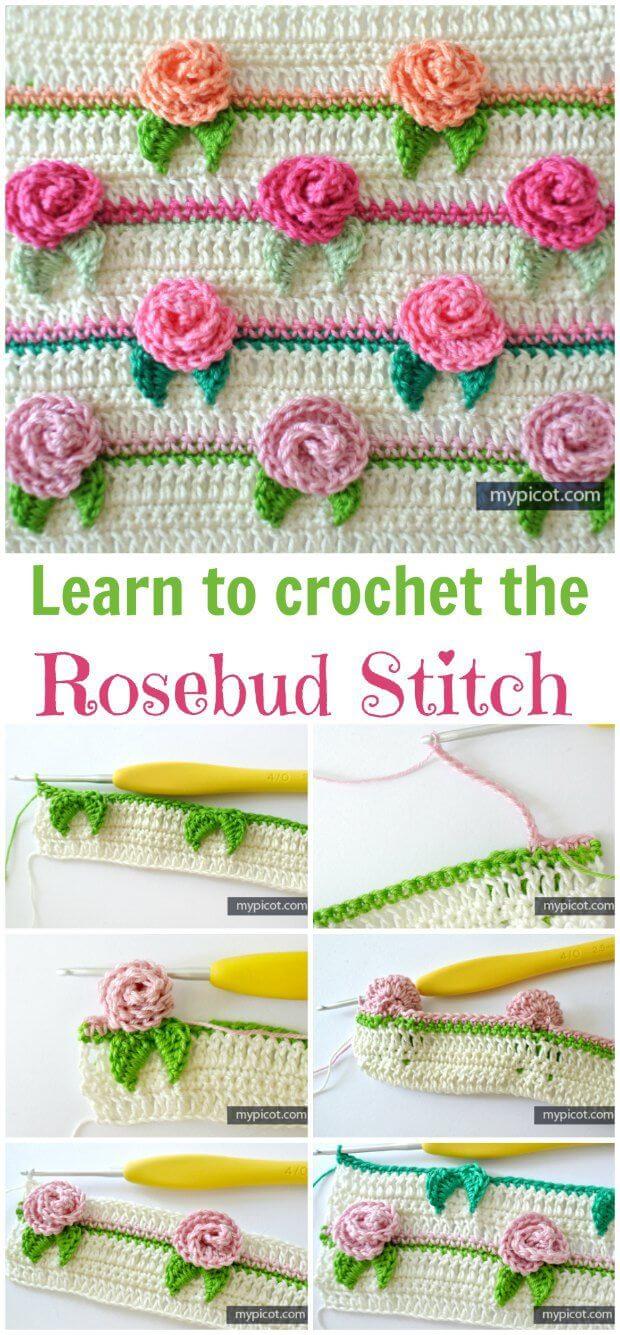 Normally, rose flowers are made by crocheting rose petals, which are then joined together to create a final rose flower. However, this crochet lace rose flower is a continuous piece worked in the round to create this beautiful flower ornament.
7. Crochet 3D Wired Big Rose  Free Pattern

To make this cute Crochet 3D Wired Big Rose  Free Pattern, you will need two types of wires, a thinner wire for the leaves and a thicker one for a sturdy stem. These wires are gullible, and therefore, you can manipulate them to create small or bigger roses.
8. Crochet 3D Rose Flower Bouquet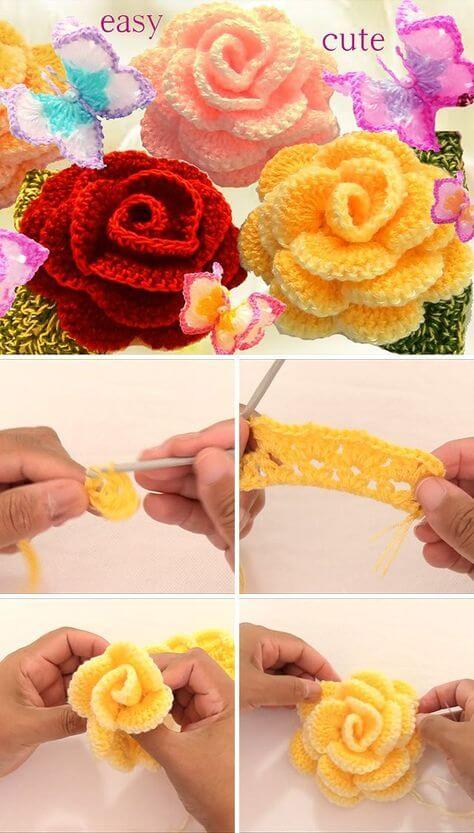 This 3D crochet flower bouquet is just heart-melting! The fact that it does not wither makes it a perfect gift to a lover as a constant reminder of your love for them. 
9. Crochet Puffy 3D Rose Flower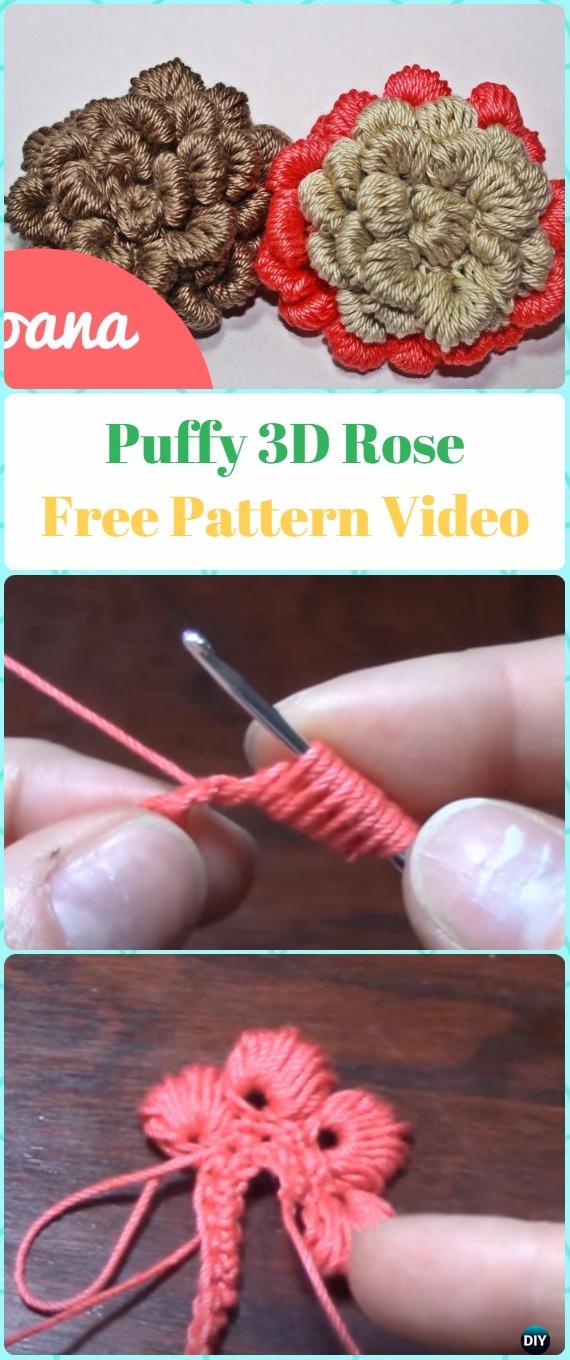 These gorgeous little puffs rose flowers time-consuming. They can be stitched together to create large projects like scarfs or blackest or used individually as embellishments.
10. Crochet 3D Rose Heart Hanger Free Pattern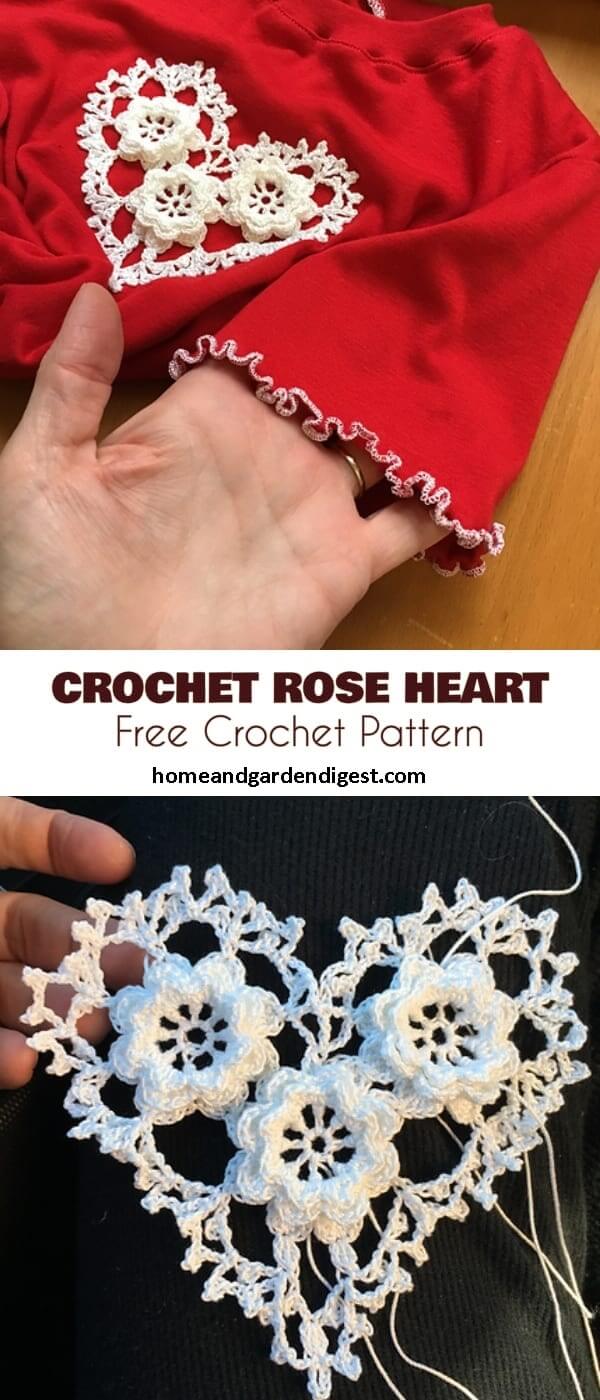 A Dutch lady named BeaG designed this adorable 3D Rose Hanger pattern. It is used as an ornament to decorate a Christmas tree and also a perfect gift to express love and affection.
11. Crochet 3D Rose Flower with Leaf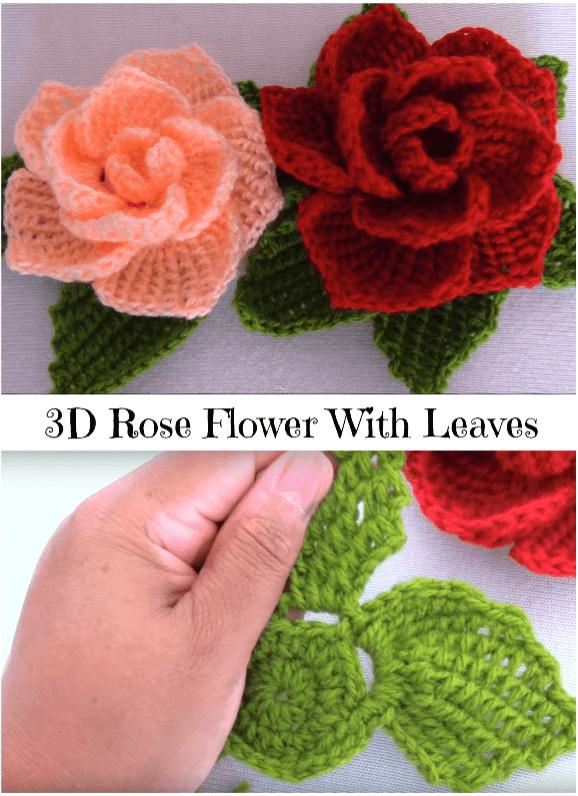 This beautiful handmade 3D rose flower with crochet leaves is quick and fun to make. It can is used as an embellishment in scarfs, bags, hats and other crocheted items. 
12. Crochet Popcorn Stitch Rose Flower Pattern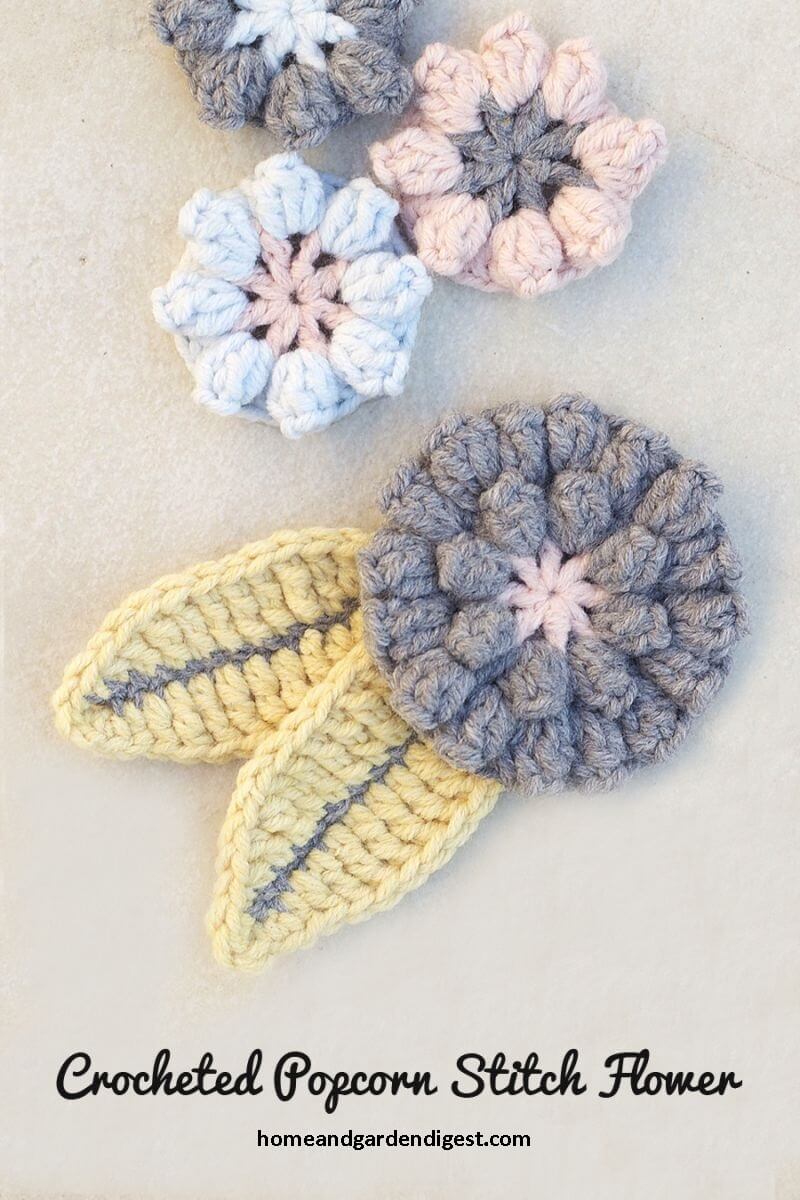 This gorgeous popcorn crochet rose flower is created from two layers of crochet petals and a center of popcorn stitches. It is easy and quick to crochet and is ideal for all sorts of decorations around the house.
13. Easy Crochet 3D Rose Flower Necklace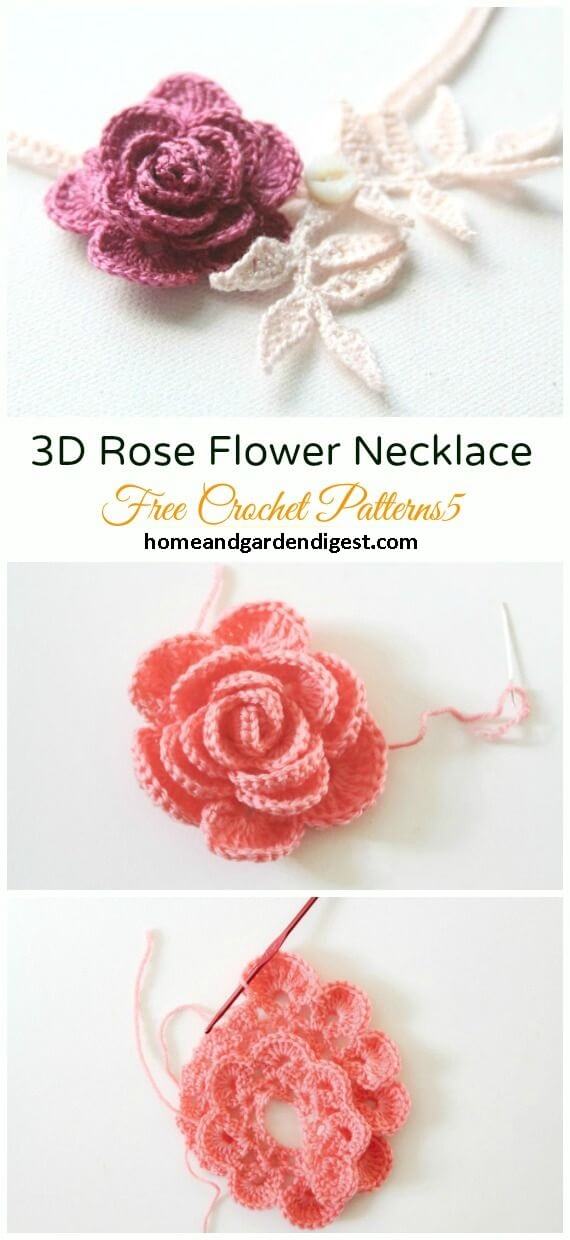 This crochet rose flower necklace is a perfect gift to give to a girl or woman. The neat crochet rose flower pendant is attached to a fine crocheted threat to create this elegant necklace.
14. 3D Crochet Rose in Bloom pattern

The unique art with this pattern is learning how to add the edges in different colours. You can create big or small sizes and use them as embellishments or for a flower bouquet.
15.3D Crochet Mega Rose Flower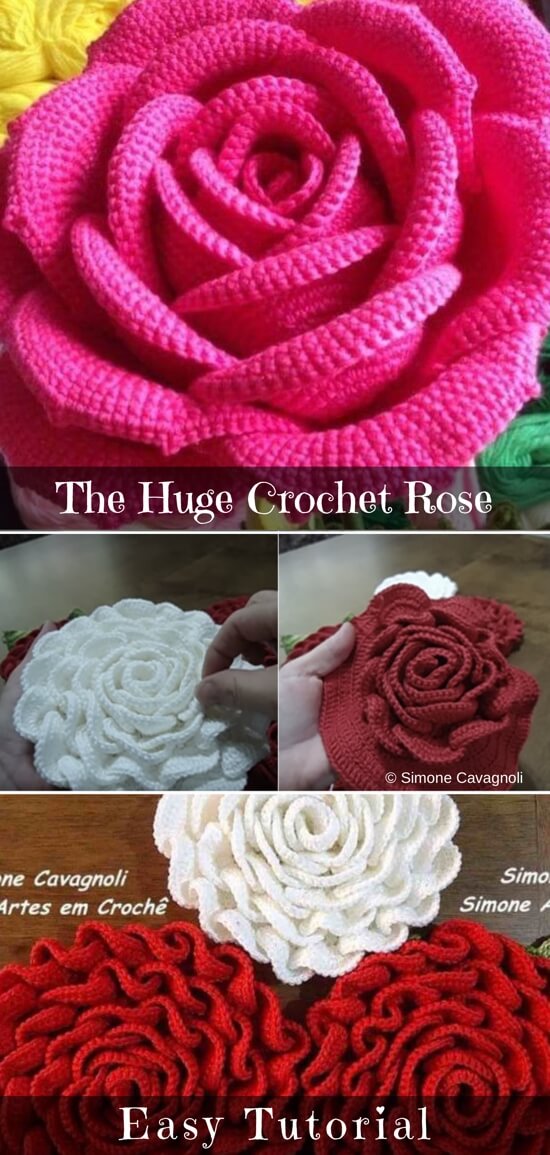 This beautiful 3D Mega crochet rose flower employs basic crochet stitches to create this amazingly large rose flower. It is a perfect gift that you can give to a friend or family.
16. Simple 3D Crochet Flower Rose Pattern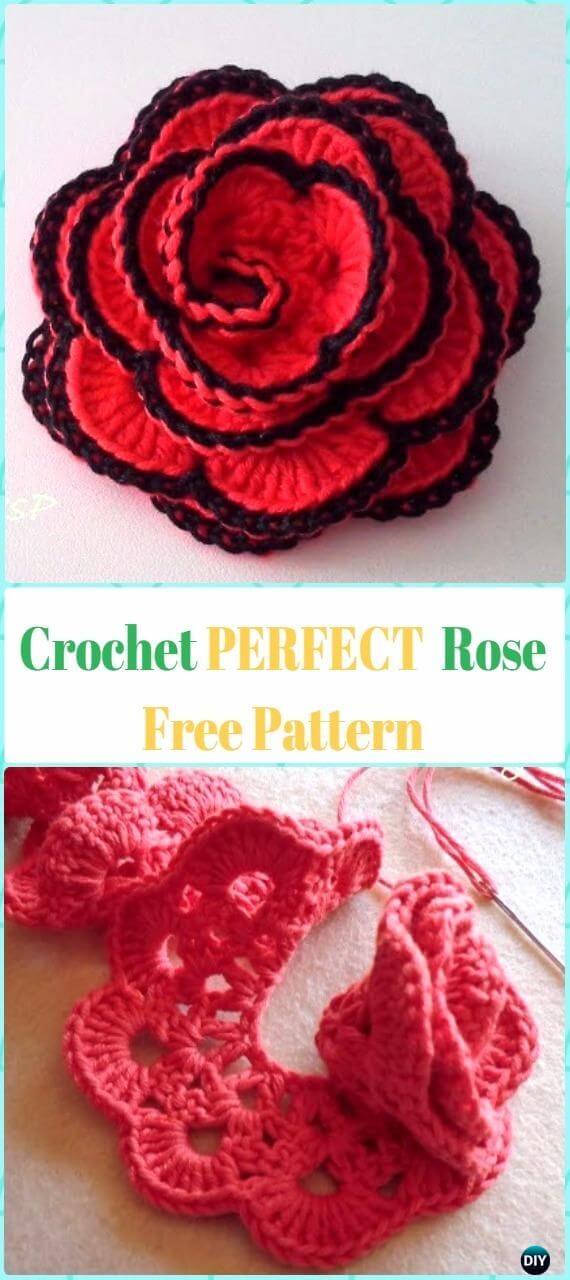 This beautiful simple-to-make crochet rose flower employs very basic stitches. Let your family and friends know how you feel by making them this gorgeous rose flower.
17. Roll Over SC Cotton Thread Rose flower Pattern

This is such a beautiful and neat Rose flower commonly used as embellishments in jewelry, hats, clothes, and other items around the house.
18. 3D Crochet May Roses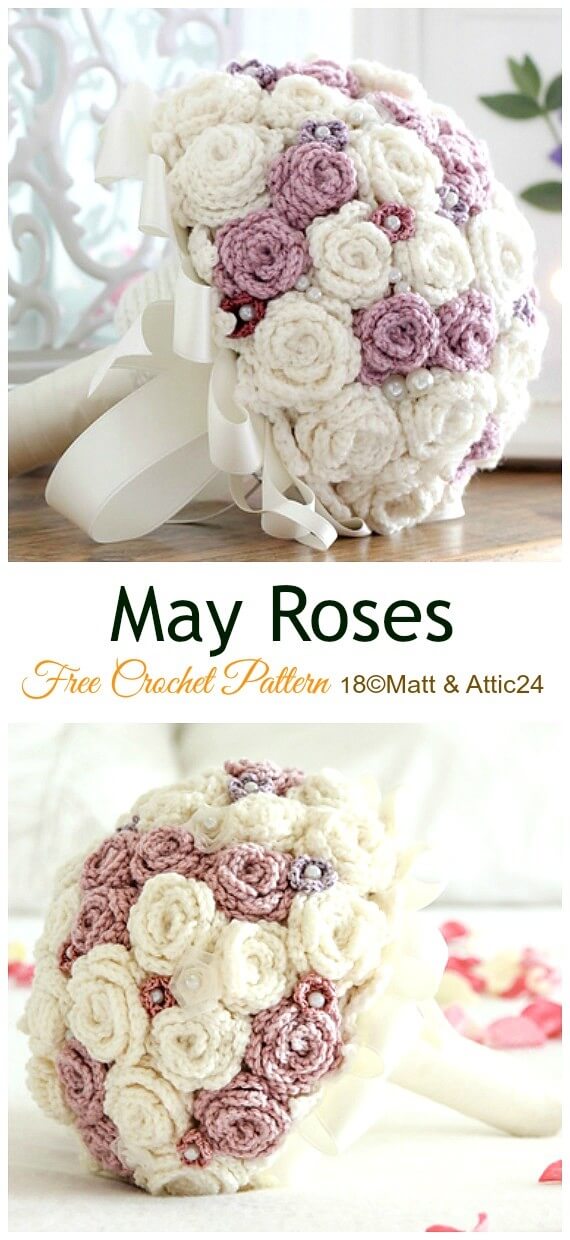 This adorable crochet May Roses are perfect floral decorations in different projects. They can be made into brooches, attach them to a hair clip, hats, bags, act as a bouquet to decorate the house, name them!
19. Simple Origami Crochet Rose flower Pattern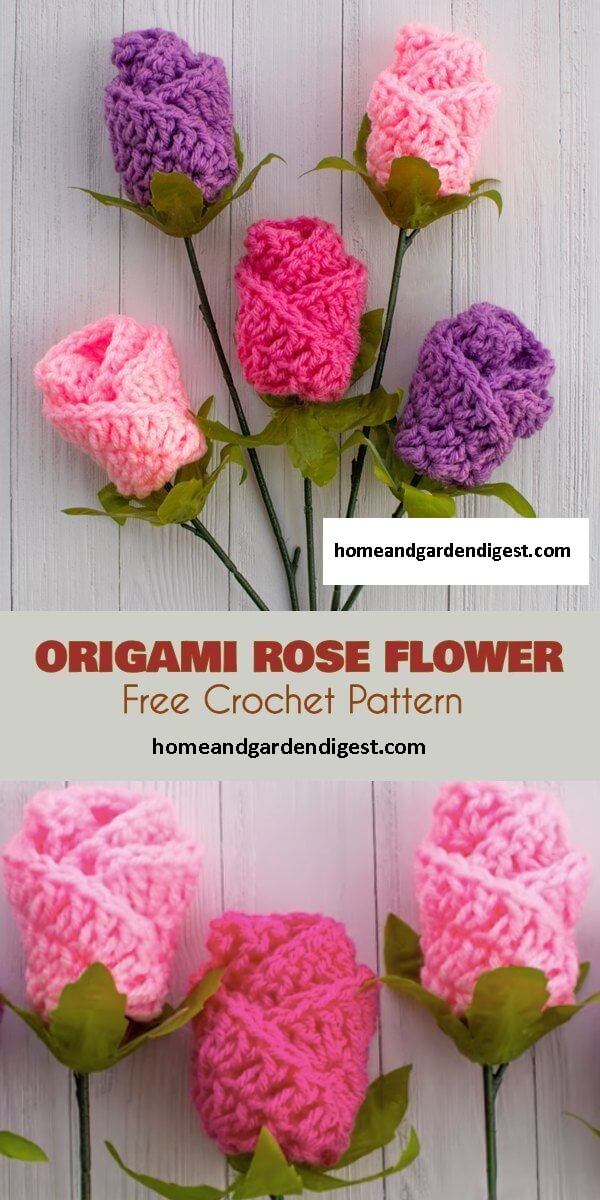 Are you looking for traditional rose flower gifts for your special someone? This simple crochet origami rose flowers are perfect for you! They are made using a double crochet stitch and require very little pieces of scrap yarns.
20. Perfect Crochet 3D Rose Flower Pattern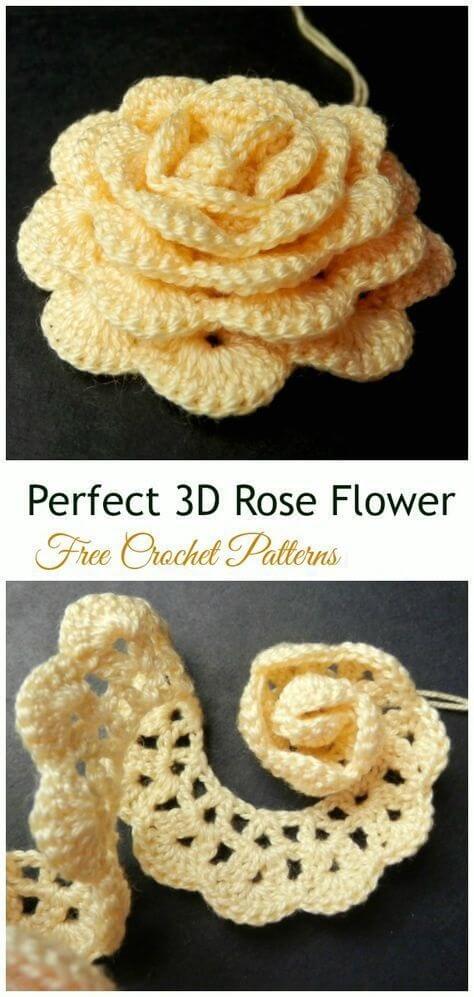 This pretty 3D Crochet Rose flower is too perfect! It gives you the freedom to use any yarn that you have mastered. A thin yarn, however, is more preferred. You can make a few alterations to create a small or large rose.
Conclusion
There you have it! Express your love, affection, and style through these 3D Crochet Rose Flowers ideas.