Amigurumi Crochet Teddy Bear Toys Free Patterns
Amigurumi is a Japanese art of knitting or crocheting small stuffed yarn creatures or teddy bears. Winters are approaching and it is the time for you to enjoy this chilling weather with knitted mufflers and sweaters. Isn't it? We all know that knitting is a very old tradition of making sweaters and other winters stuff out of wool to keep ourselves warm. But not only sweaters, you can also make stuffed toys out of it. Isn't it cool? Toys are always loved by the children and they are always in the demand to buy new ones. 
Youngsters also use these crochet teddy bears to gift their loved ones, especially on occasions such as valentine's day. Not just that people gift crochet teddy bears to their moms and grandmas on Mother's Day. We are going to give you some of the best ideas on amigurumi crochet teddy bear toys that you can use to create these bears yourself for your kids or loved ones. 
1. Sleepy Teddy Bear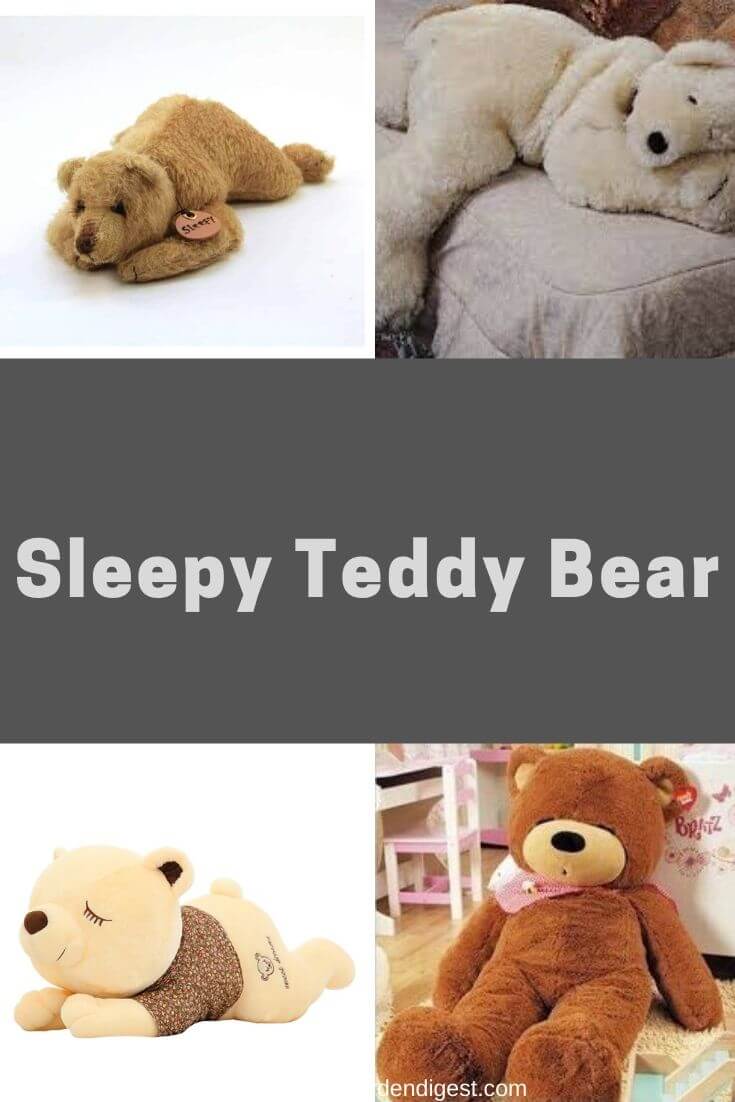 Source information:
Teddy bears are often used to cuddle by children while falling asleep. This sleepy teddy bear is perfect bear crochet pattern for this use. Take the yarn according to your choice or the colour kids want and crochet it accordingly. 
2. Valentine's Teddy Bear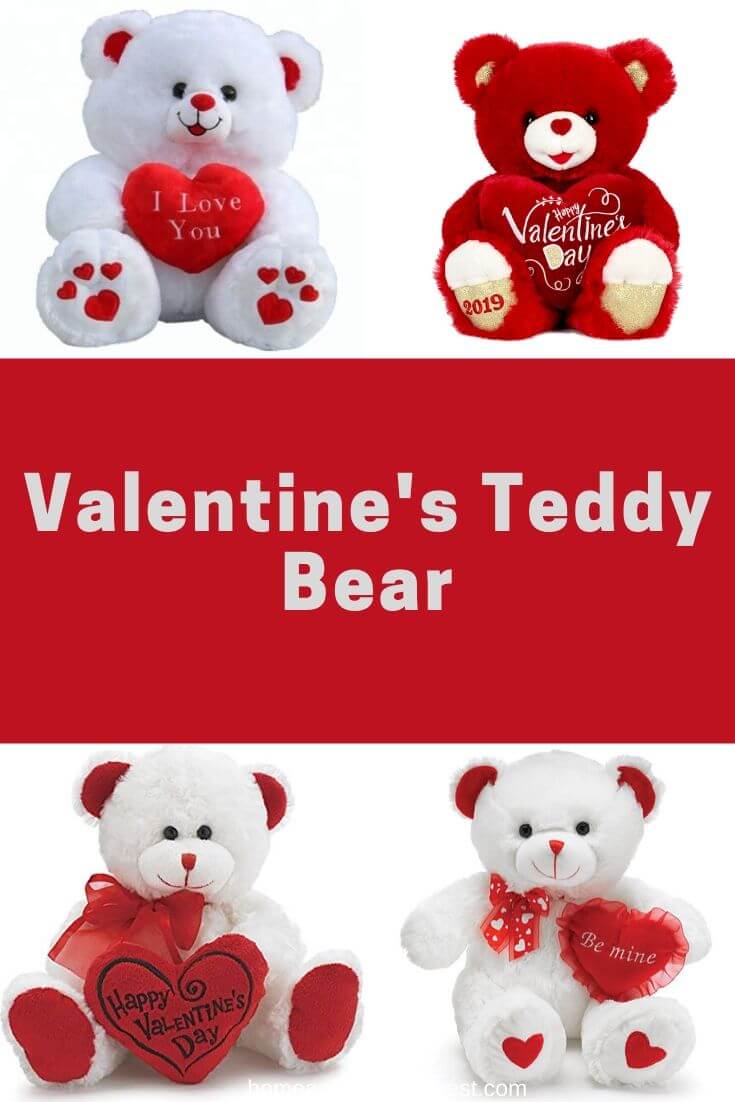 Valetine's Day is known as the day of lovers and is known for gifting each other. This teddy bear is just so cool. You can customise it according to the occasion. The optional blush added to the cheeks is as cute as the little red touches in the ear and feet. 
3. Dawson the Teddy Bear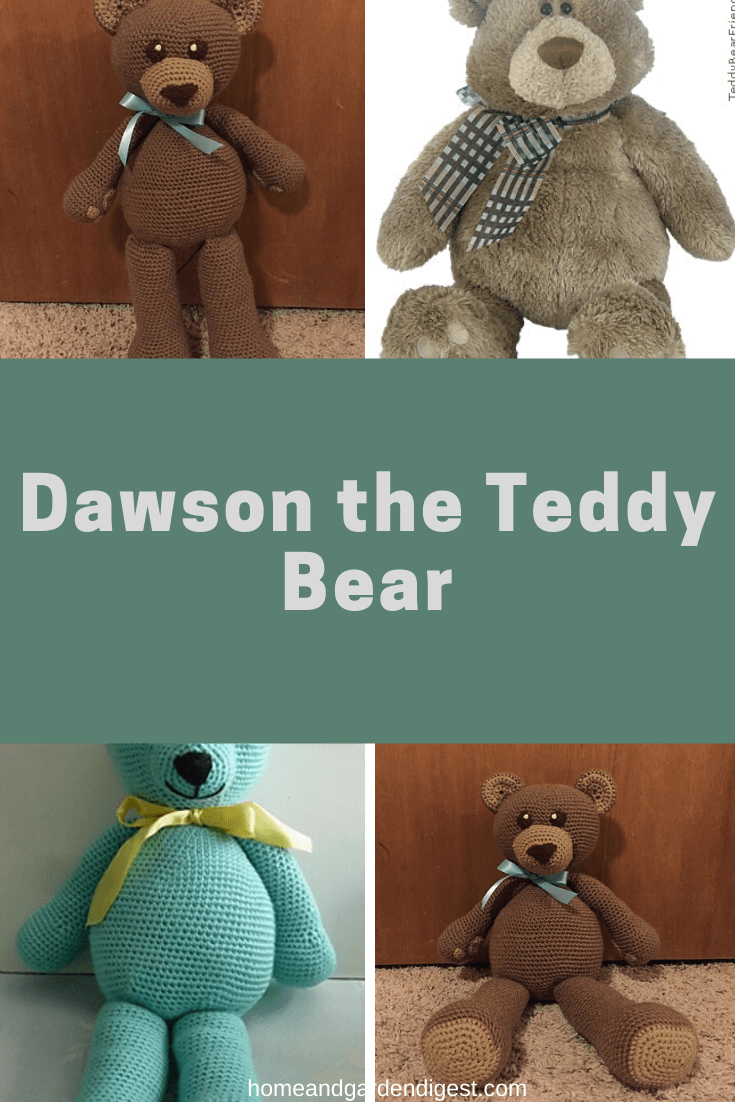 If you are looking for a trendy design in teddy bears then go for this one. This cute bear has perfect details down to little paw prints that are made in slightly different coloured yarn than the teddy bears body.     
4. Tiny Teddy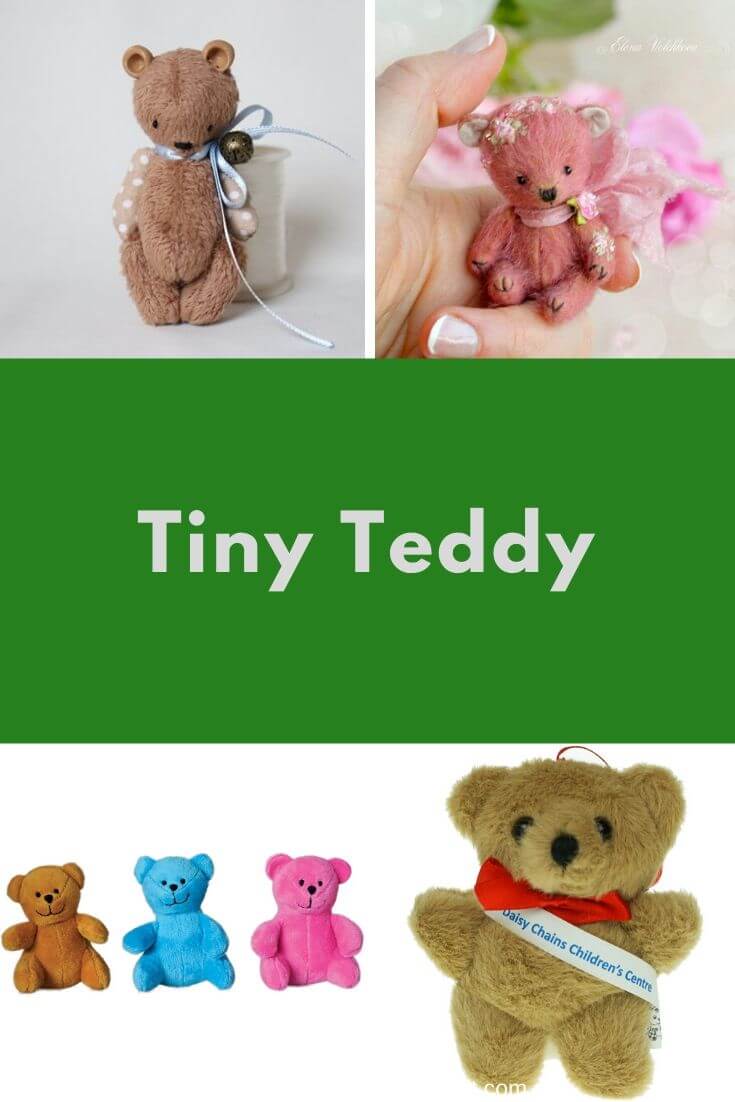 Most of you may like tiny teddy bears instead of the giant ones that are just kept in the corners as a material of decoration. Make a tiny crochet teddy bear that works up quickly and can be taken along wherever you go. This tiny little crochet teddy bear is less than six inches so you can turn it into a keychain, desktop décor or it can be used as a toy.
5. Small Teddy Bear
Here is a small teddy bear pattern and what makes it different from the other ones are its bigger ears. It has a different type of cuteness that is normally not found in small teddy bears. 
6. Fuzzy Tiny Teddy Bear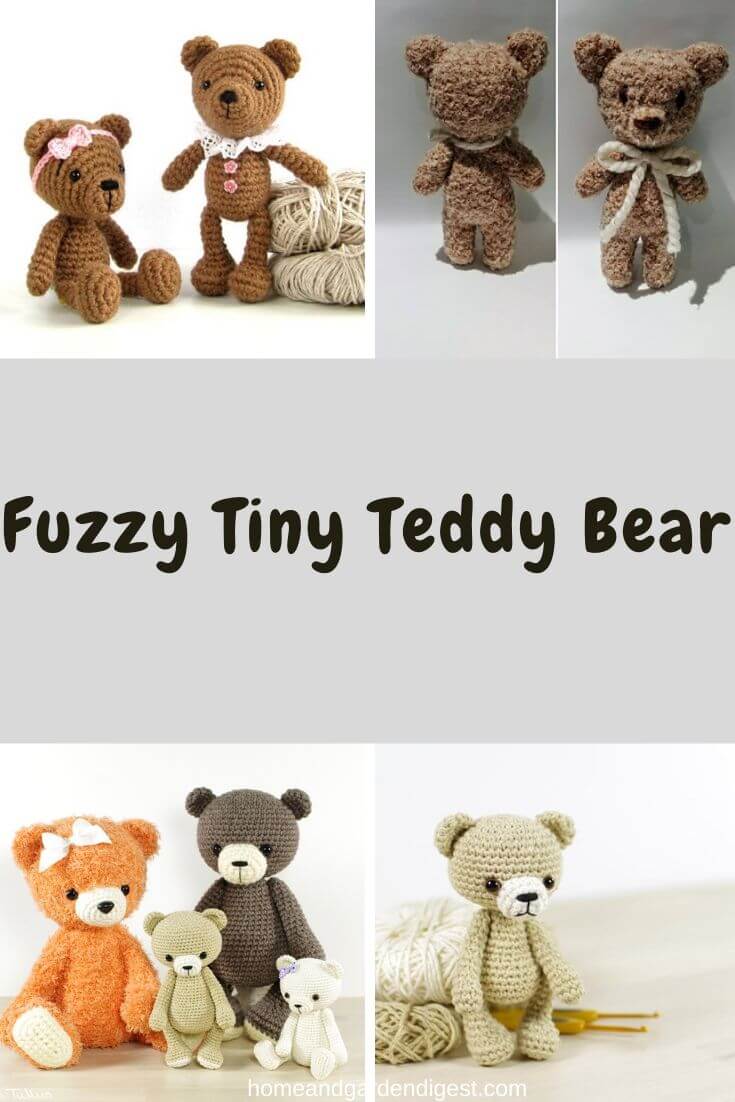 This cute little teddy bear is different from the rest because of its unique yarn choice which is different from ones used in the other types. It is a fuzzy yarn that makes it look like fur.
7.Handheld Crochet Teddy Bear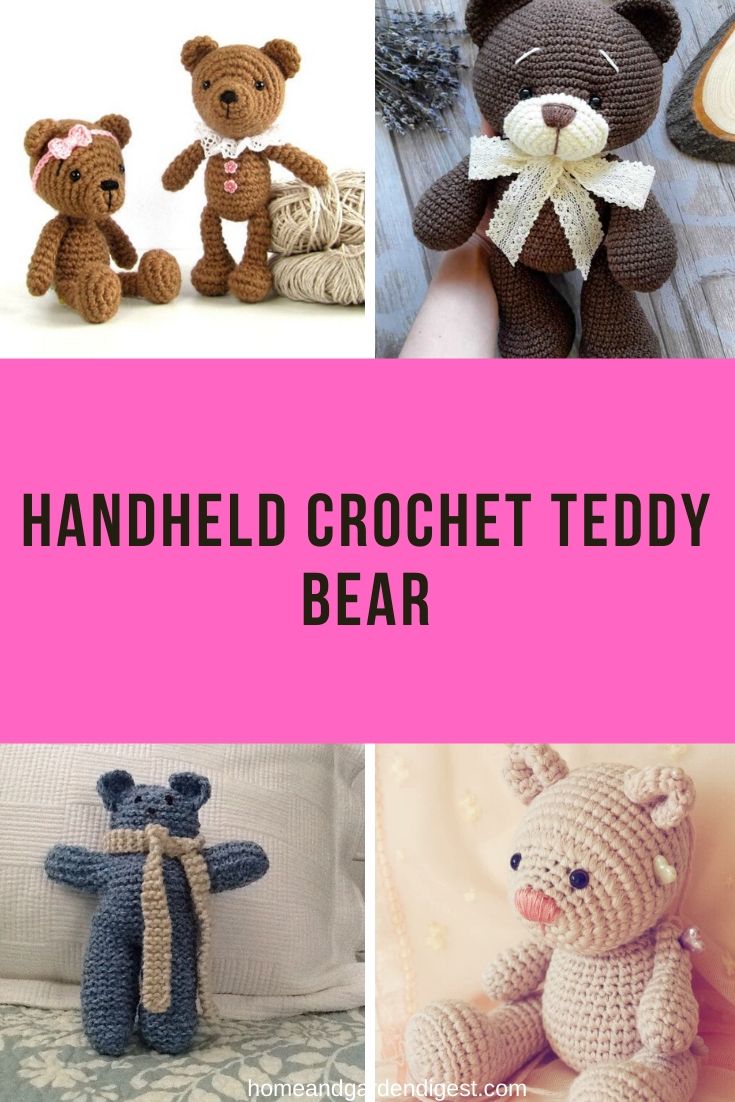 See how precious this tiny little teddy bear is. It looks more adorable than anything else. It incorporates so many great details from the laugh lines to the furrowed brow. You can create this cute little teddy bear with different coloured yarn and make it a unique one. 
8. Classic Crochet Teddy Bear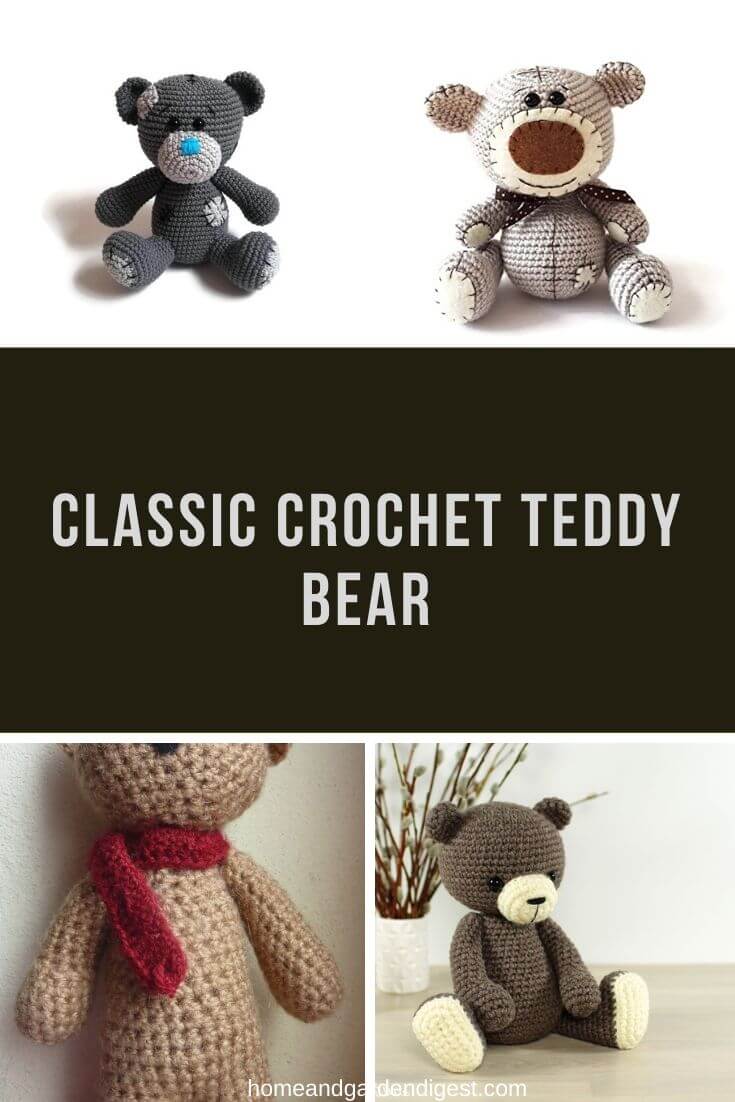 This toy's design is one of the classic crochet teddy bears. It is an adorable, cuddle brown bear with a bold red crochet scarf. It is fun to make this teddy bear on your own for your loved ones. 
9. Buttercup Bear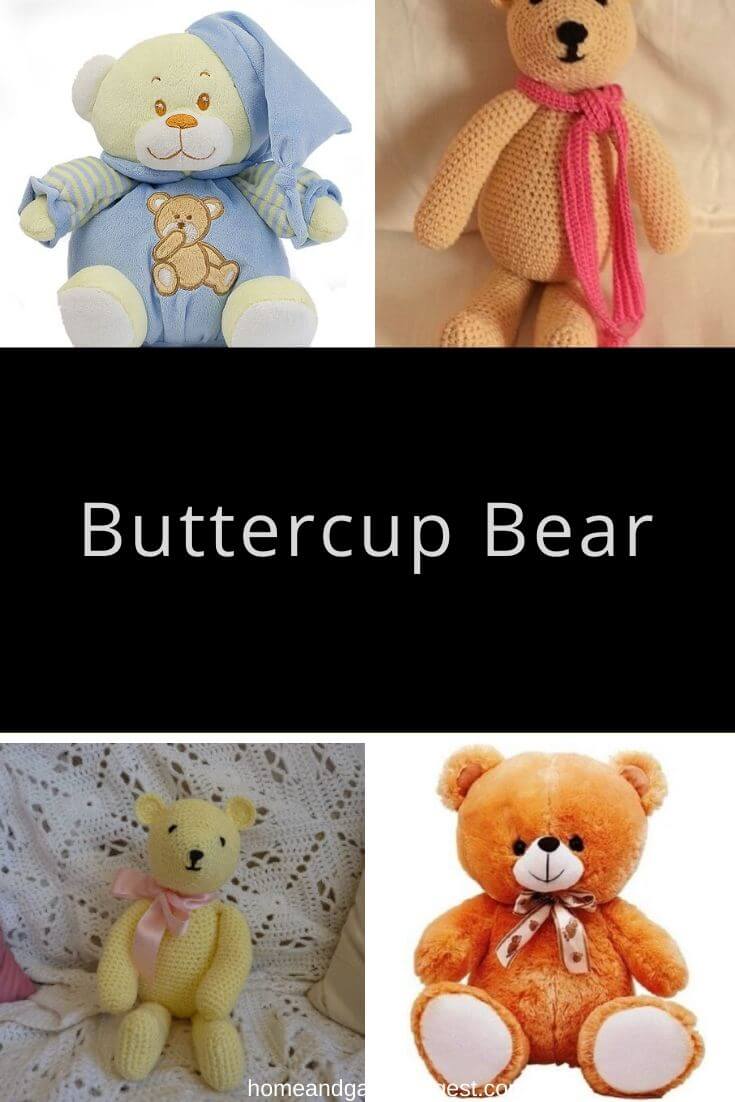 Buttercup bear is a beautiful yellow version of a classic teddy bear. The yellow colour makes it a great gift for children, springtime, and for the people in the hospital who need some bright yellow colour to cheer up. It is a great teddy bear if you make it for a charity. 
10. Blue Teddy Bear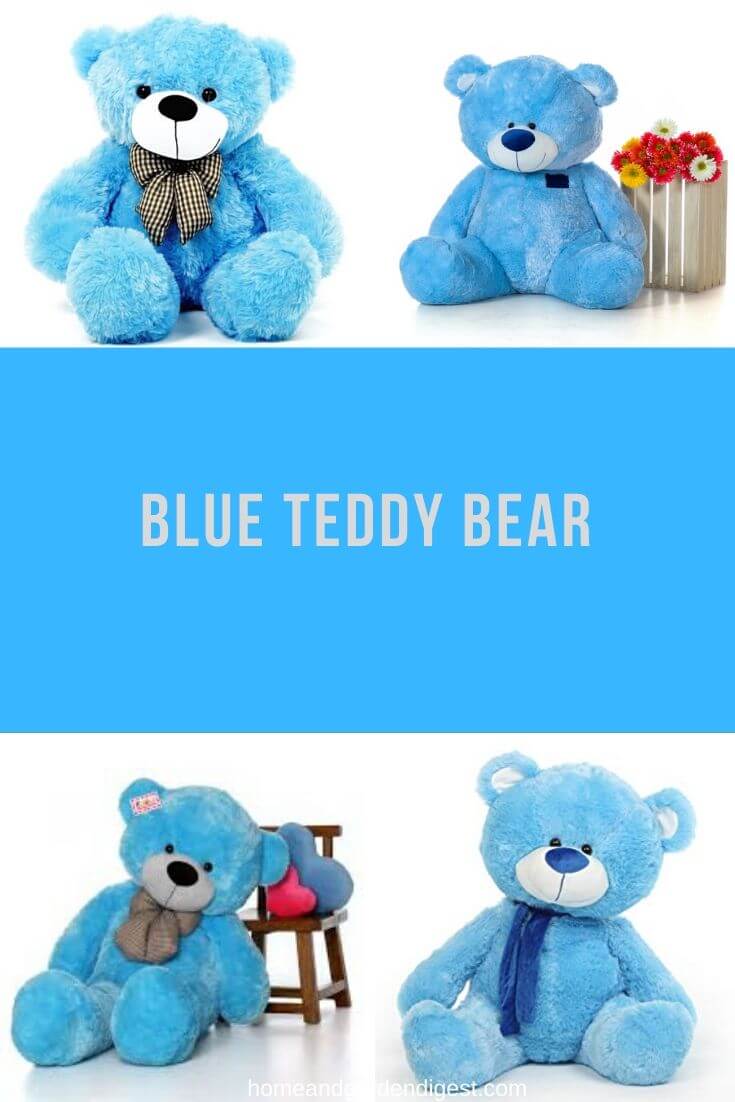 There are so many different variations on the crochet teddy bear. You can make a whole set of them to create a collection of cuties. This one is made with sparkle blue yarn and has a sophisticated feel that makes it a great crochet bear for adults. 
11. Teddy Bear Rattle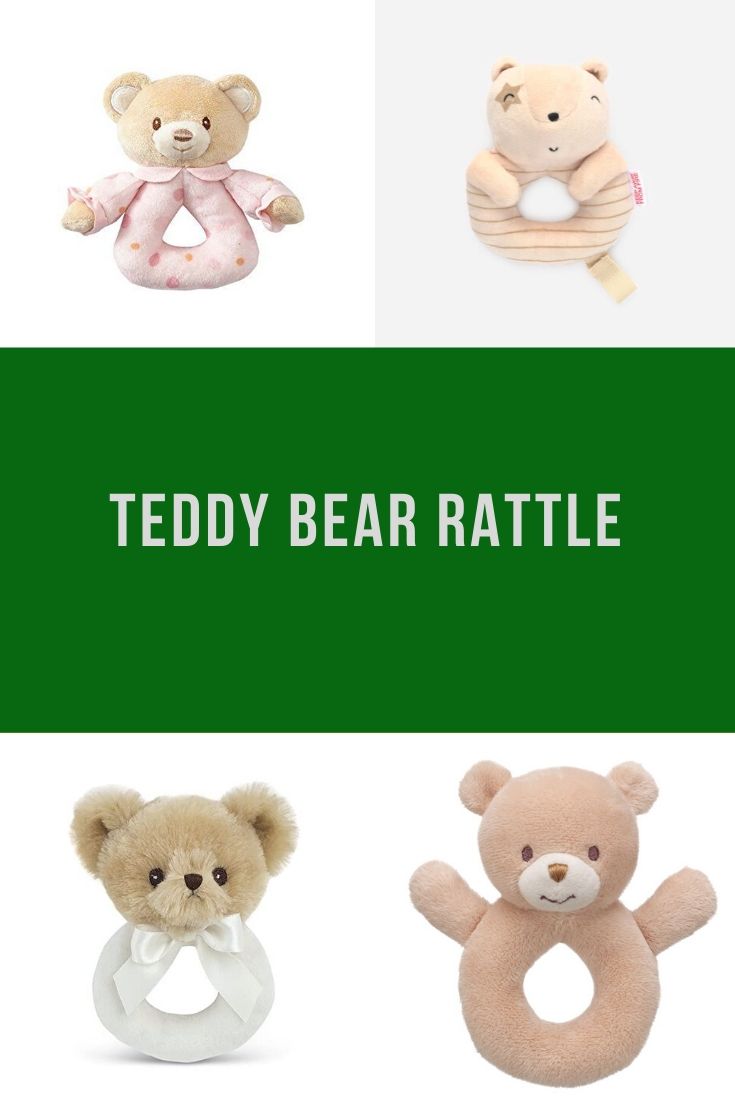 You can take the idea of a stuffed teddy bear and turn it into a rattle for baby with this cute free crochet pattern. The bear has a lopsided grin that will surely make you smile. 
12. Teddy Bear in a Crochet Sweater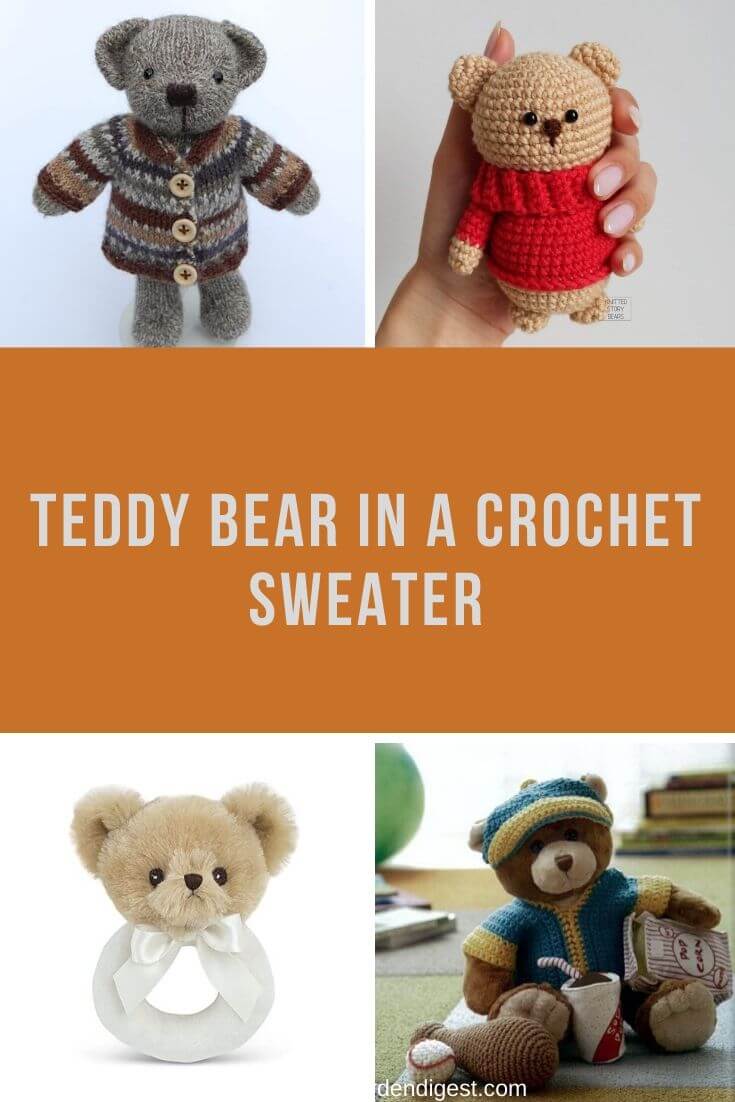 In this crochet pattern you just don't crochet the bear, you also crochet a sweater for it to wear. You can get very creative with the numerous variations on this design. 
13. Retro Teddy Bear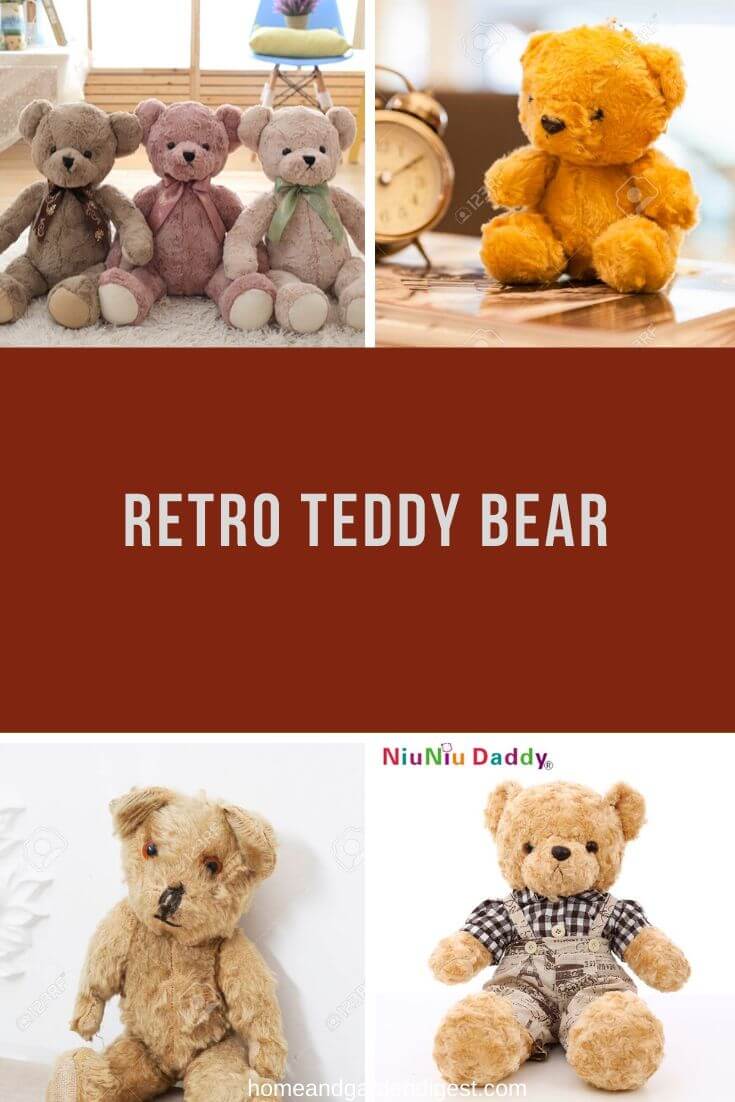 This crochet teddy bear is more than a foot tall and you can cuddle it in crochet scarf. This is the kind of toy that you can pass down to the generations.
14. Teddy Bear Couch Hugger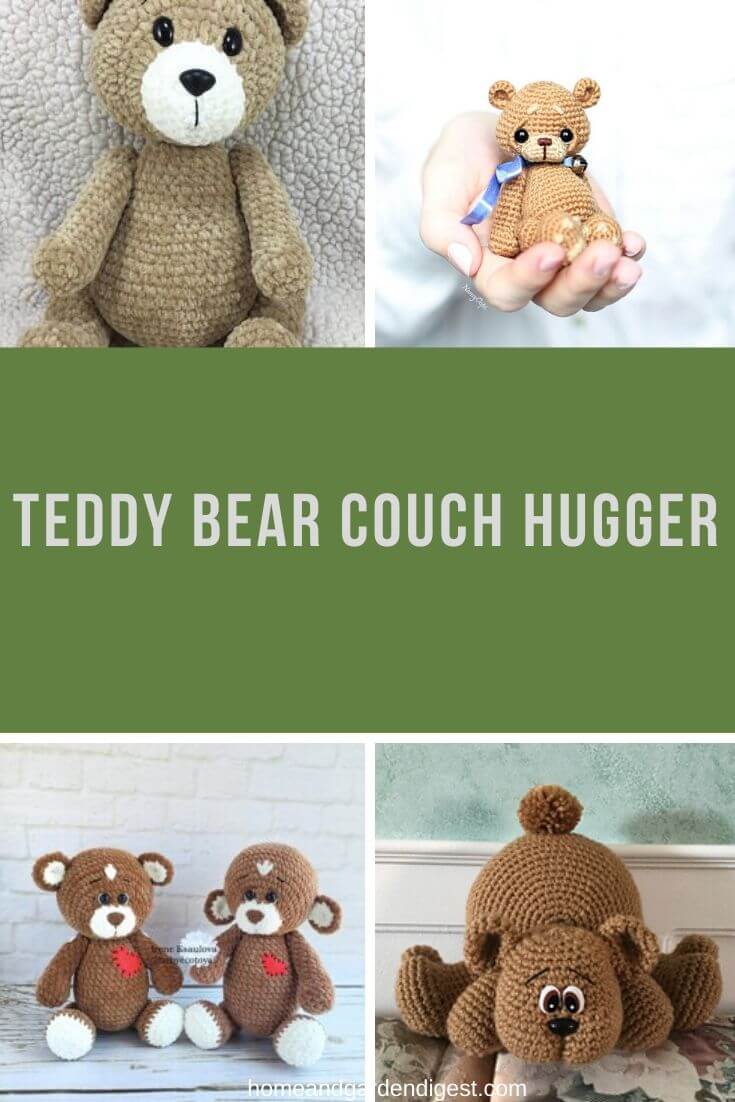 This teddy bear is specially designed to be a couch hugger. Which means it has been uniquely shaped to sit on the back of the couch. This is a perfect teddy bear for children's room.
15. Rainbow Bear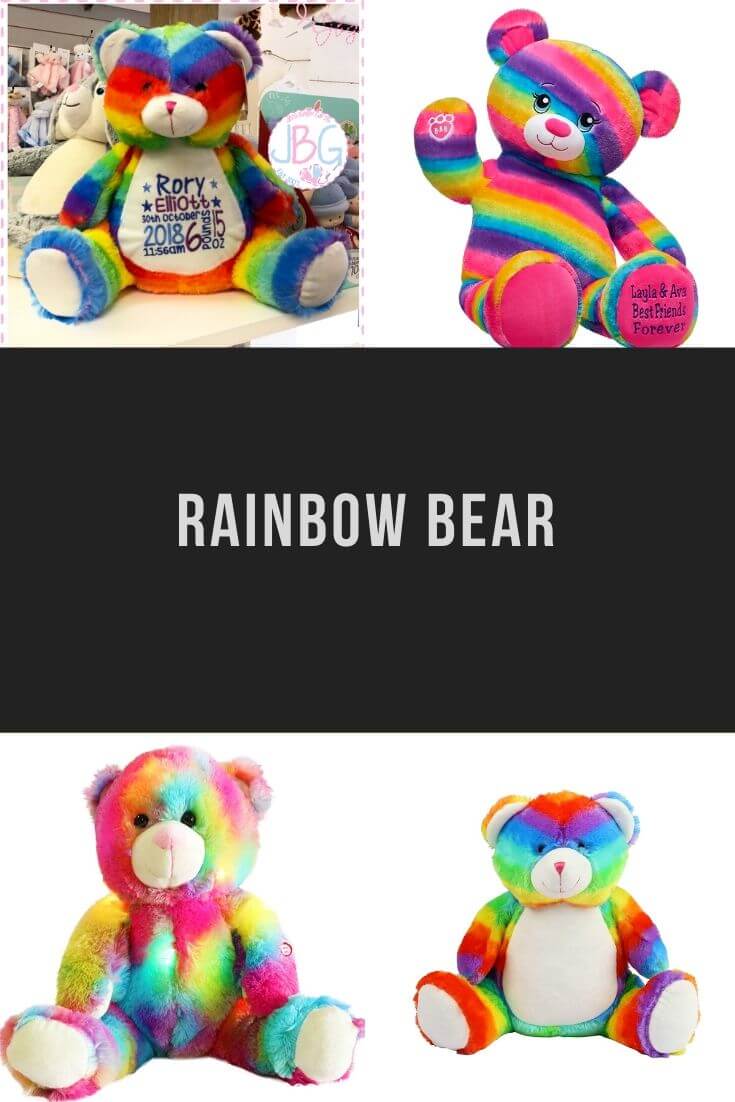 This is a cute little rainbow bear that is made with the bright coloured yarn which can light up any room. You can also crochet a similar bear according to the choice of coloured yarn. 
16. Alpaca Teddy Bear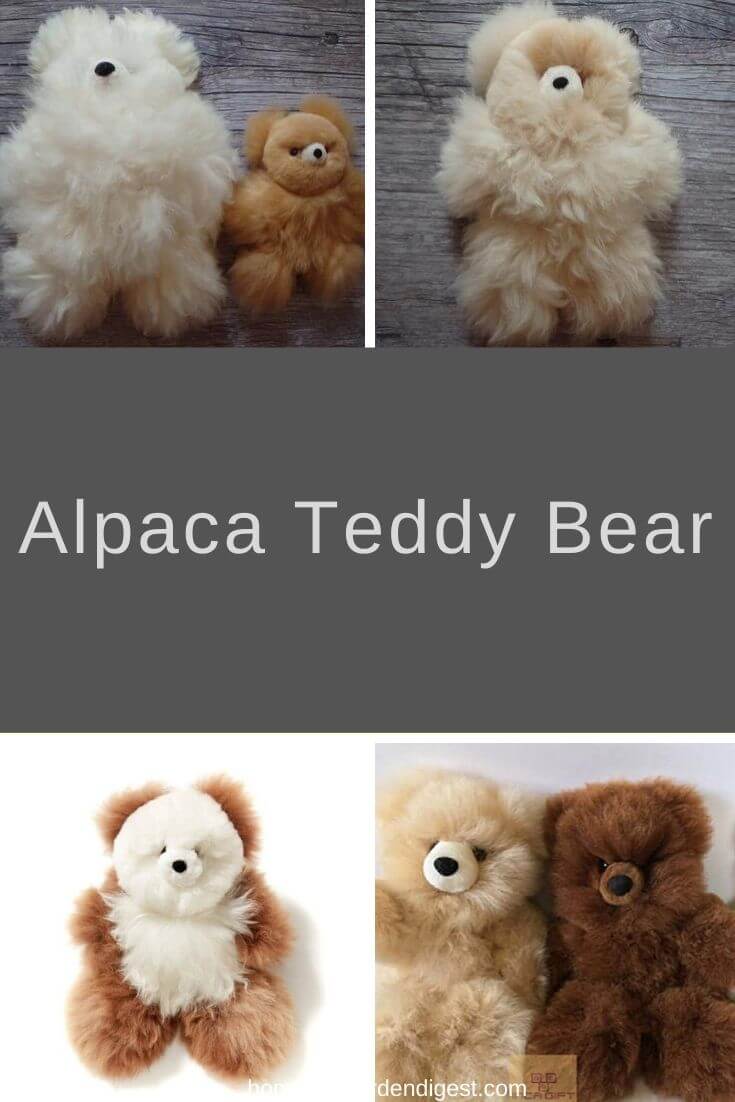 This tiny beautiful bear is so easy to make and is a beautiful gift for people of any age. This alpaca teddy bear is made up with softest alpaca wool which gives it a cost hairy look. 
17. Bee Mine Teddy Bear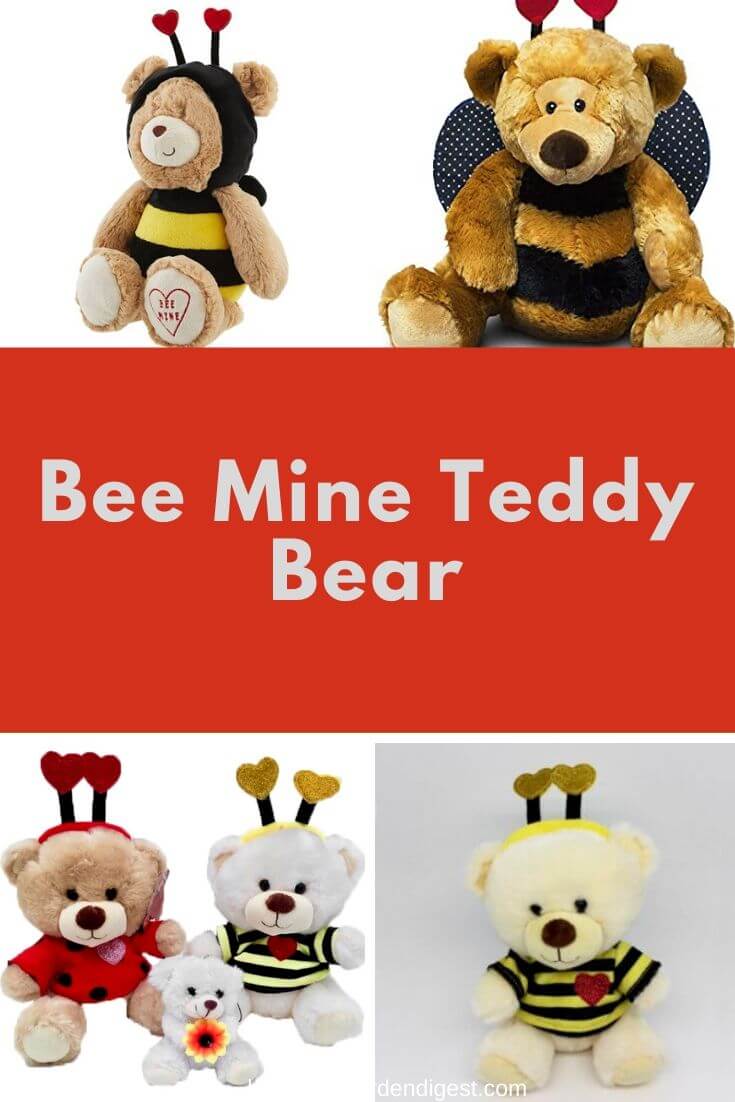 The cute little teddy bear is about 6 inches tall while sitting, and 9.5 inches tall while standing. You can create this cute teddy bear with the different colours of yarn that you want crochet. 
18. Three Bear Crochet Pattern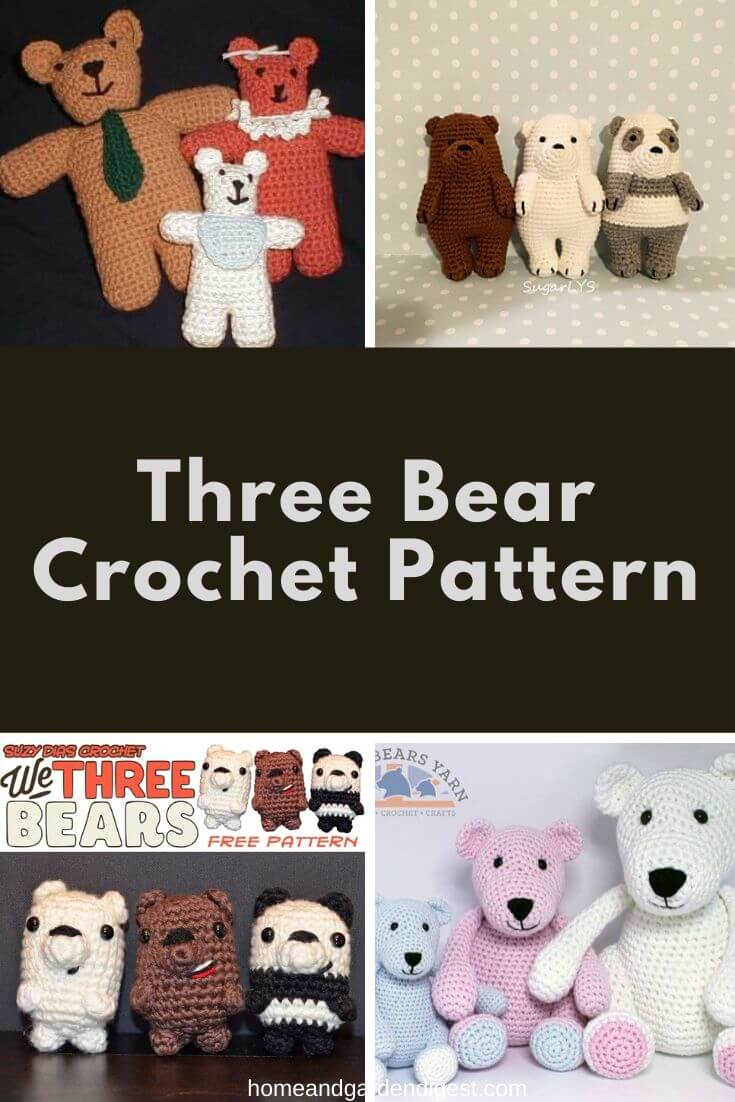 These are the cute teddy bears in three different sizes and colours. You can make them in any sizes and colours. They are a good décor item for your lobby or living room. 
19. Bearnabus Bear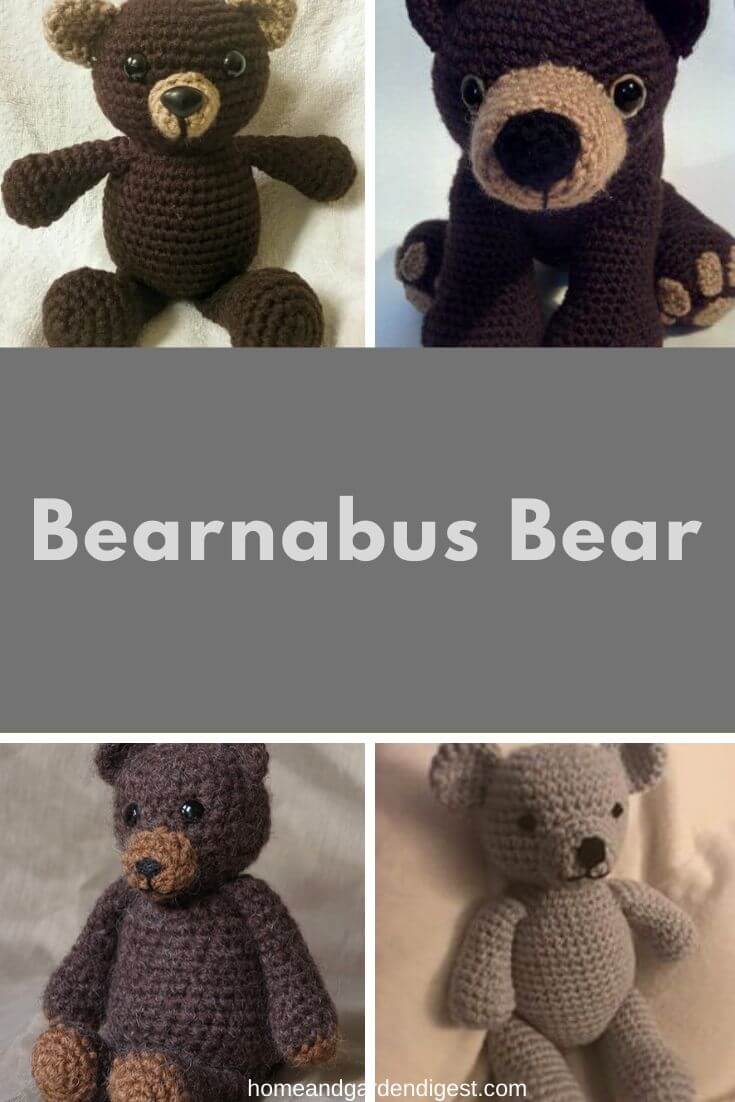 This bearnabus bear is about 8 ½ tall. It has got plastic safety eyes and plastic safety nose. A small amount of different colour yarn is needed for its ears and muzzles. 
20. Birthday Bear for a Prince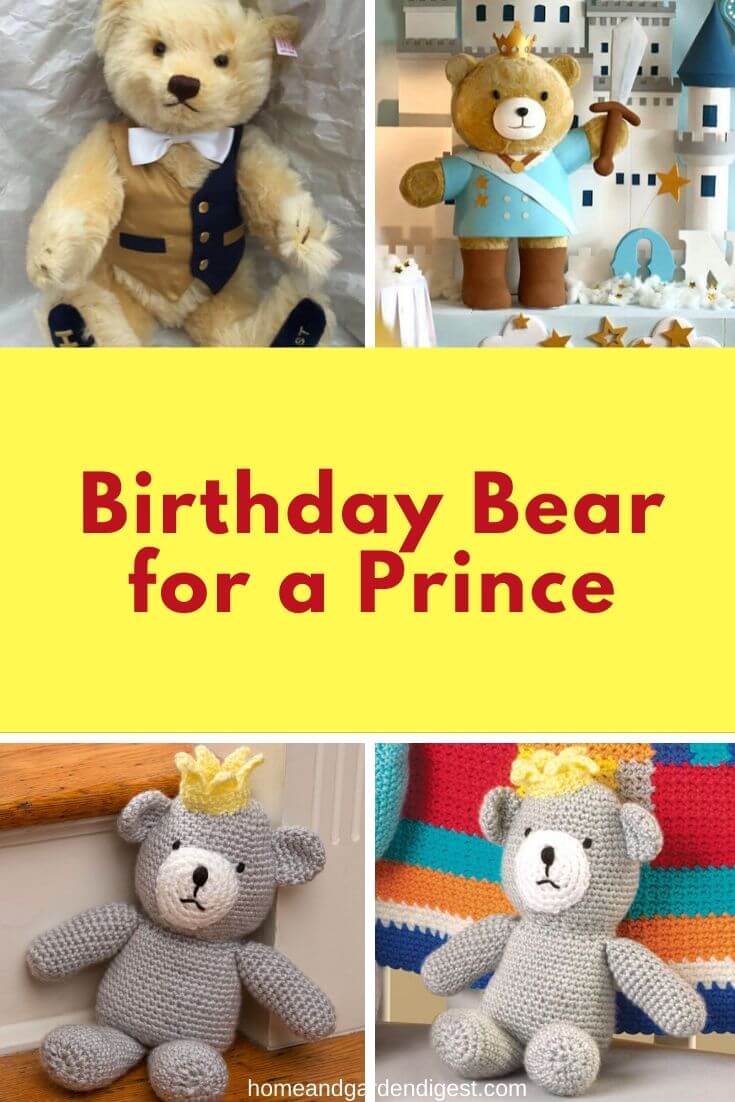 Source information: 
This huggable prince is just the right size to gift your loved ones on their birthdays. You just need a different colour yarn for creating a crown on the top of the bear.
These were some of the best Amigurumi Crochet Teddy Bear Toy Free Patterns that you can create for your kids and loved ones. This way you will be able to make some different and new cool teddy bears without spending a single penny to buy them from the market.